Eliza Huber
featured
Lizzo Finally Revealed What Was In Her Tiny Bag
January 14, 2020
DMT Beauty
#DMTBeautySpot #beauty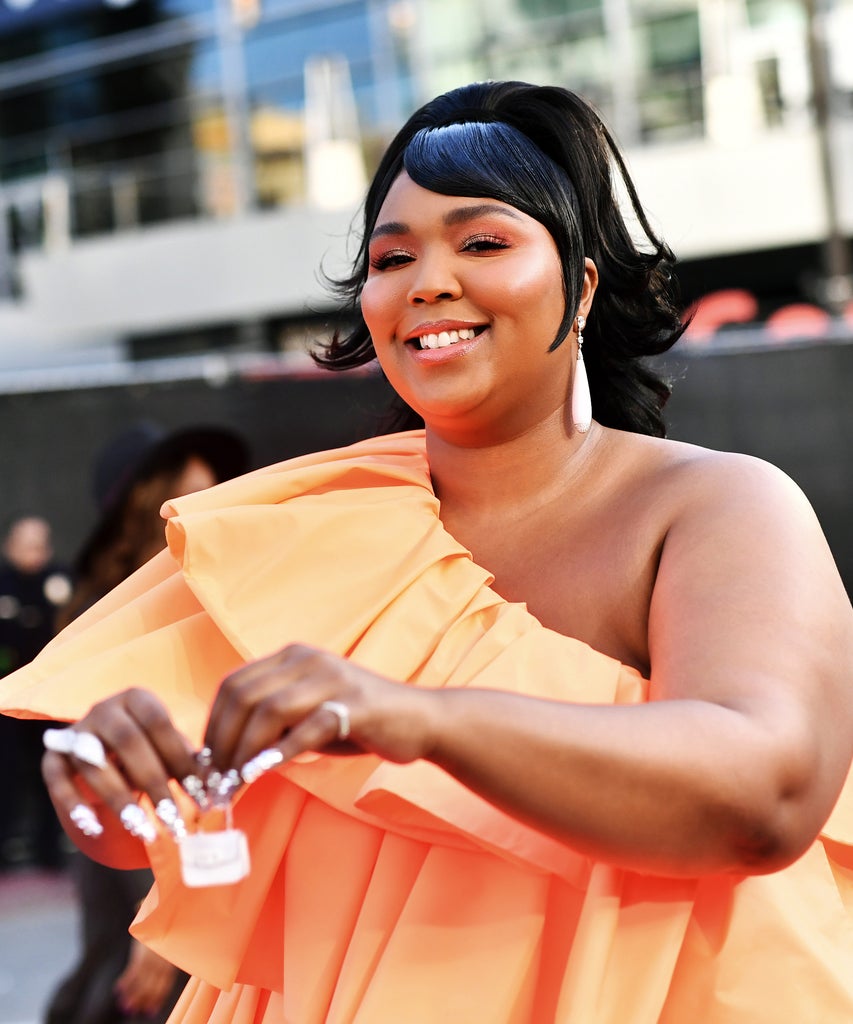 It's been less than two months since Lizzo's XS Maison Valentino bag took the Internet by storm — getting its own Twitter account to boot — and the Cuz I Love You singer isn't ready to let it go. Yesterday, Lizzo took to her TikTok page (followed by Instagram) to finally share what she really keeps inside her tiny purse, and like the artist herself, the contents were hilarious.
"Hey Lizzo, you got a pencil?", celebrity hairstylist Shelby Swain is heard asking the singer from across the room, to which Lizzo responded, "You know I got you." What happened next, though, is when things really got interesting. In the video, Lizzo, dressed in a "Good As Hell"-embellished long-sleeved bodysuit paired with a hot pink harness, proceeded to pull a full-sized pencil out of her lilac Jacquemus Le Chiquito mini bag.
Simon Jacquemus' ubiquitous Le Chiquito bag measures in at 9 cm high and 12 cm wide, whereas a standard #2 pencil is about 19 cm long, making Lizzo's casual retrieval an impossible feat. That is, unless she put an Undetectable Extension Charm on the bag like Hermoine did in Harry Potter And The Deathly Hallows, but that's a theory for another day.
Things quickly escalated when Swain asked the singer where the remote is. After ruffling through her purse, which couldn't be larger than a box of Animal Crackers, she's finally able to yank it out and toss it across the room.
Altogether, the minute-long video shows Lizzo extracting one travel tub of potato chips, a 750 ml bottle of red wine, a slime green lace dress (her outfit for the night), and a spare wig for Swain — which, according to the singer, is the only thing that she doesn't have room for in her bag.
The video, captioned, "YALL WANNA KNOW WHATS IN MY TINY BAG BITCH? 😏" is already making the rounds on social media. And just like her first rendezvous with a tiny purse, the reactions are perfection.
I was hoping it was chicken nuggets. Guess the "Truth Hurts"

— Jeffrey Fermin. (@JeffFermin) January 13, 2020
I want to be lizzo's tiny purse

— uchi personality (@clamslap) January 13, 2020
Gonna get tiktok just to watch Lizzo.

— SJ (@sophiejames2303) January 14, 2020
📣 GUYS WE FINALLY KNOW WHAT @lizzo KEEPS IN THOSE TINY BAGS! 📣 pic.twitter.com/jXdyU4SGEJ

— TikTok (@tiktok_us) January 14, 2020
It's officially been confirmed, @lizzo is secretly Mary Poppins 🤭😂💯 #TikTok https://t.co/wHbQduHvG0

— DJ-K (Kenji) ♀️♂️🏳️‍🌈 (@Deejay_K88) January 14, 2020
Related Content:
Like what you see? How about some more R29 goodness, right here?
Lizzo's Tiny Bag Just Got Its Own Twitter Account
Lizzo Sings Holiday Version Of "Good As Hell"
Everything You Need For A Lizzo Halloween Costume
DMTBeautySpot
via https://www.DMTBeautySpot.com
Eliza Huber, Khareem Sudlow