featured
Jazmin Kopotsha
The Snubs Of The 2020 BAFTA Nominations Tell The Same Infuriating Story
January 07, 2020
DMT Beauty
#DMTBeautySpot #beauty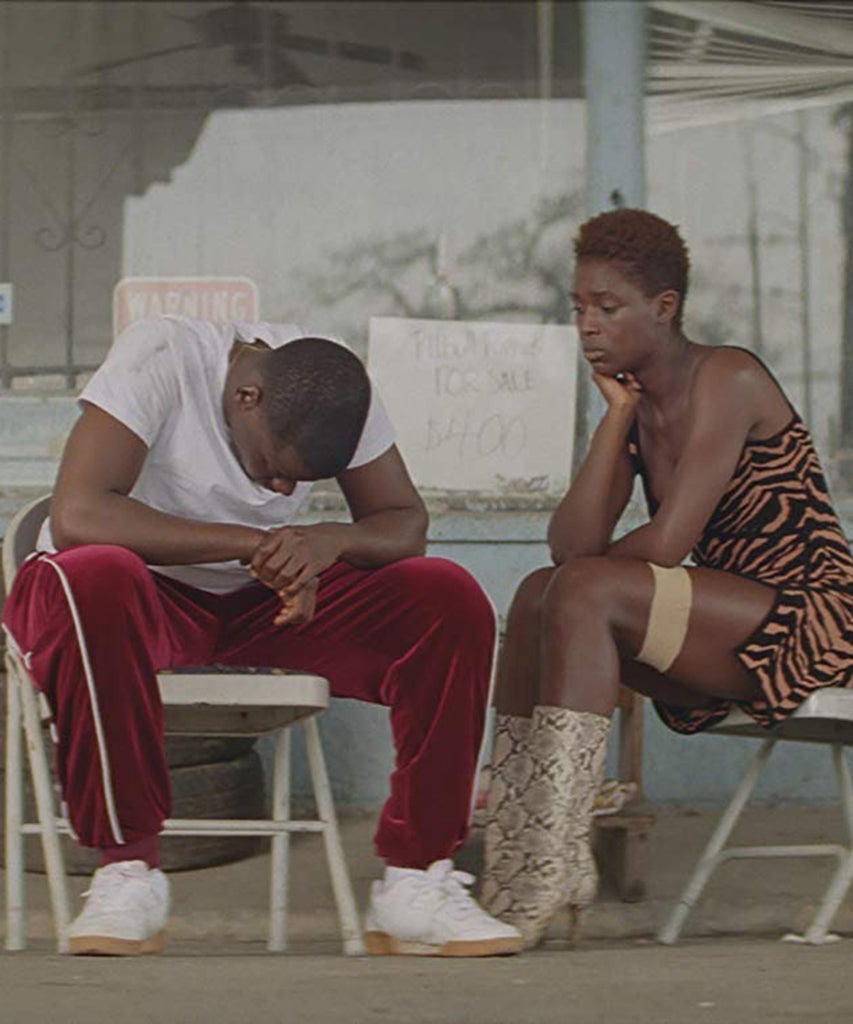 Here's a fairy tale for you. Once upon a time, there was an awards season that saw actors and directors from across the land – from a rich variety of backgrounds with exciting, new stories to tell – equally celebrated. The beacons of (well-paid) creative inspiration were a representative reflection of the audiences who gathered around big shiny screens to watch their tales. And when it came time to bestow gold statues upon these creators, there'd be no animosity towards the powers that be for excluding entire communities or demographics from the chance to thank their managers, moms, and mentors on an oversized stage. Wouldn't that be nice?
We're not in happily-ever-after land, though, are we? Out here in the real world, we're deep in another round of film awards, and #BAFTAsSoWhite is trending on Twitter.
On Tuesday morning the British Academy released the list of nominees for the 2020 BAFTAs, and the immediate response has been overwhelming disappointment at the lack of ethnic diversity in the selection. Joker received 11 nominations, while The Irishman and Once Upon A Time…In Hollywood received 10 each — all three films are about and directed by white men.
The most striking omissions can be found in the main acting categories – Best Actress, Best Actor, Best Supporting Actress, and Best Supporting Actor – in which not a single person of color has been nominated, despite the slate of award-worthy films that were released last year and deserve the appropriate recognition.
There is not a single nomination for Queen & Slim, the critically acclaimed film starring 2018 BAFTA Rising Star winner Daniel Kaluuya and Jodie Turner-Smith, about a young black couple on the run after shooting a white police officer in self-defense. Not a single nod for 2019 BAFTA nominee Cynthia Erivo, nor her film Harriet, which received two Golden Globe nominations and is (or was) positioned favorably in the Oscars race. Despite newcomer Micheal Ward being up for the coveted Rising Star award after his performance in Blue Story, the film itself has not been nominated. Neither has Lupita Nyong'o for Jordan Peele's Us, nor Zhao Shuzhen or Awkwafina for The Farewell, nor Yeo-jeong Jo (or any of the cast, for that matter) for Parasite. The list of non-white potential nominees could go on, but the fact that Margot Robbie has been nominated twice in the Best Supporting Actress category — once for a role in which she speaks for all of two minutes — only makes the category's whitewashing sting even more.
The gender situation is no better, particularly over in the Best Director category where Greta Gerwig has been snubbed. Her film Little Women has at the very least been acknowledged in the Best Adapted Screenplay category, but the dismissal of Gerwig's credentials as a director, alongside those of Lulu Wang (The Farewell) and Céline Sciamma (Portrait of a Lady on Fire), only amplifies the bigger, historic problem the film industry has with female filmmakers.
Speaking on BBC Radio 4 on Tuesday morning, BAFTA chief executive Amanda Berry said she was "very disappointed" and had "hoped we'd see at least one female director." She added: "BAFTA has a role to play here. It can't tell the industry which films to greenlight and who to hire, but what it can do is make sure it is finding and supporting talented people."
There's some small comfort to be had from the four nominations earned by For Sama. The harrowing documentary created waves as it moved through the film festival circuit last year and made a huge impact on audiences when it landed on Channel 4. It's now nominated for Best British Film, Outstanding Debut By A British Writer, Director or Producer, Film Not In The English Language, and Best Documentary.
The most infuriating thing about this is that the lack of people of color and women in the nominee pool isn't a surprise at all. It's not new, and it's almost expected despite coming at a time when the need for diversity is readily addressed in the industry and shouted about on social media but, clearly, is failing to effect real change. It's hard to anticipate when we'll reach a tipping point in the industry's sincere recognition of the talents and achievements of people of color and women; for now we can hope that the outrage which prompts trends like #BAFTAsSoWhite is taken as seriously as it should be. This repetitive exclusion isn't just a hashtag, it's a painful reality which reminds communities that they're not welcome in the prestigious white male circle that is the film awards.
See the full list of nominations below:
Best Film
1917
The Irishman
Joker
Once Upon a Time in Hollywood
Parasite
Best British Film
1917
Bait
For Sama
Rocketman
Sorry We Missed You
The Two Popes
Outstanding Debut By A British Writer, Director Or Producer
Bait – Mark Jenkin (writer/director), Kate Byers, Linn Waite (producers)
For Sama – Waad Al-Kateab (director/producer), Edward Watts (director)
Maiden – Alex Holmes (director)
Only You – Harry Wootliff (writer/director)
Retablo – Álvaro Delgado-Aparicio (writer/director)
Film Not In The English Language
The Farewell
For Sama
Pain and Glory
Parasite
Portrait of a Lady on Fire
Best Documentary
American Factory
Apollo 11
Diego Maradona
For Sama
The Great Hack
Best Animated Film
Frozen II
Klaus
A Shaun the Sheep Movie: Farmageddon
Toy Story 4
Best Director
1917 – Sam Mendes
The Irishman – Martin Scorsese
Joker – Todd Phillips
Once Upon a Time in Hollywood – Quentin Tarantino
Parasite – Bong Joon-ho
Best Original Screenplay
Booksmart – Susanna Fogel, Emily Halpern, Sarah Haskins, Katie Silberman
Knives Out – Rian Johnson
Marriage Story – Noah Baumbach
Once Upon a Time in Hollywood – Quentin Tarantino
Parasite – Han Jin Won, Bong Joon-ho
Best Adapted Screenplay
The Irishman – Steven Zaillian
Jojo Rabbit – Taika Waititi
Joker – Todd Phillips, Scott Silver
Little Women – Greta Gerwig
The Two Popes – Anthony Mccarten
Best Actress
Jessie Buckley – Wild Rose
Scarlett Johansson – Marriage Story
Saoirse Ronan – Little Women
Charlize Theron – Bombshell
Renée Zellweger – Judy
Best Actor
Leonardo DiCaprio – Once Upon a Time in Hollywood
Adam Driver – Marriage Story
Taron Egerton – Rocketman
Joaquin Phoenix – Joker
Jonathan Pryce – The Two Popes
Best Supporting Actress
Laura Dern – Marriage Story
Scarlett Johansson – Jojo Rabbit
Florence Pugh – Little Women
Margot Robbie – Bombshell
Margot Robbie – Once Upon a Time in Hollywood
Best Supporting Actor
Tom Hanks – A Beautiful Day in the Neighborhood
Anthony Hopkins – The Two Popes
Al Pacino – The Irishman
Joe Pesci – The Irishman
Brad Pitt – Once Upon a Time in Hollywood
Best Score
1917
Jojo Rabbit
Joker
Little Women
Star Wars: The Rise of Skywalker
Best Casting
Joker
Marriage Story
Once Upon a Time in Hollywood
The Personal History of David Copperfield
The Two Popes
Best Cinematography
1917
The Irishman
Joker
Le Mans '66
The Lighthouse
Best Editing
The Irishman
Jojo Rabbit
Joker
Le Mans '66
Once Upon a Time in Hollywood
Best Production Design
1917
The Irishman
Jojo Rabbit
Joker
Once Upon a Time in Hollywood
Best Costume Design
The Irishman
Jojo Rabbit
Judy
Little Women
Once Upon a Time in Hollywood
Best Make Up & Hair
1917
Bombshell
Joker
Judy
Rocketman
Best Sound
1917
Joker
Le Mans '66
Rocketman
Star Wars: The Rise of Skywalker
Best Special Visual Effects
1917
Avengers: Endgame
The Irishman
The Lion King
Star Wars: the Rise of Skywalker
Best British Short Animation
Grandad Was a Romantic
In Her Boots
The Magic Boat
Best British Short Film
Azaar
Goldfish
Kamali
Learning to Skateboard in a Warzone (If You're a Girl)
The Trap
EE Rising Star award (voted for by the public)
Awkwafina
Jack Lowden
Kaitlyn Dever
Kelvin Harrison Jr
Micheal Ward
BAFTA Fellowship
Kathleen Kennedy
Like what you see? How about some more R29 goodness, right here?
DMTBeautySpot
via https://www.DMTBeautySpot.com
Jazmin Kopotsha, Khareem Sudlow