#DMTBeautySpot #beauty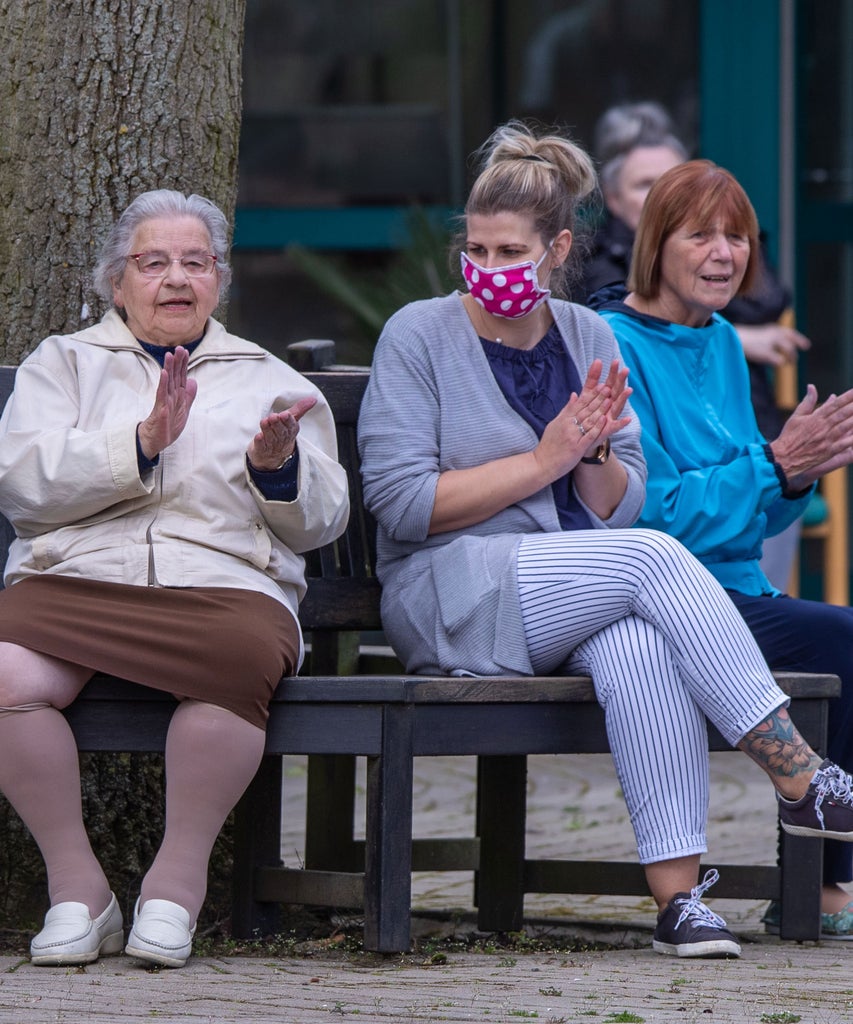 The body count from COVID-19 continues to rise, and as predicted, the elderly are paying the price. News broke on Wednesday that 17 bodies had been discovered crammed into a small morgue inside a New Jersey nursing home. People expressed shock at the report from the New York Times, but "I don't know if I'm shocked by any means," Eric C. Danielson, the police chief in Andover, NJ told the paper. "They were just overwhelmed by the amount of people who were expiring."
Loved ones of residents of the New Jersey facility, Andover Subacute and Rehabilitation Center I and II, say they feel "helpless," as do staff, as they deal with a rapidly spreading virus, staff shortages, and a severe lack of personal protective equipment (PPE). They say that, instead of providing timely phone calls to alert them their loved one was COVID-19 positive, the facilities sent impersonal form letters with blank spaces where staff could write in the patient's name. One family told the New Jersey Herald that they received the letter after their loved one had already passed.
"I am concerned my uncle had no oxygen, suffocated and died alone," she said to reporters. "No one should have to die alone." The issue of struggling nursing homes, and even more struggling elderly people in them, extends beyond just New Jersey, where families are feeling disrespected and like the lives of their loved ones weren't valued by the facility charged with caring for them in their vulnerable state.
In nearly every state, nursing homes are overwhelmed by not just the number of elderly that are getting rapidly sick and expiring, but by staff members who are also suffering the consequences. The Andover facility reported that 68 people had died in the home, and among them, 26 had tested positive for COVID-19. Among those remaining in the facility, another 76 people tested positive for the virus, along with 41 staff members — including one of the administrators, according to The Times.
But experts have warned since the beginning that this would be the case. If experts saw this coming, if these deaths could possibly have been prevented, why did they happen? Because older people are at the end of their lives, they are sometimes viewed as disposable because their deaths are seen as inevitable anyway. The way we talk about the elderly leads to their dehumanization, allows us to view them as deserving of the suffering or as less valuable than the lives of young people, as Rabbi Shai Held wrote in The Atlantic.
"Her death was inevitable," Lee Repasch, the daughter of 84-year-old Lily Repasch, who died at Andover Subacute and Rehabilitation Center I, told the Times. "But she was a vulnerable woman with dementia. It was inevitable, but it didn't need to be like this."
Back on February 29, when the first known outbreak in a long-term care facility was reported in Kirkland, Washington, people immediately expressed concern. Other states have seen equally high death counts, too. In Tennessee, 20 deaths have been connected to a COVID-19 outbreak at a nursing home. And as of Wednesday afternoon, 530 COVID-19 deaths had been reported in long-term care facilities in Massachusetts, and 4,163 residents and employees of the facilities had tested positive for the coronavirus. So concerning are these numbers that Gov. Charlie Baker dedicated most of his daily press conference to addressing the issue.
"We are intensely focused on mitigating the spread of illness in our senior living facilities," Baker said. "These facilities — not just here in Massachusetts, but everywhere — are highly vulnerable settings for COVID-19."
Some experts, like assistant professor of epidemiology at the Harvard T.H. Chan School of Public Health and its Center for Communicable Disease Dynamics Michael Mina, believe the homes should be evacuated to the extent possible to prevent continued spread. The Centers for Disease Control and Prevention (CDC) have issued guidelines that include regular testing of staff and residents, even those without symptoms; identifying infections and isolating them from the rest of the community; and instituting measures that optimize the supply of PPE.
"This virus spreads quickly and it has, and will likely continue, to find its way into senior living facilities," Nick Van Der Linden, a spokesperson for LeadingAge Florida, a trade group that represents over 250 senior living communities across the entire continuum of care, told Refinery29. "Our members are taking steps to prevent that as much as they can." But with PPE shortages and inadequate testing supplies, it's a nearly impossible task. Advocates say there haven't been enough proactive protections offered for a vulnerable community that experts predicted would be hardest hit by the coronavirus.
It's not just in nursing home facilities that the lives of older adults have been devalued. Some states, like Massachusetts, have prioritized ventilators and life-saving procedures for younger patients — something advocates have called discriminatory. In a letter to Gov. Baker, the advocacy group Justice in Aging argued that the Crisis Standards of Care ("CSC") Planning Guidance for the COVID-19 Pandemic he issued earlier this month "violates the antidiscrimination provisions of the Affordable Care Act" related to age discrimination. The guidance includes a framework requiring assessments for life-saving resources be made to prioritize "maximizing life years saved" by taking a patient's long-term prognosis into consideration, as well as "life-cycle considerations," which prioritize younger patients.
Meanwhile, some facilities are looking for loopholes to help them avoid accountability for deaths that occur inside. In Florida, Gov. Ron DeSantis is considering giving nursing homes immunity provisions that would protect them from civil lawsuits, the Miami Herald reported. That way, the families of people who die can't sue the facilities for negligence, something advocates for the elderly claim the elder care industry has been pursuing for a while. At least ten other states have requested or been granted similar protections, including the governors of Arizona, Connecticut, Illinois, Indiana, Kentucky, Louisiana, Michigan, New Jersey, New York, and Pennsylvania.
"LeadingAge Florida submitted a letter to the governor asking for a routine level of legal immunity," Van Der Linden said. "COVID-19 is a public health emergency that is unprecedented on many fronts. The situation is very fluid, we learn something new about this virus every day, federal and state guidance is constantly changing. Our members are doing everything they can in the context of this pandemic to ensure safety, but we asked for necessary legal protection to give healthcare providers the confidence that is necessary to save lives under these extraordinary measures."
"In times of shortage, it is critical that we make clear that all people – of all abilities and ages – are valued and that no group or population is expendable," Justice in Aging said in a statement. "When providers are making life and death decisions about how to allocate the resources needed to combat this public health crisis that threatens us all, they must make those decisions based on individual assessment of survival. We cannot accept anything short of that."
Like what you see? How about some more R29 goodness, right here?
Coronavirus Reveals Our Problem With The Elderly
Are Pregnant Women More At Risk For Coronavirus
Why Homeless People Need Access To Hotels Now
DMTBeautySpot
via https://www.DMTBeautySpot.com
Britni de la Cretaz, Khareem Sudlow