#DMTBeautySpot #beauty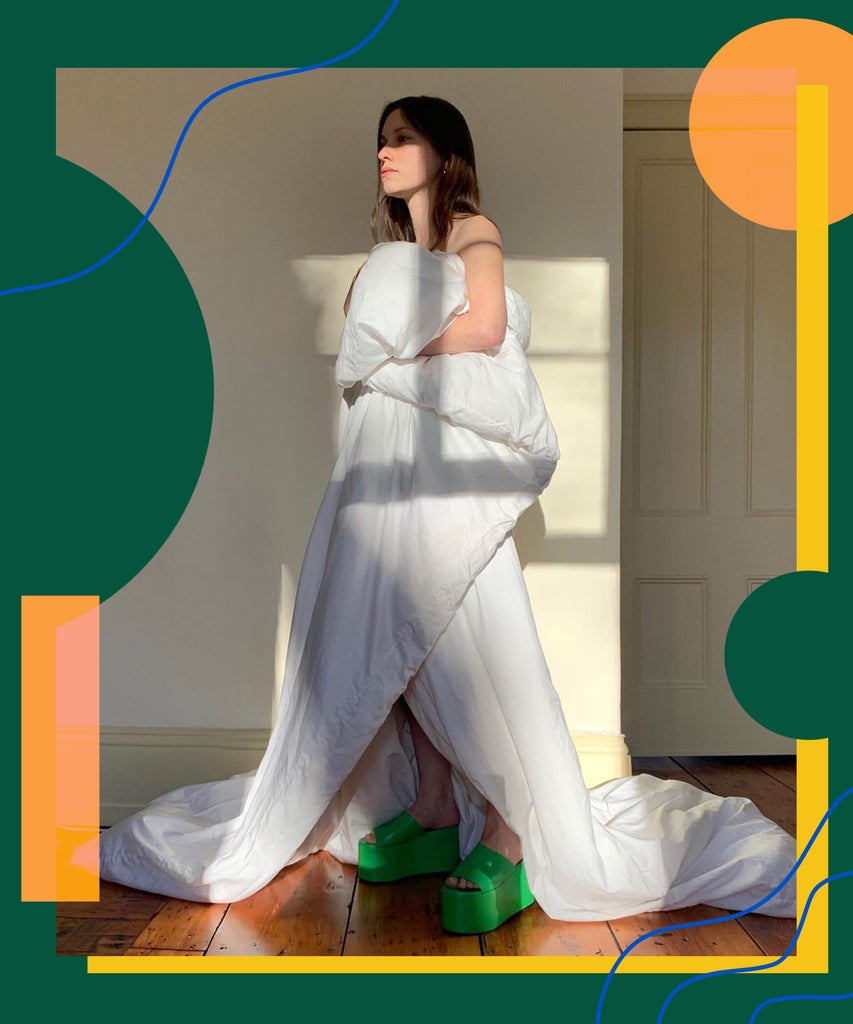 If you, like us, have been receiving near-constant reminders from your phones that screen time is at an all-time high, you've probably already caught a glimpse of Instagram's latest quarantine challenge: comforters and pillows as fashion statements.
If you haven't yet succumbed to boredom-induced scrolling (how?), here's what you need to know: Following posts by Sweden's most influential fashion duo @stylebynelli and @myforteisfashion on April 5th, which included each of the women styling pillows like mini dresses, cinched with big belts around their waists, a movement began. A movement known as the #QuarantinePillowChallenge.
In the initial posts, @stylebynelli can be seen wearing a teal blue pillow, fitted with a Zara belt, and accessorized with multicolored satin scrunchies, chunky sneakers, and Nike tube socks. @myforteisfashion's post is similarly styled, except that her pillowcase is lilac-colored and she included a matching Pretty Little Thing handbag and New Balance sneakers. Both posts called for their followers to recreate the at-home ensembles, saying that they'd each repost submitted #QuarantinePillowChallenge looks in their stories.
Given that between them, the duo has nearly 380k followers on Instagram, it's no wonder that more than 70k submissions have already been posted, with more being uploaded by the minute.
With most of us stuck indoors, the #QuarantinePillowChallenge has created a fun way for fashion-hungry quarantiners to show off their favorite accessories, from Gucci belts to Simon Miller platforms, all without having to actually get dressed. In addition to pillows, participants have also begun styling their comforters as maxi dresses, creating black-tie-esque ensembles using only their cloud-like bed linens.
The #QuarantinePillowChallenge is hardly the first social media competition to garner widespread attention since the stay-at-home order was put in place three weeks ago. French designer Simon Porte Jacquemus also held one, which he called the #JacquemusAtHome challenge, as did L.A.'s Getty Museum, which asked followers to recreate famous works of art and post using the hashtag #MuseumChallenge. Heaven only knows what bizarre competition will be next.
One thing we do know, though, is that we're most definitely hopping on board. Pillow: check! Big belt: check! Otherwise unnecessary pair of statement shoes: check! #QuarantinePillowChallenge, prepare to be amazed.
Get inspired to post your own #QuarantinePillowChallenge submission by scrolling through our favorites below.
Like what you see? How about some more R29 goodness, right here?
#JacquemusAtHome Is The Best Thing On Social Media
Dressing Up As Famous Art? Count Us In
Zara's Models Shot The Latest Campaign At Home
DMTBeautySpot
via https://www.DMTBeautySpot.com
Eliza Huber, Khareem Sudlow