Elly Belle
featured
How This Writer Is Using Her Platform To Help Navajo People During COVID-19
May 09, 2020
DMT Beauty
#DMTBeautySpot #beauty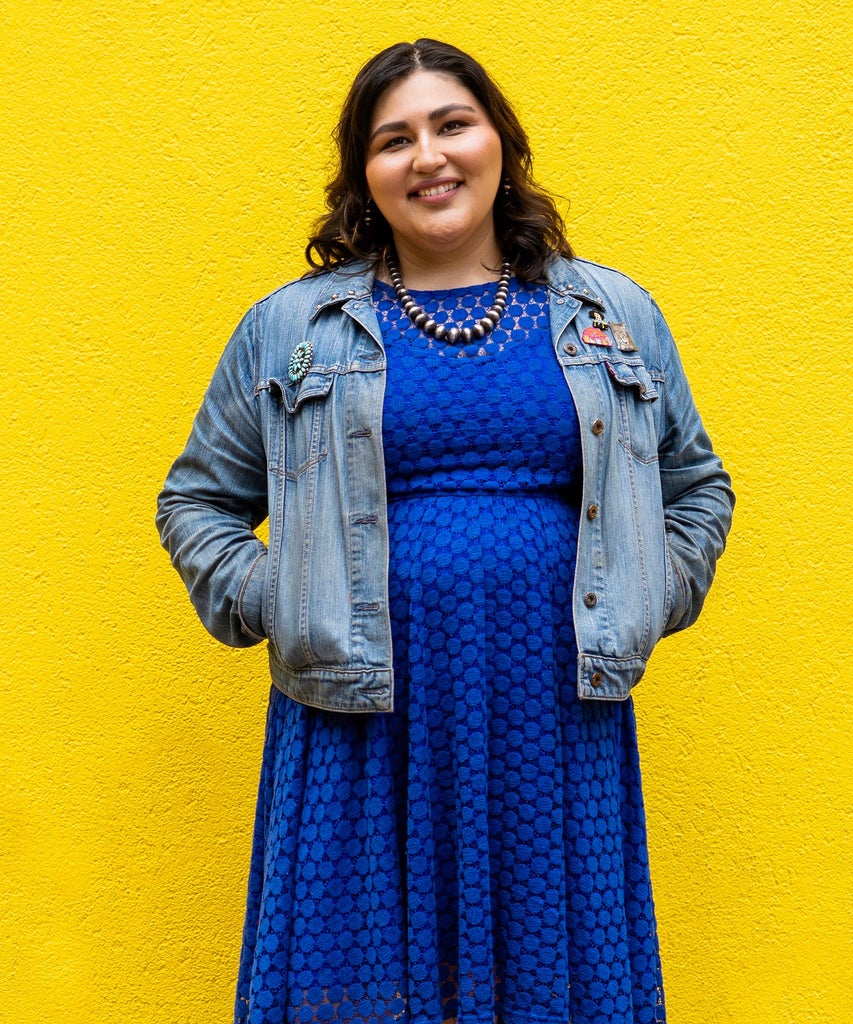 Amid a pandemic that is disproportionately affecting people of color and marginalized communities, one woman is putting her platform to use to make a difference. According to recent reports, the Navajo Nation has more cases of COVID-19 than eight different states combined, with the death toll on the reservation higher than many places. If the Navajo Nation were a state, it would have the third highest infection rate per-capita in the country, behind New York and New Jersey.
Indigenous people have been extremely affected by the coronavirus pandemic, with food shortages hitting harder in their communities than many other places, and nearly 3,000 people testing positive for COVID-19 in the Navajo Nation specifically.
Enter Sierra Ornelas, a Navajo Mexican-American writer and showrunner for NBC shows like Superstore, Brooklyn Nine-Nine and the new Rutherford Falls. Ornelas, distraught by the news plaguing her own community, felt necessary to use her resources to get people to pay attention to what's happening. Determined to create material change, she created the Donation 4 Navajo Nation Challenge — a campaign to get people to donate to the Navajo Nation, which launched on Friday, May 8.
"I was reading a lot of news and posts from friends about how the Navajo Nation was being impacted by COVID, and while I don't live on my rez, a lot of my family and friends do and it became quickly apparent the dangers that were coming. It was also so inspiring to see so many of my Native friends find ways to protect their homeland and its citizens," Ornelas tells Refinery29 about how she first decided to start the campaign.
As a Navajo woman herself, Ornelas stresses that there are not many people with her identity and heritage in spaces like the ones she currently occupies in Hollywood to begin with. This gave her a unique opportunity to create awareness. "I wanted to help, but I wasn't there. I connected with Crystal Echo Hawk (Pawnee), who is my friend and the founder and CEO of IllumiNative. I had participated in something similar to this, called the #OneVidaAtATime challenge started by my two showrunner friends: Tanya Saracho and Gloria Calderón Kellett." Ornelas says that using the model they had set, she came up with this Donation 4 Navajo Nation Challenge.
The challenge includes posting about the fundraiser on social media and tagging four friends to challenge them to spread the word and donate. The social hashtags include #Donation4NavajoNationChallenge or #D4NNC.
So far, other big players in Hollywood like Gloria Calderón Kellett, showrunner of One Day at a Time, and actors James Cromwell, Kristen Bell, Kumail Nanjiani, Mindy Kaling, and Nick Offerman have shared posts on Twitter, tagging friends and pledging to donate.
My boss has challenged me what I like to call a "nice-off".
GAME ON @KenTremendous !!! Imma dig deep!
And challenge these 4 peeps:@shannonsedg @TedDanson @pattonoswalt @DebraMessing !! https://t.co/c1AJGFGrus

— Kristen Bell (@KristenBell) May 8, 2020
While the Navajo Nation may have one of the highest infection rates of any population, they have only a fraction of the resources. In addition to the issues that Navajo people are now facing because of the coronavirus pandemic, one third of Navajo residents do not have running water, or even electricity — a huge health and safety issue at any time, but especially now.
It wasn't even until May 6 that the nation received its portion of coronavirus relief funding from the government, according to The Guardian. "It's hard under these conditions to adhere to CDC standards. How do you wash your hands with no easy access to water? How can you social distance when you have to carpool into town to get food?" Ornelas asks. "There were systemic issues that existed prior to this virus, that are now just magnified."
The Navajo Nation has a low population density, but it's common for three or so generations to live in one household, Ornelas explains. According to her, there is no public transportation on the Navajo Nation in order for them to access grocery stores and other locales, and many depend on hitchhiking and carpooling.
But as news of what was happening to the Navajo Nation spread, Ornelas' aunt commented that it was starting to depress her that everyone was focusing solely on the tragedy — and while Ornelas agrees the situation is awful, "poverty porn is an issue when it comes to outside awareness of Native people."
"My rez is a beautiful community filled with all types of people. In my family, there are artists, teachers, nurses, small business owners, and one of those guys that can do any home repair. We think of reservations as desolate, and they can be, but there are also pre-schools teaching Navajo language immersion, Tribal colleges filled with eager students, and street vendors who have found a way to put NFL logos on literally anything. The people who live and work there have hopes and goals and cheat days and regular lives," Ornelas says.
The donations to Ornelas' fundraiser will ultimately benefit organizations directly serving the Navajo Nation. Specifically, The Navajo and Hopi Families Relief Fund, which provides communities with access to food, water, and other essential items like masks or diapers. Proceeds will also go toward the Dr. Michelle Tom Fund, raising funds for medical supplies to deliver to Navajo citizens. And, all funds will support impacted areas that currently have fewer resources like protective equipment and test kits proportionate to their needs.
Consequences of the coronavirus pandemic — and its role in the Navajo Nation — hit even closer to home for Ornelas, whose mother was diagnosed with COVID-19 in April, after weeks of being ill. "While she was in the hospital, all I could think about was if we lost her, we wouldn't just lose a loved one, a matriarch, but also centuries of knowledge," Ornelas says.
It was her mother's sickness — and subsequent recovery, she says, that helped to fuel a need to amplify actions coming from and benefitting the Navajo Nation, as well as the hard statistics. And, so far, she's grateful for the positive engagement with her initiative. As of the first day of fundraising, the campaign has raised over $100,000.
"I would like to thank everyone from the bottom of my heart who is participating in this, whether it's donating $4K or $4 or just sharing the posts. These are very difficult times for so many, and it's really lifted my and my family's spirits to see this outpouring of love and support," she says. "I hope everyone who reads this will do their best to practice social distancing, wear masks, wash hands, and remember that we are connected in this in so many ways."
Like what you see? How about some more R29 goodness, right here?
Quarantining With My Old-School Abuela
Stop Calling Coronavirus "The Great Equalizer"
Indigenous Women Keep Going Missing On This Road
DMTBeautySpot
via https://www.DMTBeautySpot.com
Elly Belle, Khareem Sudlow