featured
Khareem Sudlow
Trump Is Now Trolling Women Journalists By Suggesting They Behave Like Donna Reed
May 05, 2020
DMT Beauty
#DMTBeautySpot #beauty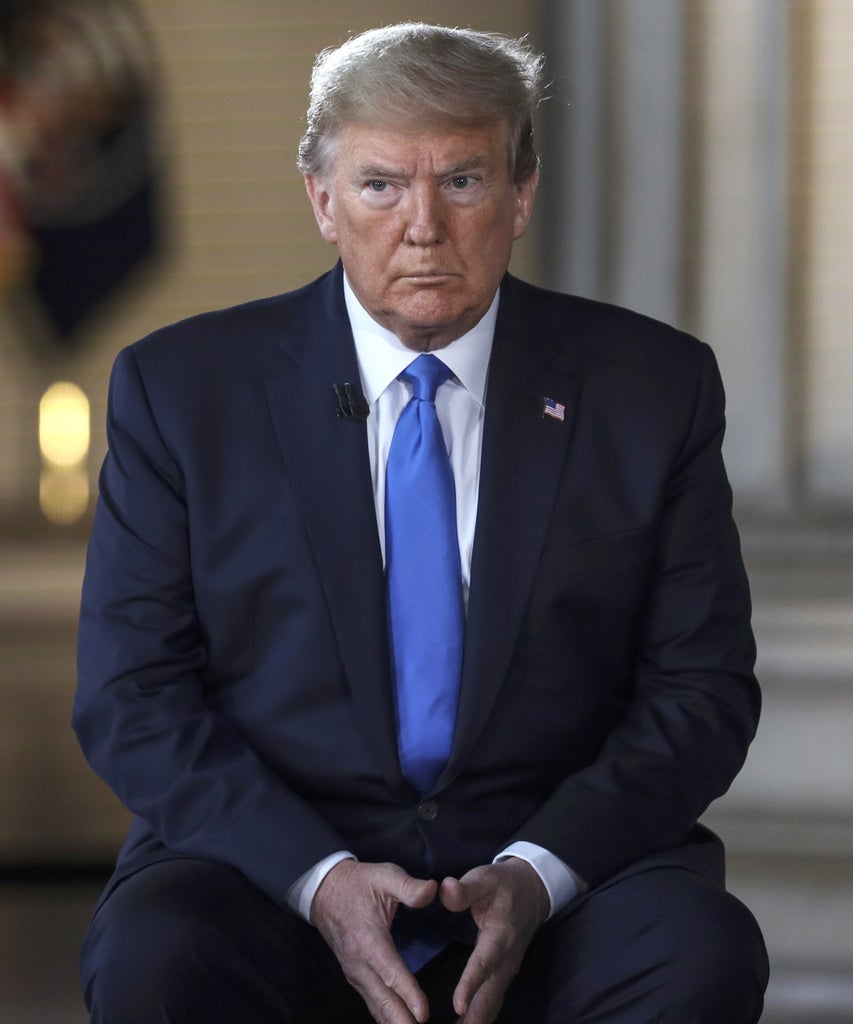 Donna Reed, famous for embodying the definition of perfect American housewife in the 50s and 60s and starring opposite of Jimmy Stewart in It's A Wonderful Life is trending at a time when it is anything but wonderful in America. But the reason for her trending status online actually has nothing to do with Reed herself and everything to do with President Donald Trump using her as an example for how women, specifically journalists, ought to behave.
In an interview with the New York Post addressing the return of White House press briefings, Trump singled out two CBS News journalists, Weijia Jiang and Paula Reid, as people who especially irritated him. When describing their line of questioning during briefings, Trump said that, "It wasn't Donna Reed, I can tell you that." Trump also called out the women's "attitudes" as a point of frustration after suggesting they were nothing like a 50s housewife, saying, "Paula Reid, she's sitting there and I say, 'How angry. I mean, what's the purpose?' They're not even tough questions, but you see the attitude of these people, it's like incredible."
But it comes as little surprise that Trump is attacking two women for questioning his handling of the coronavirus pandemic in the U.S. On April 13, Reid made headlines for not backing down from an unwavering line of questioning she posed to Trump during a press briefing. While Trump attempted to justify his response time and course of action to prepare for the arrival of the coronavirus, Reid refused to let him get away with not answering what he did during the month of February to actually prepare for the virus. Trump responded by talking over her, raising his voice, and insulting her. He then called Reid "disgraceful."
Jiang similarly pressed Trump on April 19 when she asked him why he didn't warn Americans about the coronavirus sooner. He responded by telling her to "Just relax" and to "Keep your voice down," as he himself continually raised his voice at Jiang.
Despite Trump's storied issues with speaking to women journalists, his comment comparing them to Donna Reed triggered the masses and demanded that the president show more respect during his press briefings. Still, Reid reacted to Trump's comparison of her and Jiang to Reed by fact-checking him, agreeing that she is, in fact, nothing like a "50's American archetypal mom."
President Trump tells @nypost I am nothing like 50's American archetypal mom Donna Reed. Fact-check: True. pic.twitter.com/sUTgWwsNX9

— Paula Reid (@PaulaReidCBS) May 5, 2020
"A lot of people love when the press hits me, you know, when I go at it with the press – they like it," Trump continued, admitting that he enjoyed the exchange as well. "I have a feeling everybody likes it because, you know, it's more exciting than sitting there falling asleep."
But Trump's railing against reporters is in part a response to his canceled press briefings, which took a step back after the president suggested ingesting disinfectants as a possible virus treatment. According to CNN, aides and allies of Trump continue to worry that these briefings are causing political damage, despite Trump's insistance to continue addressing the American people himself.
"We'll do them. We get a lot of people watching, and it's the way that you get around fake news," Trump told the Post. "In other words, I have a much bigger audience than anybody's ever had."
Like what you see? How about some more R29 goodness, right here?
The Battle Between Trump & Morning Joe, Explained
New Press Sec Lies In Her First Briefing
Poison Control Faces More Calls Than Ever
DMTBeautySpot
via https://www.DMTBeautySpot.com
Sarah Midkiff, Khareem Sudlow