featured
Khareem Sudlow
Black Lives Matter Protests Haven't Led To A Spike In COVID-19 Cases, Study Says
June 22, 2020
DMT Beauty
#DMTBeautySpot #beauty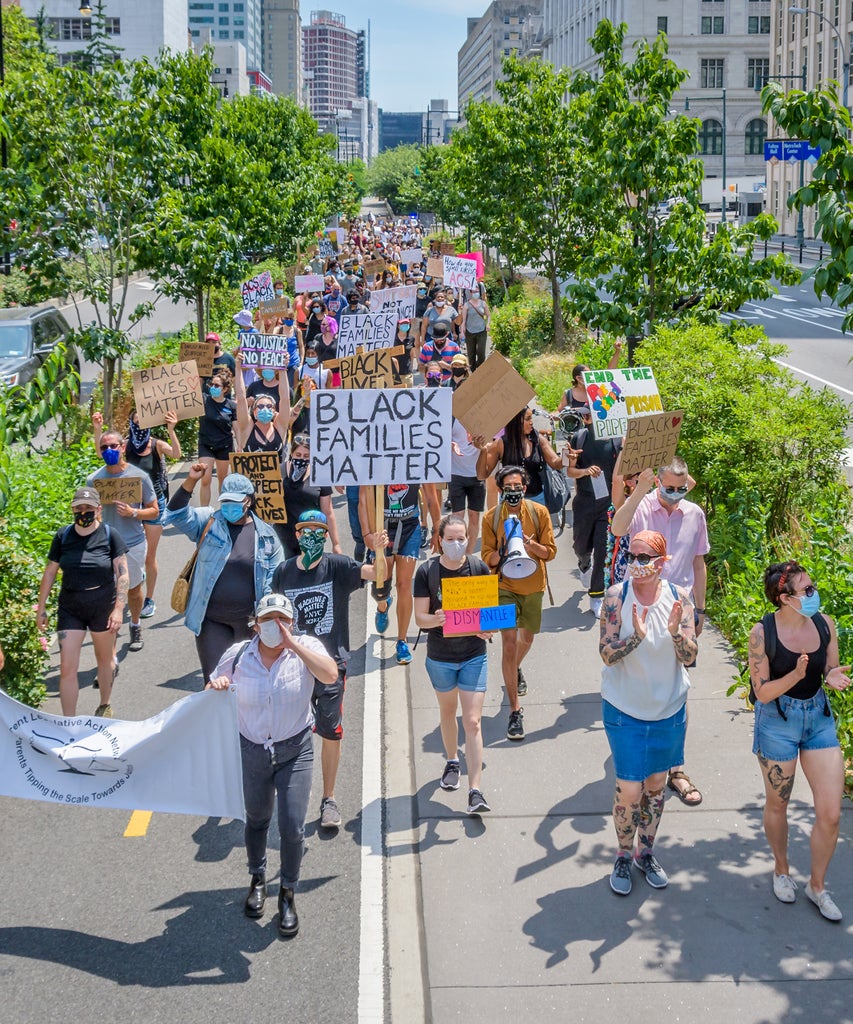 Amid weeks of racial justice protests throughout the U.S., many have wondered whether the gatherings might end up being coronavirus super-spreader events. Now, science finally has an answer.
A just-published study from the National Bureau of Economic Research indicates that we can stop stressing so much about this particular concern. Researchers used anonymous cell phone tracking data, pulled from 315 U.S. cities (281 of which saw protests), to determine whether coronavirus cases increased at any point within the 21+ days following the onset of protests, confirmed lead researcher Dhaval Dave, PhD, in an email to Refinery29. The conclusion? "We find no evidence that net COVID-19 case growth differentially rose following the onset of Black Lives Matter protests, and even modest evidence of a small longer-run case growth decline," the study authors wrote in the paper.
According to the researchers, the fear was that the protests would result in an increase in coronavirus cases because people were breaking social distancing guidelines while marching in solidarity against the systemic racism and police brutality that are creating an epidemic of Black deaths in the U.S. If you've been to a protest, you know it's true: Even if you're wearing a face mask and staying out of the thickest parts of the crowds, keeping six feet away from the people around you isn't always possible.
This study found that while protesters were certainly socially distancing less than before, everyone else may have been socially distancing more. "Our findings suggest that any direct decrease in social distancing among the subset of the population participating in the protests is more than offset by increasing social distancing behavior among others who may choose to shelter-at-home and circumvent public places while the protests are underway," the researchers explained. They added, "Moreover, to the extent that the killing of George Floyd, and the ensuing civil unrest and mass protests, also impacted residents' mental health and stress, this may further lead to decreased activity levels and an increase in stay-at-home behaviors."
The researchers also pointed out that "while it is possible that the protests caused an increase in the spread of COVID-19 among those who attended the protests, we demonstrate that the protests had little effect on the spread of COVID19 for the entire population of the counties with protests during the more than two and a half weeks following protest onset." So people who attend protests may be continuing to follow strict stay-at-home guidelines except while protesting. At the same time, non-protesters seem to be staying in. Together, this may have prevented a wider resurgence.
The study floats a few other potential explanations for this good news. For instance, protesters tend to be younger and therefore more likely to experience mild coronavirus symptoms, so they may not seek testing or treatment. It's also possible that the countermeasures rally-goers are taking, such as wearing masks, are paying off.
This is just one study. But Dave and the other researchers highlight the importance of understanding the behavior of all relevant populations — in this case, protest attendees and non-participants — in deriving public health implications. As they conclude, in the case of the recent protests, "public speech and public health did not trade off against each other."
Like what you see? How about some more R29 goodness, right here?
What Is Dexamethasone & Can It Treat COVID-19?
Millennial Women Are Hired Less During COVID-19
This Virtual Bake Sale Supports Black Lives Matter
DMTBeautySpot
via https://www.DMTBeautySpot.com
Mirel Zaman, Khareem Sudlow