Britni de la Cretaz
featured
Frank Rizzo's Statue Was An Ode To White Supremacy — & It Never Should Have Existed
June 03, 2020
DMT Beauty
#DMTBeautySpot #beauty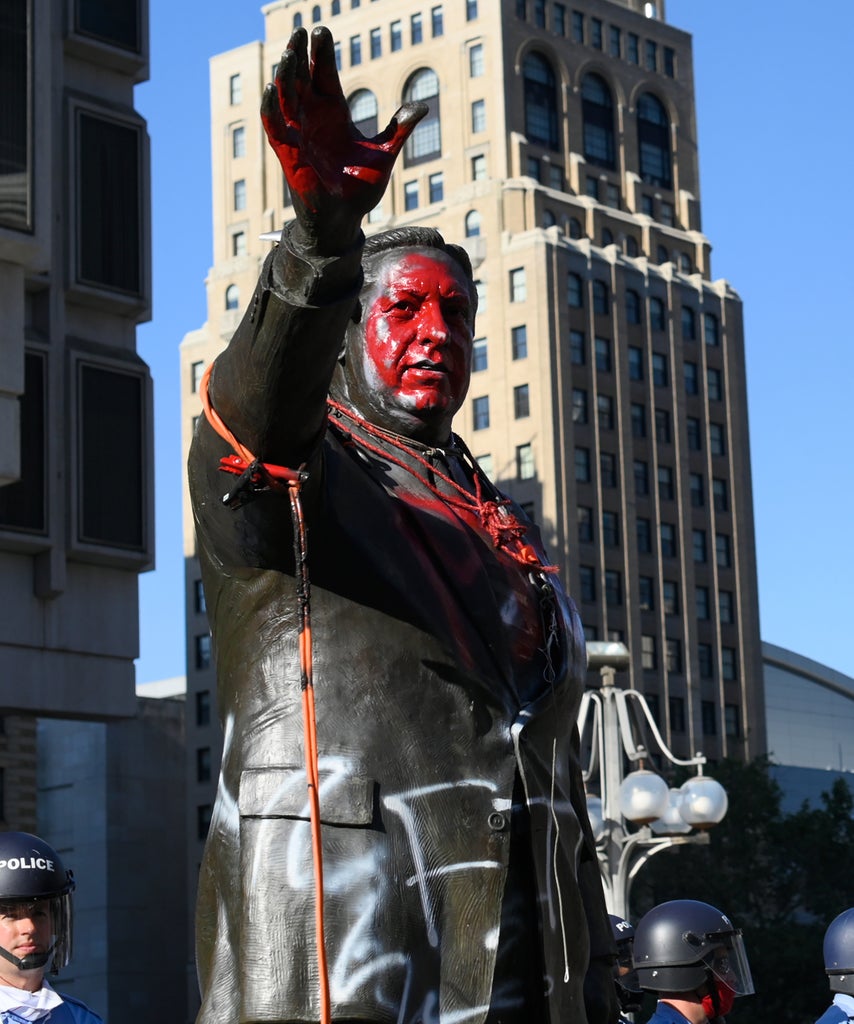 While the city slept, crews arrived to quietly take down the statue of Frank Rizzo from Philadelphia's Municipal Services Building. The statue of the former mayor and police commissioner had been a source of contention between the city and residents of its Black and LGBTQ+ communities, as Rizzo's tenure had been a reign of terror for Philly's marginalized citizens. Over the past week, calls for the statue to be removed had again been ignited during the national protests around the deaths of George Floyd, Breonna Taylor, Tony McDade, and countless other Black Americans, when the statue was vandalized and protestors tried to remove it themselves.
The current and ongoing protests against racism and police brutality were not the first time protestors had targeted the statue over the years. "Philly's long-reviled statue of racist pig Frank Rizzo is GONE!" journalist Kim Kelly tweeted. "Shortly after midnight, city workers quietly arrived to finish the job that protestors had so kindly gotten started for them on Saturday."
Jim Kenney, the current mayor of Philadelphia, said on Twitter that "the statue represented bigotry, hatred, and oppression for too many people, for too long." Just three days earlier, Kenney had announced they were prioritizing the statue's removal, which had been planned but was waiting for a larger renovation to the plaza — a delay Kenny now admits was "a mistake."
Crews had prioritized cleaning the statue, which Pennsylvania Rep. Jordan A Harris called "a symbol of oppression and brutality," the day after a crowd of people spent hours trying to topple it. Black residents were angered by this rush to remove the visible evidence of the pain and outrage of its marginalized residents. Queen Muse wrote in Philadelphia magazine that the move "sent a message to marginalized residents of this city that the issues that undergird their pain are not important" to those in power.
The oppression felt by Philadelphia is rooted in Rizzo's history in the city. Rizzo was a native of South Philadelphia who served as mayor from 1972-1980. Before that, he was police commissioner beginning in 1967. His time in power is credited with leading to the deep corruption and brutality that has become the police department's legacy.
Rizzo routinely used slurs against the Black and gay communities and advocated for violence and murder as a way of dealing with "criminals." He once called for members of the Black Panther movement to be "strung up" and advocated for punishing crime by "spacco il capo" — which translates to "break their heads." He often came down with lethal and immense force on the city's Black residents, and its Black activists, in particular.
While people are thrilled that the statue is gone, some have rightly pointed out that the city, and Kenney, in particular, should not receive brownie points for their decision to finally take it down. Queen Dope called the timing of the removal "cowardly," noting on Twitter that by taking the statue down in the middle of the night, Kenney purposely "ruined" the optics of its removal.
"This is not a show of solidarity with protestors or the marginalized people of this city," she continued, adding that if it were, Kenney "would've done this while they were there so they could share in the joy of the moment."
In the middle of the night the city removed the statue of Frank Rizzo from Thomas Paine Plaza. This is due to the tireless work of our friends at @PHLRealJustice. #rizzodown #blacklivesmatter #blm #philly #philadelphia #tonymcdade #ahmaudarbery #breyonnataylor #georgefloyd #ftp pic.twitter.com/IDZegZeSQd

— RevAbolitionPHL (@RAM_Philly) June 3, 2020
Credit for the statue coming down belongs not with Kenney or the city itself, which chose to build a monument to a brutal, racist, and homophobic figure and then waited way too long to pull it down, but with the Black activists who fought for years to have it taken down. In 2016, Philly For REAL Justice launched their #RizzoDown campaign, gathering every Thursday from 4 to 6 PM in front of the municipal building to call for removal of the Rizzo statue and an end to stop and frisk.
"There is something so soothing about seeing white supremacist iconography and symbols be hoisted by a crane and taken to dark storage," Abdul-Aliy Muhammad tweeted. "But melt dat shit too."
Like what you see? How about some more R29 goodness, right here?
The Insurrection Act Is A Tool For Racist Violence
Why Ivanka Brought Her Purse To A Tear-Gassing
"The Police Are More Dangerous Than COVID-19"
DMTBeautySpot
via https://www.DMTBeautySpot.com
Britni de la Cretaz, Khareem Sudlow