Asia Ewart
featured
NYPD Officer Suspended For Using A Chokehold Was Once Charged With Beating A 16-Year-Old
June 22, 2020
DMT Beauty
#DMTBeautySpot #beauty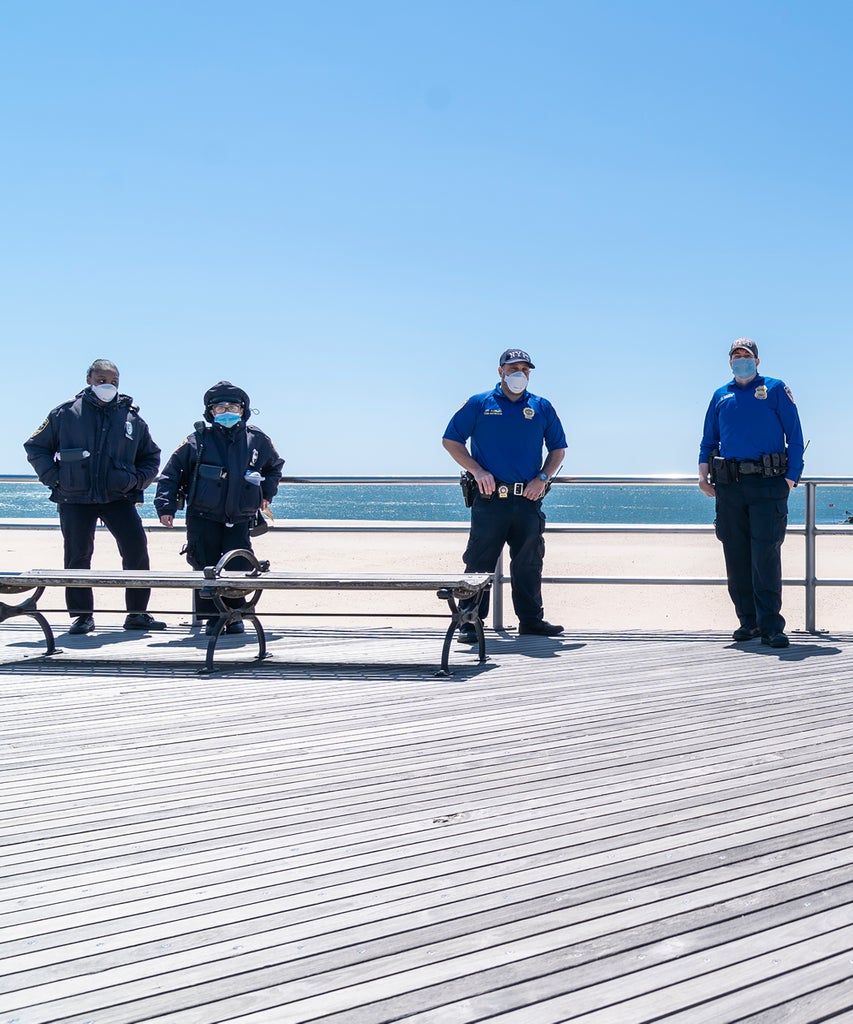 A New York Police Department officer has been suspended without pay after putting a man in an illegal chokehold in Rockaway Beach on Sunday. David Afanador was later identified as the officer in question following the early morning incident on the Queens beach boardwalk where he is depicted struggling to hold down a Black man while someone screams "stop choking him bro!" Initial cell phone footage was captured by another man who was reportedly involved before the NYPD released an 11-minute body cam video of the confrontation.
The body camera footage details the moments leading up to the chokehold of 35-year-old Ricky Bellevue. Bellevue was with a group of other men who were allegedly "taunting" officers. He reportedly picked something up out of the trash, and moments later, Bellevue was tackled to the ground and surrounded by four police officers, including Afanador, who all stood and leaned over him. The cell phone camera footage, which was first seen on social media, show that while three officers handcuff Bellevue, who is lying face down on the pavement and unmoving, Afanador is seen with his arms tightly around Bellevue's neck.
An off-screen witness is heard yelling off-screen "Yo, stop choking him, bro! He's choking him, let him go!" repeatedly while Bellevue was being put in an "apparent chokehold," according to CBS News. Another officer was forced to slap Afanador on the back multiple times to get him to release Bellevue's neck, according to the footage. The cell phone camera then zooms in on Afanador's name and badge number while the person records Bellevue's motionless body and berates Afanador's actions.
According to Bellevue's attorney, he was taken to St. John's Hospital shortly after and was treated for a laceration on his head. He faces two misdemeanor charges and a violation of disorderly conduct. Meanwhile, Afanador was suspended without pay.
Mayor Bill de Blasio later congratulated the first officer for his de-escalation, tweeting "The officer who intervened to stop his colleague did exactly the right thing. I commend him. That is what we need to see from all our officers." He also said that this was the fastest that he had ever seen the NYPD take action against an officer.
But de Blasio's congratulatory response seems all-too convenient. The mayor has infamously upped the number of police on the streets during mass civil protests in recent weeks, not accounting for the potential of further escalating police brutality in the process. And, although he commended the department for suspending Afanador, the officer was already in the database after being charged in 2014 for attacking a 16-year-old boy suspected of holding marijuana. According to a Times report sourcing video footage of the attack, Afanador swung his gun at the teenager's mouth and broke his teeth. He was found not guilty in a 2016 trial.
Beyond the fact that Afanador is a repeated offender, and has still not been fired, the use of chokeholds executed by the NYPD are now illegal in New York State, with Gov. Andrew Cuomo signing that motion into law on June 12. Known officially as the "Eric Garner Anti-Chokehold Act," the bill is named after Garner, who was killed in Staten Island in 2014 after being put in a fatal chokehold by former officer Daniel Pantaleo. Both Cuomo and Mayor Bill de Blasio have voiced their disdain for the chokehold tactic in the past, with de Blasio revisiting his promise to ban chokeholds within the NYPD in the days after George Floyd's death and prior to Cuomo's signing.
"Chokeholds are prohibited, period," he said during a May 31 press conference. "We've got to recognize when it's a situation that is absolutely abhorrent and it does happen from time to time where an officer is fighting in a life and death struggle."
Despite the NYPD and de Blasio deeming this move to suspend Afanador a success, an officer with a recorded history of violence could have been removed from the police force six years prior, after he beat a teenage boy and broke his teeth. Instead, he is now the subject of breaking a chokehold ban that was barely just enacted in the state, and could have potentially led to another tragedy. "I'm just lost for words," Councilman Donovan Richards, a Rockaway Beach representative, told the Times. "We just went through George Floyd. We see these incidents time and time again. When is it going to end?"
Like what you see? How about some more R29 goodness, right here?
NYPD Disbands Its Plainclothes Unit As A PR Stunt
Police Shoot Terron Boone, Robert Fuller's Brother
Atlanta Police Protest Garrett Rolfe Murder Charge
DMTBeautySpot
via https://www.DMTBeautySpot.com
Asia Ewart, Khareem Sudlow