featured
Khareem Sudlow
Voting In The Primaries Might Be The Only Way To Save Electoral Politics
June 22, 2020
DMT Beauty
#DMTBeautySpot #beauty


In the fight to unseat far-right Senate Majority Leader Mitch McConnell of Kentucky, there are two very different leading candidates in the Democratic primary: Amy McGrath and Charles Booker. McGrath, a former Marine fighter pilot, is running as a centrist war hero, seemingly gift-wrapped with a shiny, blue bow. Propped up by establishment figures like Sen. Chuck Schumer, McGrath, who has never held political office, has raised $41 million, a huge financial advantage — although it is notable that the vast majority of these funds come from outside the state. From the progressive wing of the party, Booker is a 35-year-old state legislator who supports Medicare for All and the Green New Deal; he has been endorsed by Sen. Bernie Sanders, Sen. Elizabeth Warren, and Rep. Alexandria Ocasio-Cortez. While McGrath had an early lead in the race, in the past few weeks, Booker has gained a firestorm of momentum ahead of tomorrow's primary, and is now polling 44% to McGrath's 36%. A recent headline proclaims: "Things Are Not Going Well For Amy McGrath."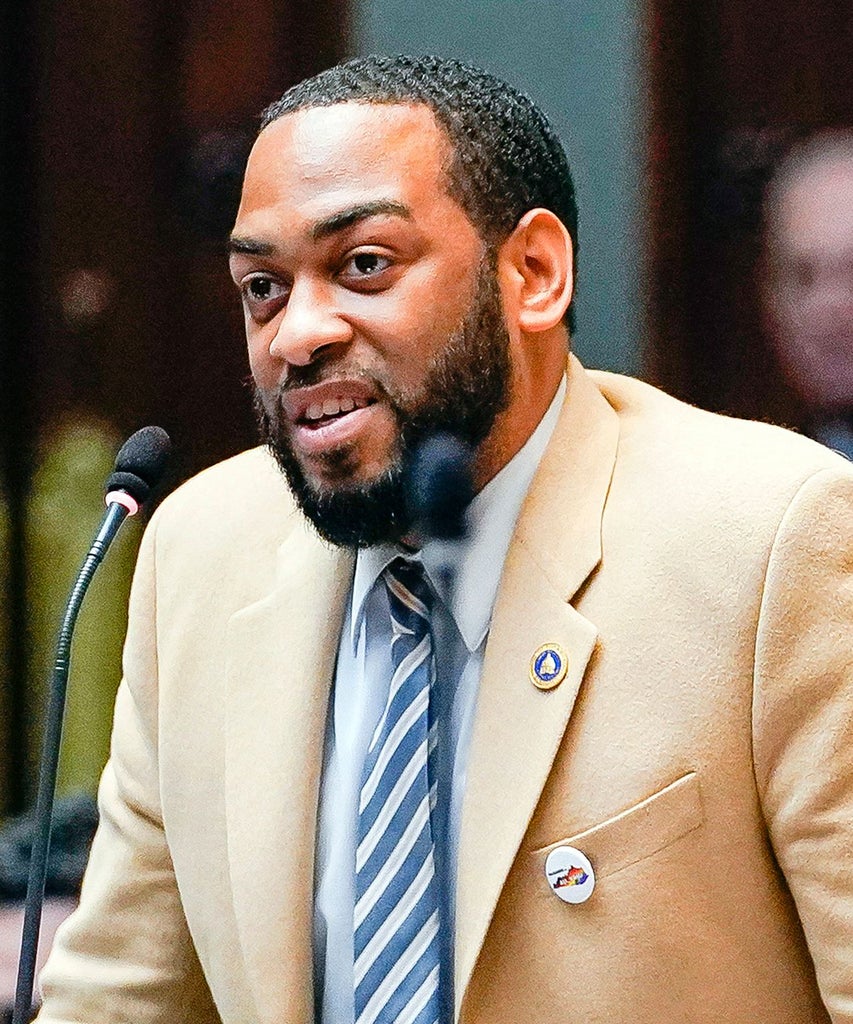 The differences between the two candidates run deeper than just their progressive versus centrist platforms. Booker is the kind of candidate who inspires you to donate money, even if you're broke. He is running as himself rather than as a focus-group-filtered candidate. As a Black man who grew up in the poorest part of Kentucky, Booker's experience resonates deeply with many voters, particularly in this era of reckoning with racial injustice. So it is no wonder that in these last weeks before the primary, he has received some key endorsements, and that grassroots enthusiasm for him is soaring. McGrath, on the other hand, has made some missteps that have been called out by progressives, including her appeal to Trump supporters, in which she said McConnell hasn't made good on Trump's promises — implying that she would. Booker, who has been active in Black Lives Matter protests, criticized McGrath for not attending any and for not mentioning Kentucky EMT Breonna Taylor — whom police killed as she slept in her own bed — by name in a recent ad.
Beating longtime Republican stalwart McConnell — in a state where Trump won by 30 points, no less — is a long shot, but there is no reason to think that the way to do so is by nominating a Democrat who seems more like a Republican. And Booker's recent surge in the polls is a sign that, even in conservative states, there is an increasing appetite for progressive policies and vision — and that this electoral strategy could be what it takes for Democrats to win in the future.
There are still quite a few primaries coming up, especially since some were postponed due to the coronavirus pandemic. The enthusiasm around candidates like Booker shows that it's incredibly important to show up for these races. Primaries help voters decide what their party will look like; for Democrats, that means deciding whether it will be full of progressive, diverse candidates running on their own experience, or "electable" candidates with watered-down messages — some of whom might as well be Republicans. Plus, for those who are unsatisfied with Joe Biden as the Democratic nominee for president, progressive primary wins offer voters chances to make their voices heard in congressional and down ballot races.
The 2018 midterm elections were a testing ground for progressive primary challengers to mainstream Democrats, with new organizers and groups like Justice Democrats and Brand New Congress popping up. That election gave us politicians like Rep. Alexandria Ocasio-Cortez and Rep. Ayanna Pressley, who ran on progressive issues and who are unafraid to take on fights for wealth inequality and racial justice, which their predecessors never did. Their elections transformed Congress and the political conversation, and, at least in some districts, they turned the idea of which Democrats can win on its head.
"Primaries are paramount. They are the vehicle for choice for voters to set the stage of who they want to see on the ballot for the general elections," Zeynab Day, communications director for Brand New Congress, which helped elect AOC, told Refinery29. "Here is where we can really make change. No single seat in Congress is guaranteed. There can exist an attitude that an incumbent should not be primaried because they are already in office. But, primaries are one of our vehicles as voters that we can use to hold our representatives accountable. If they aren't doing the job, then they should be challenged."
For 2020, Brand New Congress is supporting a varied slate of progressive primary challengers: For U.S. Senate, Paula Jean Swearengin, who won her primary in West Virginia; Booker in Kentucky; and Betsy Sweet, who is challenging Sara Gideon in Maine, among others. For U.S. House, Lauren Ashcraft in NY-12 (challenging Carolyn Maloney), Jamaal Bowman in NY-16 (challenging Eliot Engel), Lindsey Boylan in NY-10 (challenging Jerry Nadler), Cori Bush in MO-1 (challenging William Lacy Clay), Kara Eastman in NE-2 (challenging Don Bacon), Mel Gagarin in NY-6 (challenging Grace Meng), and Alex Morse in MA-1 (challenging Richard Neal). These candidates are taking on longtime Democratic incumbents who are believed to have gotten too comfortable in their seats and who haven't done enough to address the real issues of the community.
"In 2018 Brand New Congress candidates like Alexandria Ocasio-Cortez, Cori Bush, and others took up the call to challenge entrenched Democratic incumbents," Day said. "Representatives who have been in office at times when the House, Senate, and presidency had the majority and still failed to make the change to a just system, economic equality, and legislation that could make a real difference like robust criminal justice reform, universal healthcare and actionable legislation to combat climate change."
So far, it's been a year of mixed results for primary challengers, starting with Marie Newman's big March win in Illinois, when she beat Dan Lipinski — a Democrat in name only. But other progressive candidates, such as 26-year-old Jessica Cisneros in Texas, who was endorsed by Bernie Sanders and AOC, lost. It seems Cisneros' district, which ended up backing longtime incumbent Henry Cuellar — a pro-NRA, anti-abortion Democrat — was not quite ready for her progressive politics, despite a long and spirited campaign, that saw money pouring in from progressive groups and voters all over the country.
Regardless of these notable wins and losses, there are undeniably more resources and enthusiasm being invested into progressive challengers than ever before, and the electorate, particularly young people, are increasingly excited about issues such as Medicare for All, the Green New Deal, tuition-free college, and ending for-profit institutions like the prison and immigration detention systems. They are also increasingly talking about police abolition and defunding, issues which some mainstream Democrats are afraid to touch — Joe Biden recently said he does not support defunding the police. The Trump era has helped many see that "voting blue no matter who" is not enough, particularly now when some Democratic officials are not meeting the challenges of this moment, when many are questioning the power of police and officials' handling of the pandemic.
The events of the past couple of weeks have made it even more clear that lukewarm politics won't do in this day and age, and some believe that the changes around racial justice and police violence will help galvanize more young voters around progressives. Booker, particularly, has lost family members to gun violence and is active in criminal justice issues and vocal about police violence. Cori Bush, whose Missouri primary is in August — she's running for the second time after a loss in 2018 — is a Black Lives Matter activist who was on the front lines of the Ferguson protests, where she was tear gassed and had a gun held to her head.
What many of these candidates have in common is that they are meeting this moment of widespread social uprising — and, as Cliff Albright, cofounder of the Black Voters Matter Fund, told Refinery29, they understand that it's a movement. "Three or four weeks ago, Booker was a long shot," Albright said. "But as these issues that we're seeing spilling into the streets have raised debates over defunding the police, that inevitably should lead more people to be engaged and involved in supporting his candidacy. We've already seen some evidence that he is getting a bump and getting more attention. This issue can become the defining issue in some of these primaries." Albright said he is seeing increased excitement among young people who joined the protests, but may not have thought about voting in primaries.
For some voters, particularly in the South, Albright pointed out, the reality is the Democratic primary is the end-all be-all for a lot of races, especially at the local level, where Republicans are still expected to win. In these races, the primary becomes its own game — and it's still incredibly important for voters to exercise their rights. "There are communities that are fighting for literally some life or death issues in the primaries, and when they don't see support and investment in states, then it sends a message to them that those issues and those races aren't important, and that all we see Black voters for is to come out in the general election — hoping we'll save the country," Albright said. "These primaries are really important."
Throughout history, it's the intraparty fights, rather than those between Democrats and Republicans, that have meaningfully changed the fabric of this country. And now, with the Democratic Party firmly in two wings, there is opportunity to make real change. "In history, battles inside of a party have tended to have more policy impact than Democrats versus Republicans," Jen Ancona, vice president and cofounder of Way to Win, an organization that supports progressive candidates and policies, told Refinery29. For example, it was Southern Democrats who largely opposed the Civil Rights Act of 1964, helping contribute to the party's mid-century split. Many of them eventually joined the Republican Party, or supported local and statewide conservative Democrats while voting Republican for president. Those on the left side of the party, though, helped further progress on civil rights, voting rights, women's rights, and LGBTQ+ rights in the latter half of the 20th century.
Progressive primary candidates entering the race with bold, fresh ideas have an opportunity to transform the landscape of politics right now. In 2020, a New Deal might involve a reinvestment in BIPOC communities and new solutions to housing inequality, and the new civil rights movement will be focused on defunding the police and ongoing education inequality. Whatever the details might look like, what's certain is that primary candidates' positions on these issues will help determine the Democratic Party's future.
"At the end of the day, if you have been silent these past three-four weeks, if you haven't been able to find the voice, if you've talked about these issues in a way that's tone-deaf and shows you're not listening to the pulse of the people… If that's what you're doing now amid campaigning, there's no reason we'd expect any more of you once you're in office," Albright said.
Don't forget to register to vote.
Like what you see? How about some more R29 goodness, right here?
Why We Need To Start Voting In Local Elections
Why You Need To Register For Your Absentee Ballot
Trump's Attack On Mail-In Voting Helps No One
DMTBeautySpot
via https://www.DMTBeautySpot.com
Natalie Gontcharova, Khareem Sudlow