featured
Khareem Sudlow
Ivanka Trump Says She Created Jobs For Women. The Truth Is More Complicated.
August 28, 2020
DMT Beauty
#DMTBeautySpot #beauty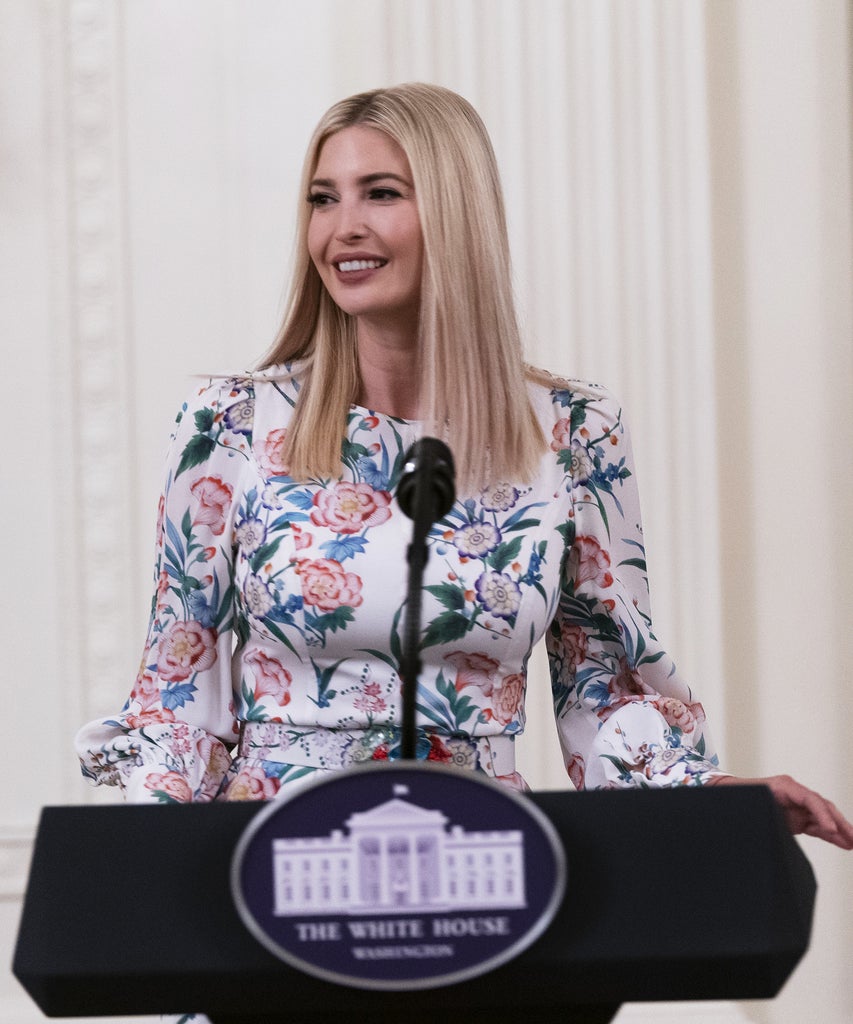 During a Republican National Convention with a head-spinning amount of lies and potentially illegal activity, Ivanka Trump again attempted to present herself as the reasonable and rational member of her family with her speech on Thursday night. Maybe it would have worked, if you didn't actually listen to what she said. Her speech — which covered the economy, criminal justice reform, and Republicans' favorite subject, cancel culture — painted nearly as fictional a vision of America as her father's, further amplifying the surreality of seeing the First Family addressing Americans from the South Lawn of the White House on the final night of the RNC.
Never mind the fact that Ivanka, who said she was praying "for the families who are mourning the loss of a loved one" to the coronavirus pandemic, spoke in front of a largely maskless crowd, most of whom hadn't been tested for COVID-19 — unless they came in close proximity to the president, of course. Or the grotesque display of tastelessness that capped off the four-day convention in the form of fireworks and an opera singer with a wedding-ceremony repertoire.
But even putting all that aside, Ivanka's central scam relies on who she claims she represents — the working mom. The mother of three, who has been trying to portray herself as the queen of "working women" and job creation since the beginning of the administration, repeatedly lied about what the administration has done for women, working parents, and caregivers in the substance of her speech.
"Four years ago in Cleveland, I said President Trump would deliver for working women. Last year, over 70% of all new jobs were secured by women," she said.
Ivanka's statement isn't wrong: Women did account for the majority of job growth in 2019, outnumbering men in the workforce for only the second time. But, it's also not the whole truth, and ignores important context: In the last several months, the pandemic has caused unemployment to jump from a historically low 3.6% to a record of 14.7 in April (it's now above 10%). Despite having made job gains in 2019, women have been disproportionately affected by the crisis.
More women than men lost their jobs from February to May — 11.5 million versus 9 million, according to Pew Research — with industries like leisure and hospitality, retail, and childcare disproportionately gutted. While about a third of those jobs returned in May and June, experts say many of those industries are still highly vulnerable and likely to be affected by another shutdown. The Trump administration's mismanagement of the pandemic has hurt Black women, Latinx women, immigrants, younger women, and working-class women particularly hard. Not that you'd know it from Ivanka's speech, but one in five childcare workers have lost their jobs. Perhaps she neglected to mention that because she hardly ever acknowledges her own childcare workers while extolling her own virtues as a working mom.
Speaking of childcare, Ivanka made sure to praise her father's childcare tax credit (which leaves out poor families and helps out high earners) and paid leave tax credit (which is extremely limited), symbolic policies that don't do much to help the majority of working women. Meanwhile, Sen. Elizabeth Warren's ambitious universal childcare plan and Sen. Kirsten Gillibrand's comprehensive, state-tested paid family leave proposal are languishing in the U.S. Senate.
Ivanka acknowledged none of the harsh economic realities of the pandemic. Perhaps this is because there's no positive way to spin the way that the coronavirus has obliterated our economy, aided, in part, with the administration's failure to impose a mask mandate or a national lockdown — or really any policies that respect the existing science. Even now, the Republicans' only plan seems to be a vaccine and scientifically unproven "miracle" cures like hydroxychloroquine.
President Trump himself, too, pined for the economy of several months ago in his address: "Before the China virus came in, [the U.S.] produced the best unemployment numbers for African-Americans, Hispanic Americans, and Asian-Americans ever recorded," he said, once again using a racist term to describe the pandemic. Yes, we had record-low unemployment, rising wages, growing GDP, and a healthy stock market — an economic recovery Trump largely inherited from Obama. Now, we have none of those things.
Since the beginning of the administration, Ivanka has tried to paint herself as a "job creation Barbie" of sorts — a diminishing term, but one she has earned, filling her Instagram with photos of herself visiting factories, wearing a hardhat, riding a forklift, and even as an astronaut. Her signature initiative, the Pledge to America's Workers involves "committing to expand programs that educate, train, and reskill American workers from high-school age to near-retirement." According to the White House, over 430 companies and organizations have signed the pledge, contributing to over 16 million new education and training opportunities.
But the program doesn't amount to actual jobs, only proposed training opportunities. Plus, CNN reported, many of these opportunities had already been planned by the companies themselves before Ivanka strode in. Those "millions of jobs" (14 million in fact, a number that's more than the total amount of jobs the American economy created by that point) the president boasted last year that his daughter herself has somehow created, are a pure fantasy.
Ivanka's jobs-queen cosplay extends into other ventures, like her out-of-touch Women Who Work book, which features such gems of advice as "Honor yourself by exploring the kind of life you deserve" and her ill-fated fashion brand, also targeting "women who work." Just like her speech, these ventures treat women — including those who work — as an abstraction, a demographic you can pacify with inspirational Pinterest quotes.
Her father is not the job-creation machine she described in her speech, either. Overall, the president likes to boast that his administration is "producing jobs like you have never seen before in this country" due to his renegotiation on major trade deals like NAFTA. During Trump's first three years in office, the U.S. economy gained 6.6 million jobs, a respectable number — but nowhere near a record one. Other presidents saw better job creation after three years: 8.5 million jobs for Bill Clinton and 10.1 million jobs for Jimmy Carter. During President Barack Obama's last three years, the economy added 8.1 million jobs. (While Obama's first term saw little job creation, he also took office in the middle of the worst financial crisis since the Great Depression.)
Of course, all of these are boring facts when you're Ivanka and your number-one concern is trying to make your father seem palatable to swing voters in the suburbs, particularly women. And those white, well-off suburban women she's targeting haven't been as affected by the job crisis — so they're more likely to believe her. But who's going to fact-check the Trumps? Certainly not their base.
Like what you see? How about some more R29 goodness, right here?
For The Trumps, "Father" & "Husband" Mean "Boss"
Why Ivanka Trump's "Find Something New" Falls Flat
Tiffany Trump's RNC Speech Felt Like An Audition
DMTBeautySpot
via https://www.DMTBeautySpot.com
Natalie Gontcharova, Khareem Sudlow