featured
Khareem Sudlow
Trump Used Russian Fighter Jets In A "Support Our Troops" Ad Campaign. OK!!
September 15, 2020
DMT Beauty
#DMTBeautySpot #beauty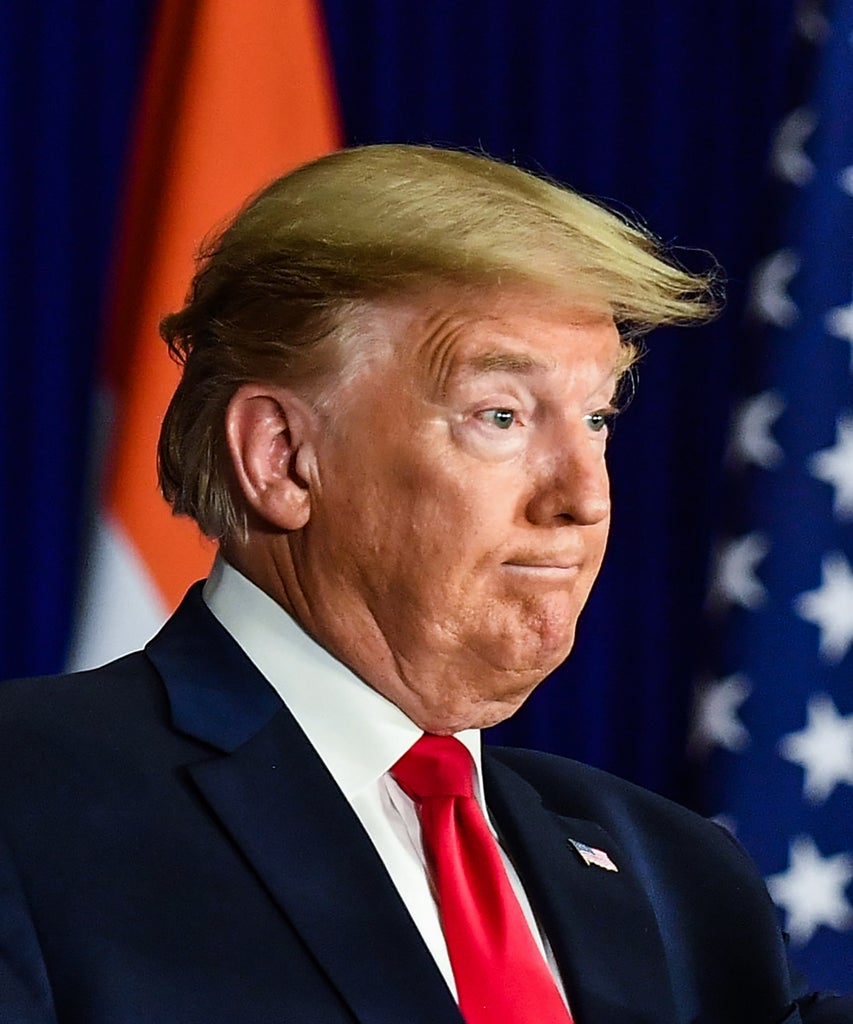 There's no Russian interference in the 2020 election, President Donald Trump insists right before using stock imagery of Russian-made fighter jets and weapons in a reelection campaign ad.
The fundraising ad, which was released ahead of September 11, called for the public to "support our troops" and depicts the silhouette of five soldiers standing beneath three jets flying overhead. But the image used shows an MiG-29 plane and at least one soldier holding an AK-74 assault rifle, Ruslan Pukhov from the Centre of Analysis of Strategies and Technologies in Moscow confirmed with Politico. The image has since been identified as a stock photo available on Shutterstock named "Military silhouettes of soldiers and airforce against the backdrop of sunset sky." The Trump Make America Great Again Committee and the Republican National Committee (RNC) ran the digital ad from September 8 through September 12 before it was removed, and the Trump campaign has yet to comment publicly on it.
Despite the massively botched ad now being the subject of ridicule online, this isn't the first time that the Trump campaign has used inaccurate or misleading footage. During the protests following the killing of George Floyd, the Trump campaign used an image from protests in Ukraine in 2014 side by side with an image of Trump meeting law enforcement officials at the White House as an attempt to vilify protestors by comparison to their alleged "law and order" president. The caption beneath the photos read, "Public safety vs chaos & violence."
Another ad released in July similarly mixed footage of chaotic destruction with quotes suggesting that Democratic lawmakers and Biden actively supported violence, attacks on police, and looting. It did so by deceptively editing images from protests and taking quotes heavily out of context. The ad opens with footage of violent protests with the text: "In Democrat-controlled cities across the USA violent mobs of liberals are rioting and looting. They are attacking police." The video then cuts to House Speaker Nancy Pelosi saying, "I just don't even know why there aren't uprisings all over the country. And maybe there will be." The placement is intentionally made to make viewers think Pelosi endorses violence.
However, the Trump campaign's attempt to mislead voters may finally be catching up with them with real threats of Russian interference. The appearance of Russian military equipment in this most recent ad campaign comes following recent reports from intelligence officials suggesting that the Russian government is interfering in the upcoming election. The current tactic of choice is attempting to undermine Democratic candidate Joe Biden in order to increase Trump's chances of reelection.
Earlier this month, Microsoft supported this allegation forewarning that Russian hackers were targeting U.S. political campaigns. Microsoft attributed more than 200 attacks targeting organizations linked to U.S. political parties to Russian organization, Strontium. The hacking group is also known as Fancy Bear, which is allegedly affiliated with Russia's GRU military intelligence service. A spokesperson for President Vladimir Putin denied the accusations saying that the Kremlin has never tried to interfere with other countries' elections.
Despite this, the "support our troops" ad is probably not the work of Russian hackers, but rather just some faulty fact-checking from the Trump campaign. Although, neither result would really be surprising at this point.
Like what you see? How about some more R29 goodness, right here?
Trump Hosted A Massive Indoor Rally In Nevada
Trump Reveals New "Joe Biden's America" Attack Ad
Twitter Is Going To Fact-Check Trump's Tweets
DMTBeautySpot
via https://www.DMTBeautySpot.com
Sarah Midkiff, Khareem Sudlow