#DMTBeautySpot #beauty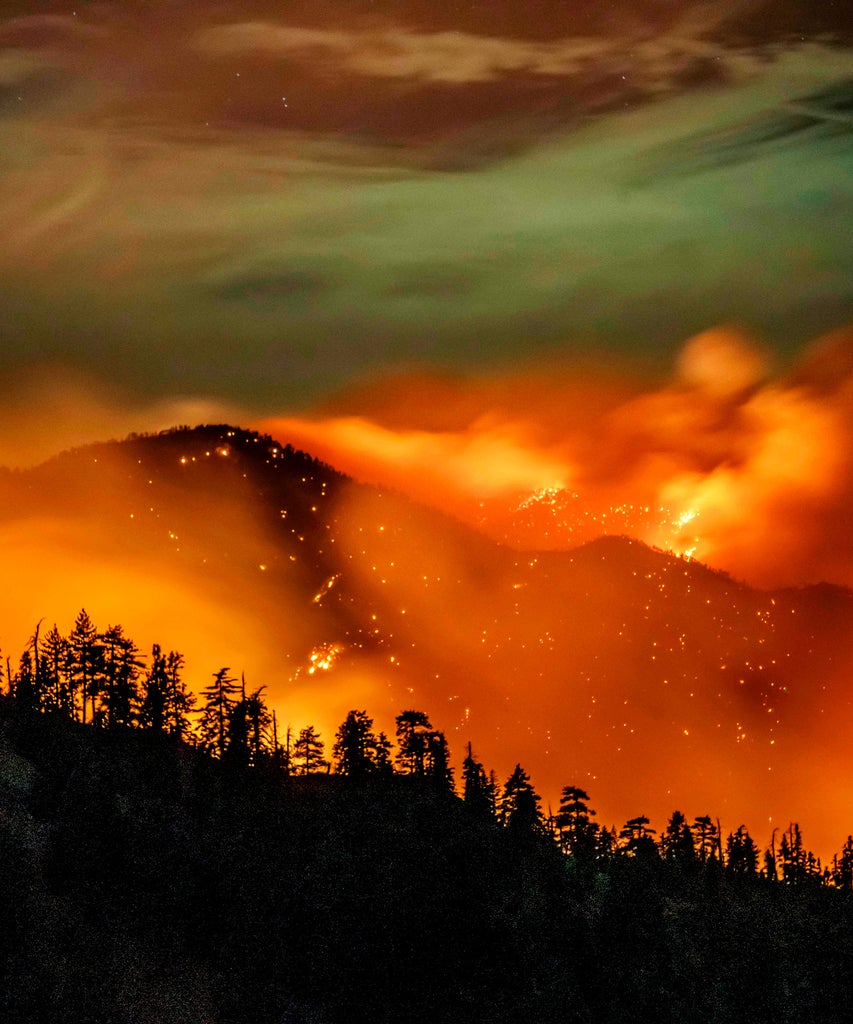 On Thursday, I woke up with a pounding headache and scratchy throat for the fourth day in a row. A month ago, my anxiety-riddled brain would be convinced that I contracted COVID-19, but this morning, I know that's not possible: I haven't stepped foot outside my house in over a week. These ailments are caused from smoke inhalation, and if it's affecting me like this, I can't help but worry what it's doing to my 8-month-old daughter.
Stevie was born on Christmas morning, two weeks prior to my January 8, 2020 due date. I told her she could arrive any day except Christmas, but she wasn't a good listener, even in utero. These days, my husband and I are grateful she was born in 2019, rather than this tarnished year.
When the pandemic hit in March, our day-to-day life didn't change — we were already essentially quarantined with a 3-month-old baby — but my already-high stress levels skyrocketed. There was so much we didn't (and still don't) know about the virus: How was it spreading? How did it affect victims? How could we stop it? One thing I did know was that as long as I stayed in my house, my family and I would be safe.
Now, the monster's not outside our door anymore. It's seeping in through every crack.
When I first sat down to write this, 12 wildfires were ablaze in Oregon. They destroyed nearly a million acres of land in the state and counting. More than 40,000 people were displaced, and around 500,000 were in evacuation zones; 2,268 homes were destroyed; five citizens are still missing, and nine have been confirmed dead.
We got our first whiff of trouble on Labor Day. My family and I returned home from a trip to the coast to find our neighborhood shrouded in smoke. After a quick Google search, we realized the West Coast was on fire. It was devastating. Our hearts ached for those affected. But we were also exhausted from our first weekend trip with a baby, and we fell asleep as soon as our heads hit the pillow.
The next morning I was happy to see the smoke had dissipated. I strapped Stevie to my chest and we went on our daily walk around the neighborhood. We sang songs. We laughed. She grabbed every leaf within reach and smiled at every person we passed. I was upset about the wildfires, but relieved that we weren't affected. Oh, how wrong I was.
That was the last time we stepped foot outside for 10 days. By September 9, the Riverside and Beachie Creek fires had rapidly spread due to unprecedented windstorms. All of Clackamas County was under at least a Level 1 Evacuation Alert.
Never did I think I'd have to prepare for fire evacuation living in Northwestern Oregon, but in 2020, all bets are off.
First, we figured out where we'd go if we had to leave. Thankfully, my mom lives close enough that we could easily drive to her house, and far enough away that she wasn't in danger.
Next came the emotional task of collecting items we "couldn't live without." As I packed away my baby blanket, the teddy bear my late stepmom gifted Stevie, and photo albums, I felt a numbness of sorts. I tried to remind myself of our privileges: We had a safe place to stay if we had to leave; we had time to collect our most precious belongings; and our central A/C system was doing a great job of circulating our indoor air. But this year had already taken so much out of me — the natural stresses of motherhood, topped by a global and social pandemic — and I couldn't help but ask myself how this could be happening.
That question, of course, is not hard to answer. Our planet is suffering, and many of the people in charge of our country deny that climate change exists. President Trump has chalked the fires up to poor forest management, not global warming.
By September 10, my husband had taken to setting alarms for the middle of the night so he could check emergency evacuation notices. If our neighborhood got to Level 2, we'd decided we were leaving. As winds continued to fan the flames that crept closer to us, reality hit me like a ton of bricks. That afternoon, I held Stevie close and began to weep. She looked at me, bewildered. I was supposed to comfort her when she cried, not the other way around.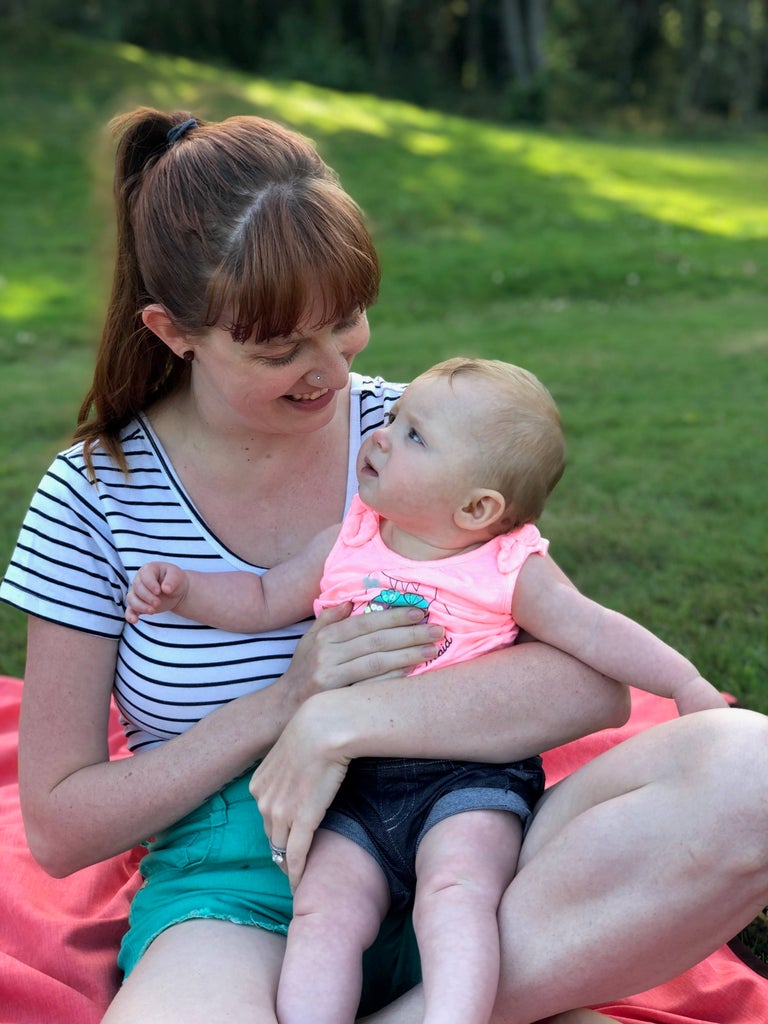 I had already been worried about the effects 2020 will have on Stevie psychologically. Since entering lockdown, she's only been held by two people besides my husband and me. My mom is the only other person she sees regularly, once every week or so. Most family members and friends likely won't meet her outside of Zoom or FaceTime until she's a toddler. She's never played with another baby.
But over the summer, we'd begun going to restaurants that provided outdoor seating every once in a while, just so she could experience public places. And our walks were a daily highlight. Once the fires came, though, all I could do was divide her toys up into different rooms, my best attempt at adding some variety to the day. When she was in her highchair, she would look longing out the window, unaware that the sepia-tinted sky was abnormal.
On September 11, it was declared that Portland had the worst air quality in the world. But that weekend, our evacuation alert was lifted. We finally felt like we were safe… Until a few days later, when my husband woke up with a sore throat. The next morning, my head was pounding. Stevie was unusually fussy too. She was bored and teething (because the universe is cruel), but I feared that she was also in pain, experiencing the physical effects of the hazardous air that was polluting our home. An infant can't communicate that their head or throat hurt, so all I could do was administer ibuprofen and hope for the best.
Finally, in the wee hours of Friday, September 18, I woke up to the sound of thunder. While lightning causes the threat of more fires, it was joined by rain. And lots of it. I've never been more happy to hear that pattering sound on my roof. It was a downpour. It was a godsend. The air quality improved from "hazardous" to "unhealthy." Hallelujah!
The next morning, for the first time all week, I woke up without a headache. I let myself think that we might finally really be safe — at least for now. As I put away my wedding dress and hung pictures back on the wall, I grieved for those who had been displaced, lost their homes, lost a loved one, lost their lives.
I fear the worst is yet to come. These fires are unprecedented, and as Oregon Governor Kate Brown said, "could be the greatest loss of human lives and property due to wildfire in our state." If those in power don't start taking the climate crisis seriously, it'll only get worse. "I strongly believe we're going to look back in 10 years, certainly 20 and definitely 50 and say, 'Wow, 2020 was a crazy year, but I miss it,'" Colorado University environmental sciences chief Waleed Abdalati recently cautioned. Chilling.
Anyone should be unnerved by this comment, but a parent should feel gutted. I'm so grateful Stevie won't remember any of this, but she will know how the world responded. And she'll face the consequences of our actions.
Like what you see? How about some more R29 goodness, right here?
A Gender Reveal Party Caused A Massive Wildfire
Why Inmates Were Fighting California Wildfires
What It's Like To Be A Climate Change Activist Now
DMTBeautySpot
via https://www.DMTBeautySpot.com
Katrina Nattress, Khareem Sudlow