featured
Izzie Ramirez
What To Know About The Lancaster Protests Following The Police Killing Of Ricardo Munoz
September 14, 2020
DMT Beauty
#DMTBeautySpot #beauty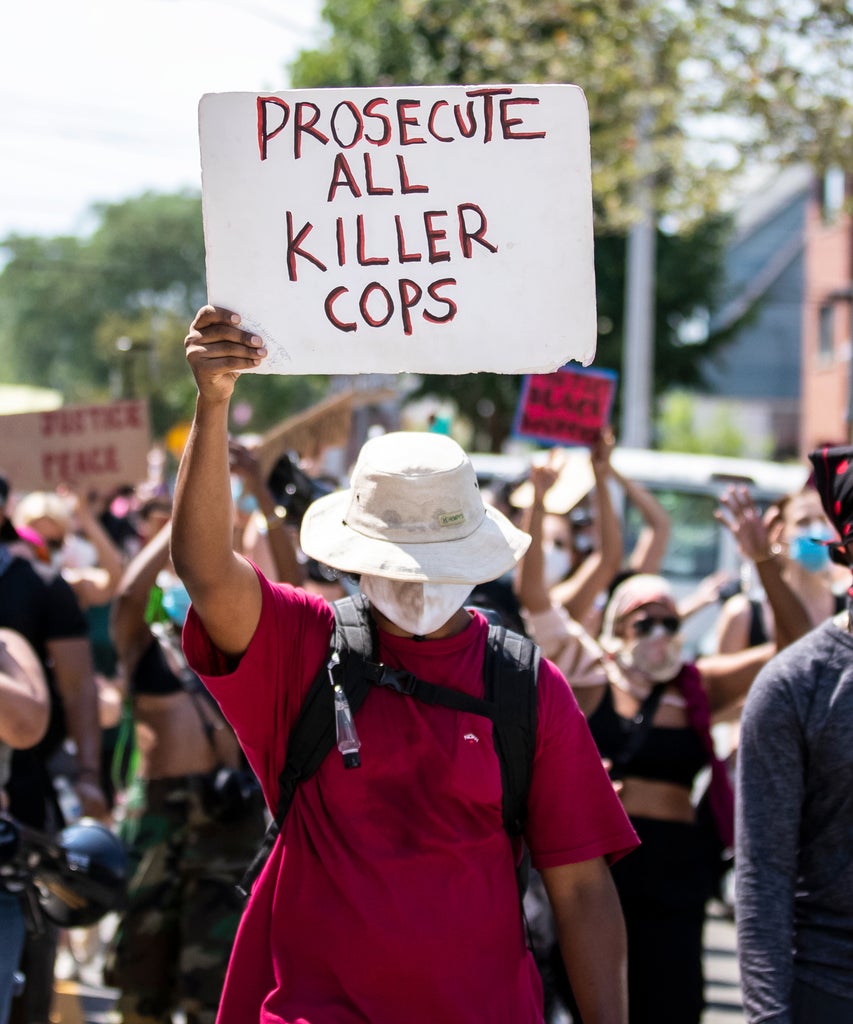 Late Sunday afternoon, a police officer in Lancaster, Pennsylvania shot and killed 27-year-old Ricardo Munoz while responding to a domestic disturbance call, sparking protests late into the night. Munoz's killing is the latest in a recent wave of police brutality against Black and brown men in the United States.
According to the Lancaster Bureau of Police, Munoz's sister had called 9-1-1 around 4:13 p.m. Munoz was "reportedly becoming aggressive with his mother and was attempting to break into her house." About 10 minutes later, Munoz left the home and chased the first officer to arrive at the scene. Body camera footage that was released by the department shows Munoz wielding and brandishing a knife over his head as he chased the officer; that's when the officer reportedly fired several rounds and ultimately killed him.
Munoz's body was left visible outside the home for four hours, and more than 100 people crowded around the crime scene. Following the police shooting, members of the community expressed anger towards the officers at the scene. In a summer rife with anti-racism protests, with calls to defund and abolish the police, Munoz's death became an immediate catalyst for protests well into the night, with demonstrators demanding justice for police failing to de-escalate another emergency call.
Around 8 p.m Sunday evening, protestors gathered in front of the Lancaster Police Station where many chanted well into the night. Demonstrators blocked the streets en masse, putting their fists in the air, saying, "No justice, no peace!" and "Hands up, don't shoot!" But about an hour later, police began deploying officers in riot gear who used "chemical munitions" in an attempt to quell protestors.
Protesters out in the intersection of West Chestnut Street and North Prince in Lancaster city in response to police involved shooting that occurred Sunday afternoon. @LancasterOnline pic.twitter.com/sstzzefznf

— Blaine Shahan (@BlaineShahanLNP) September 14, 2020
What started as a peaceful demonstration quickly escalated when protestors allegedly refused to move off of the police station's west side access ramp. As a result, officers began to pepper spray protestors, according to a police statement. Around 1 a.m., several protestors damaged a county vehicle and threw bricks in front of the station, shattering the windows of the local post office.
According to Lancaster Online, at least four people have been arrested in connection with the protests so far and the officer who shot Munoz has been placed on leave. The District Attorney's Office is currently in the process of conducting a criminal investigation to see whether the force used by the officer was justified, Lancaster police chief Jarrad Berkihiser said in an interview with Lancaster Online. However, Berkihiser noted that the police department will still conduct its own separate investigation.
"We ask that acts of protest remain peaceful as violence and destruction of property will become headlines and serve no purpose for the safety and wellbeing of our citizens and neighborhoods," Lancaster District Attorney Heather Adams said.
This is a developing story. We will update this as we know more.
Like what you see? How about some more R29 goodness, right here?
Nicolas Chavez Was Shot By Police Over 20 Times
Police Are Killing Black People At A Higher Rate
Naked Protestors Gathered To Honor Daniel Prude
DMTBeautySpot
via https://www.DMTBeautySpot.com
Izzie Ramirez, Khareem Sudlow