Erin Corbett
featured
Don't Have Friday Night Plans? Tune In To Trump's Televised Medical Evaluation
October 09, 2020
BruceDayne
#DMTBeautySpot #beauty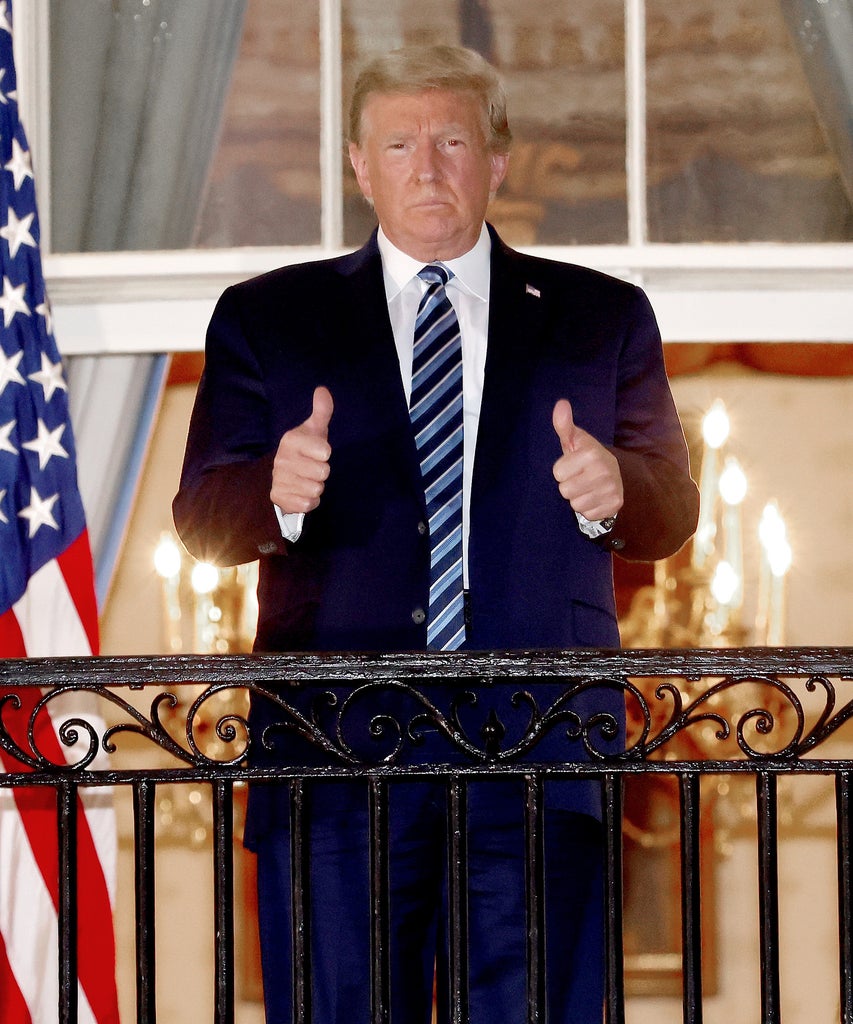 Nothing says "spooky" like a reality TV star president going on Fox News to receive a medical evaluation. And that's exactly what President Donald Trump will be doing Friday night. Although Trump insists he is totally fine as he enters his second week with the deadly COVID-19, he now plans on going on Fox to prove it.
According to Fox News, Trump's evaluation will air on Tucker Carlson Tonight at 8 p.m., with help from Dr. Marc Siegel, who "will conduct a medical evaluation and interview during the program." Siegel will reportedly interview Trump, who is currently in the White House, in his first televised interview since he and First Lady Melania Trump tested positive for COVID-19.
You may be asking, why do this? Why even do this? Well, Trump loves to be in the spotlight and has dominated a chaotic news cycle pretty much since he announced he was running for president in 2015. And what's more chaotic than the president going on air with a deadly virus — one day after House Speaker Nancy Pelosi announced Congress was discussing plans to invoke the 25th Amendment — to prove he is completely fine.
Since his release from Walter Reed Medical Center on Monday, the president has continued to downplay the coronavirus over Twitter, telling people across the country not to "let it dominate your life." Though he claims he is well and ready to get back to hosting campaign rallies this weekend, Trump's health has been in question since his diagnosis, with limited information made available to the public.
In several videos, Trump appears to have trouble breathing and has been coughing his way through phone interviews. He even received supplemental oxygen over the weekend, when he didn't appear in public for nearly two days. The truth about Trump's health has been so unclear that many speculated as to whether a video he posted Thursday on the White House lawn was filmed in front of a green screen. It probably wasn't, but it's easy to understand why so many people have trouble believing a president who tells constant lies.
Despite Trump's attempt to reassure everyone that he's healthy and COVID-free, he still won't say whether he has been tested for the virus since he announced his diagnosis last Friday. "Well, what we're doing is probably the test will be tomorrow … because there's no reason to test all the time," Trump said in a phone interview with Fox's Sean Hannity on Thursday. "They found very little infection or virus, if any."
We won't likely learn anything new about Trump's health during his medical evaluation on Friday, which will just give the president more air-time to propagate lies about a virus that has killed more than 200,000 people on his watch. And while there is no reason to trust the resident doctors over at Fox News to put the American public at ease, if there's nothing else to do tonight, feel free to tune in and relinquish to the existential election dread we are all feeling right now.
Like what you see? How about some more R29 goodness, right here?
Trump Is Now Fanning The White Supremacist Flames
What To Know About Regeneron's COVID Treatment
Trump Just Couldn't Resist Calling Kamala Names
DMTBeautySpot
via https://www.DMTBeautySpot.com
Erin Corbett, Khareem Sudlow