featured
Khareem Sudlow
19 Million Women Live In A Contraceptive Desert. Are You One Of Them?
November 19, 2020
BruceDayne
#DMTBeautySpot #beauty


When Kyla Horn was in college, she drove home once a month. It was nearly a two-hour trip each way, but she made it without fail for three years straight, even when it meant asking a coworker at the movie theater where she worked to switch shifts with her or leaving a mountain of homework undone. Horn's commitment wasn't just about seeing her family — though she did love visiting her grandparents — but because it was the only way she could reliably fill her birth control pill prescription.
Horn's college town and her hometown — both in Kentucky — are located in birth control deserts, which the reproductive rights organization Power To Decide defines as an area without "reasonable access" to a full range of contraceptive methods. The organization designates a county a desert if there isn't at least one clinic for every 1,000 women in need of publicly funded contraception that provides all forms of birth control, including long-acting reversible contraception (LARC), such as the IUD or the implant.
In Horn's case, a lack of reasonable access meant she was never offered an IUD by her physician at home, though one could have made those monthly trips unnecessary. It also meant when she tried transferring her pill prescription, the pharmacy in her college town "couldn't be bothered to fill it or attempt to," Horn says. "I would say I tried four or five times before I gave up and just decided to make the drive." Refinery29 reached out to the health center in Horn's hometown for comment, and has yet to hear back.
"Sometimes I would think, 'I have a lot of homework this weekend, do I really want to make that drive?'" Horn, now 22, remembers. "But I would always tell myself, I have to because I want to be able to have a career, and I'm not going to be able to do that if I get pregnant and have a baby to raise. And if I were to get pregnant, I barely have enough money for gas to get my birth control, I definitely don't have enough to get an abortion."
How contraceptive deserts harm people
Nationwide, more than 19 million women who are eligible for publicly funded contraceptives live in contraceptive deserts, according to Power to Decide. Having access to multiple forms of birth control is crucial, not just for convenience, but for well-being. "Birth control is not one size fits all," says June Gupta, NP, a women's health nurse practitioner and the director of medical standards at Planned Parenthood Federation of America. The pill works for some, and doesn't for others. Power To Decide notes that nearly one third of women have tried at least five forms of contraception in their lifetimes.
Access to contraception helps prevent unwanted pregnancies and promotes economic self-sufficiency in women, as the American College of Obstetrics and Gynecology reports. The Centers for Disease Control and Prevention named family planning, which includes access to contraceptives, one of the 10 great public health achievements of the 20th century — it's that impactful.
Birth control has health benefits beyond pregnancy prevention, too. The medication is often used to treat the symptoms of conditions such as polycystic ovary syndrome (PCOS — a hormone imbalance), endometriosis (which occurs when uterine lining-like tissue grows outside the uterus), or premenstrual dysphoric disorder (which is similar to PMS, but extremely severe), Gupta says. "Birth control can also lower the risk of ectopic pregnancies, and some forms of birth control are also effective for treating acne, preventing endometrial and ovarian cancer, and treating issues like ovarian cysts, fibroids, bone thinning, and anemia," Gupta adds.
This is why contraceptive deserts are such a problem. People living in them face serious obstacles to getting reproductive care that can dramatically improve the quality of their lives. Traveling across multiple counties may not be an option, either because of the cost, a lack of public transit, an inability to take time off work, an inability to find childcare — or all of the above, explains Rachel Fey, the senior director of public policy at Power To Decide. "If you're struggling to make ends meet and depend on the safety net of publicly funded clinics, where you live has a huge amount to do with how much access you have to birth control," Fey says.
Why do contraceptive deserts exist?
Fey says that a major reason clinics aren't offering a full range of methods has to do with a lack of adequate funding, coupled with overwhelming demand for publicly funded contraceptive care — which has only increased as the pandemic continues.
Power To Decide's contraceptive desert map reveals a couple clear trends: The middle of the country has less access to birth control than the coasts, for instance. But liberal states aren't in the clear. In Herkimer County, NY, for instance, there are no health centers that offer the full range of methods, but 3,860 reproductive-age women who need publicly funded contraceptive services.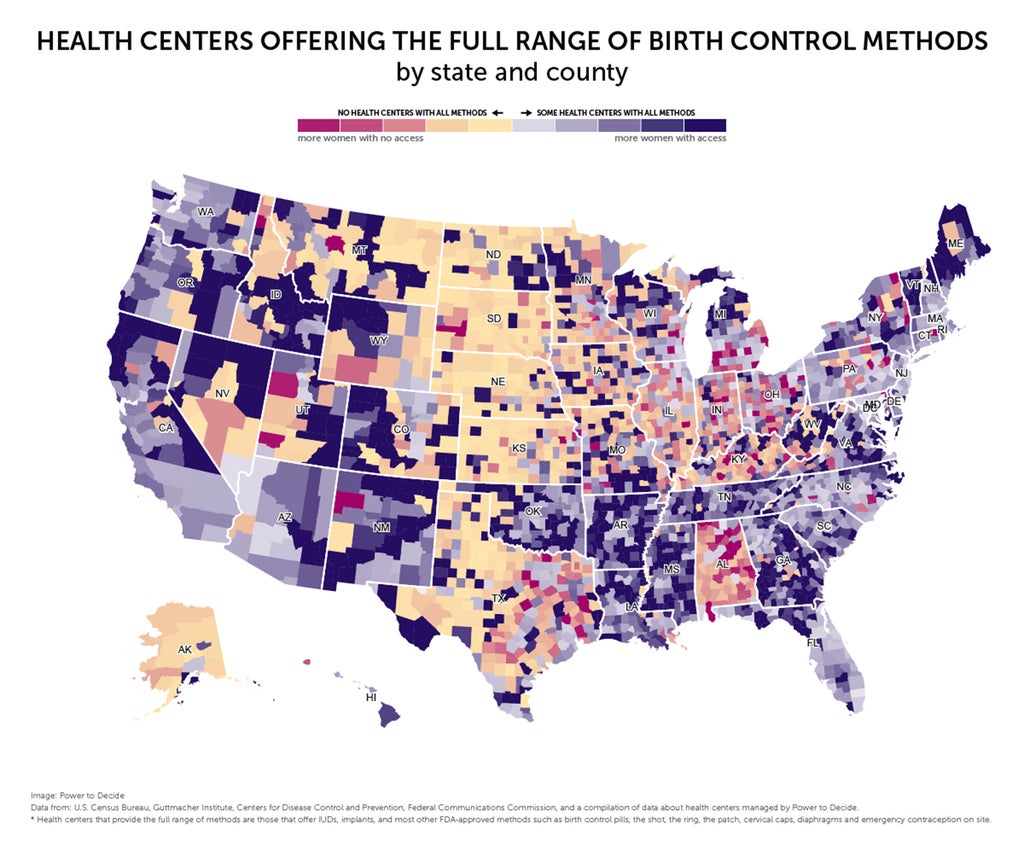 Local and federal policies can make it hard on health clinics, leaving them overburdened and under-financed. In 2019, the Trump Administration's "domestic gag rule" prohibited clinics that received Title X funds to give patients information about obtaining safe and legal abortions. In order to continue providing abortion care, many clinics (such as Planned Parenthood) chose to leave the Title X program, thereby losing the funding. Without that funding, some clinics had to close; others had to accept fewer patients. Ultimately, care was jeopardized for 1.6 million cis-female patients nationwide, according to the Guttmacher Institute. In 17 states, the clinics that left the Title X network were serving at least half of female contraceptive patients relying on the program, Guttmacher notes.
State legislation can also play a role in the creation of contraceptive deserts. In Texas in 2011, for example, the Republican-led state legislature wanted to stop giving Medicaid family planning funds to providers that offered abortion care. But under federal law, which requires states to give the money to "any qualified provider," this decision meant Texas had to opt out of federal funding, which made up about 90% of its family planning program. Texas created their own state-funded program instead, but ultimately, the state's two-year family planning budget was slashed from $111 million to only $38 million. The funding cuts went into effect that year, and in the months that followed, 82 women's health clinics closed or had to stop providing family planning services across the state, according to a Texas Policy Evaluation Project report.
The state-funded program that replaced the Medicaid family planning program rolled out in January 2013. Women who previously relied on clinics that also provided abortions to fulfill their birth control were forced to visit different clinics or primary-care physicians who didn't always offer all birth control methods, including LARCs, notes Kari White, PhD, the principal investigator of the Texas Policy Evaluation Project and an associate professor at The University of Texas at Austin. In 2012, 71% of clinics in the state offered LARCs; by 2013, just 46% did, according to a study Dr. White's team led, which was published in the American Journal of Public Health.
This is just one example of budget cuts and clinic closures that majorly impacted access, but Texas is far from the only state where care has been curtailed. It's been happening across the U.S. for years. Fey hopes President-Elect Joe Biden will be able to relieve some of this burden by reversing the domestic gag rule, as he said he would in his early policy proposals. His plan is to mandate that states can't refuse Medicaid funding to clinics that also offer abortions and to restore the Affordable Care Act's contraception mandate. "All of these actions will help to improve contraceptive coverage and access for those struggling to make ends meet," Fey says. "However, they are just the beginning of what must be done to not just repair, but truly improve access to contraception for everyone."
How can we get rid of contraceptive deserts?
The road to filling in the gaps in access may be a long one — once a desert forms, it's historically difficult to see access to care bounce back.
Even though Texas made moves to put money back into the family planning budget following the catastrophic 2011 decisions, the damage had already been done. The effects of the initial roll-back in funding are still being felt. "We have seen from our research that there are still some capacity issues and barriers to care," White says.
Still, organizations like Power To Decide are hopeful, thanks to a handful of policies that promise to have lasting, positive impacts. One major game changer for helping folks in contraceptive deserts is telehealth. Many states are now allowing birth control to be prescribed during a virtual chat with a provider. "[This] makes a world of difference to some patients, who may have some challenges getting to a health center," Gupta says. Depending on where you live, the birth control pill can be prescribed over video chat and be filled by mail, significantly increasing access. Telehealth prescriptions also cut down on the number of trips to a clinic someone would have to make when getting a LARC. Additionally, 17 states have passed laws that allow pharmacists to prescribe hormonal birth control.
A simple step, like allowing women to pick up more than a month's supply of birth control at a time, can also greatly increase access (it certainly would have helped Horn). In the past four years, 21 states enacted legislation that requires insurance plans to provide an extended supply of contraceptives, a Power to Decide fact sheet notes.
So there's good news. But the U.S. still has a long way to go. While not having easy access to birth control may seem like a minor annoyance to some, in reality, it has the potential to change lives.
"Driving hours to get birth control was easier for me to handle than having a child," says Horn, who now works at an organization in Kentucky that works to increase access to contraceptives. "But I shouldn't have had to make that choice."
Like what you see? How about some more R29 goodness, right here?
Access To Birth Control Is Life-Or-Death For Me
Should Couples Share The Cost Of Birth Control?
Why This SCOTUS Birth Control Ruling Is Dangerous
DMTBeautySpot
via https://www.DMTBeautySpot.com
Molly Longman, Khareem Sudlow