#DMTBeautySpot #beauty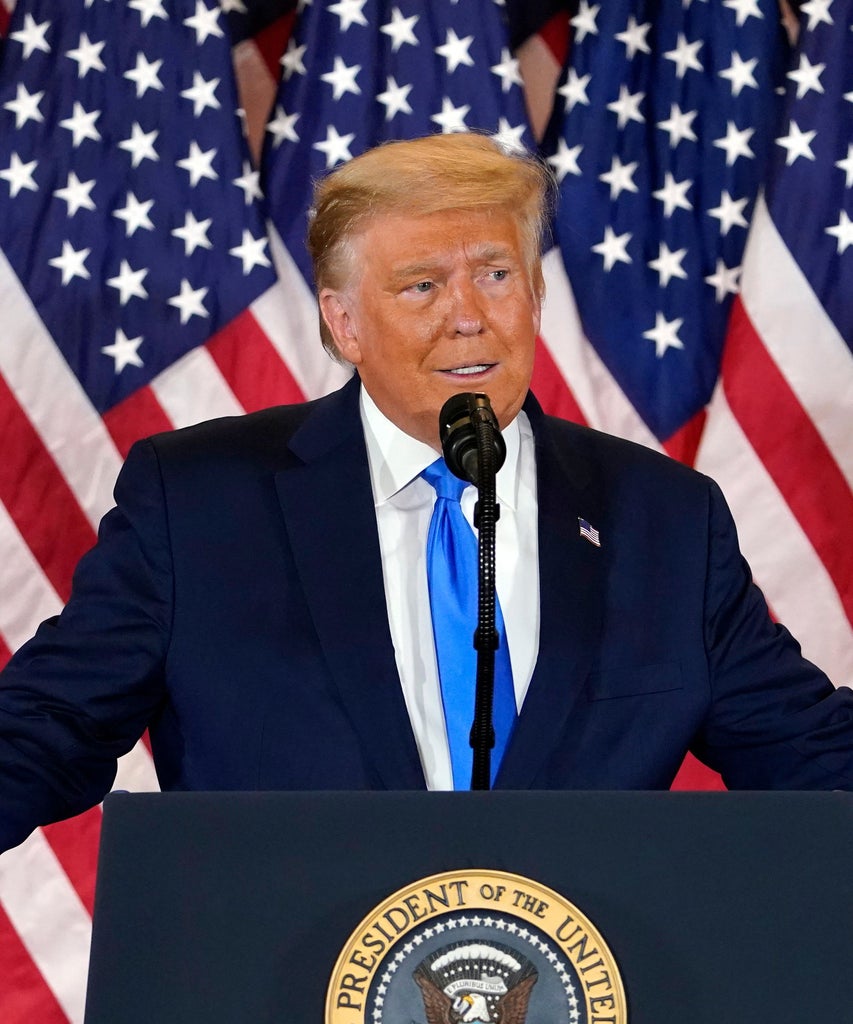 While November 3 is officially behind us, the 2020 presidential election is not. Due to a massive influx of early and absentee votes as a result of the ongoing COVID-19 pandemic, key battleground states like Pennsylvania, Wisconsin, Michigan, and Georgia are still counting ballots. And even on Wednesday morning, this election is, simply put, too close to call. While this outcome was highly likely — as well as normal, since the country has never had final election results on election day — that didn't stop the current president of the United States from prematurely and falsely claiming victory, before attacking the very pillars of American Democracy from inside the White House.
After Democratic presidential nominee Joe Biden gave a short speech just after 12:30 a.m. on November 4, thanking Americans for their patience and calmly declaring, "it's not my place or Donald Trump's place to declare this election," President Donald Trump declared victory, tweeting, "I will be making a statement tonight. A big WIN!" And before addressing the nation, he followed up his fallacious declaration by undermining the legitimacy of the election. "We are up BIG, but they are trying to STEAL the election. We will never let them do it. Votes cannot be cast after the Polls are closed!" Trump wrote in another tweet. (Please note: the president of the United States's initial tweet misspelled polls as "poles," because Democracy, apparently, dies in the middle of misspelled sentences.)
Twitter immediately flagged and then blocked the president's tweet, labeling the president's comments as "disputed and might be misleading about an election or other civic process."
So Trump did what he does best when the medium of social media fails him: used major news networks. Around 2 a.m. on November 4, Trump gave a speech carried in its entirety by CNN, MSNBC, Fox News, and others, in which he — once again — claimed victory and alleged voter fraud. "We were getting ready to win this election. Frankly, we did win this election," Trump said. "This is a major fraud on our nation. We want the law to be used in a proper manner. So we'll be going to the U.S. Supreme Court. We want all voting to stop."
To be clear, no one is voting past election day: the votes that are continuing to be counted are early, absentee, and day-of votes. To call for those votes to be discounted is to do exactly what the president is accusing Democrats of: disenfranchise voters and subvert the will of the electorate. It should also be noted that while Trump wants votes to be thrown out in states he has a substantial chance of losing — Pennsylvania, Wisconsin, Michigan — he called for all votes to be counted in Arizona, a state Biden flipped from red to blue and one Trump was visibly upset about losing.
While it is clear, via his rhetoric and his three Supreme Court nominations and successful confirmations, that Trump aims to use the United States Supreme Court as his own personal legislative bully. But in reality, any election challenges would initially take place at the state level, with many that have already occurred. In Texas, a federal judge denied a Republican bid to throw out 127,000 votes; In Pennsylvania and North Carolina, the Supreme Court ruled that votes could be counted up to three days after election day.
Contrary to the president's probably Regeneron-induced delusions of grandeur, he cannot wield the power of the Supreme Court at his discretion. Like the rest of us, he is going to have to do what the adult in the room has suggested we do in the coming days, and even weeks: "We have to be patient. It's not over until every vote is counted."
Like what you see? How about some more R29 goodness, right here?
Is Trump The "Most Innocent Man"? We Investigated.
Florida Is Proof Latinx Voters Aren't A Monolith
Wait, When Will We Have The Election Results?
DMTBeautySpot
via https://www.DMTBeautySpot.com
Danielle Campoamor, Khareem Sudlow