#DMTBeautySpot #beauty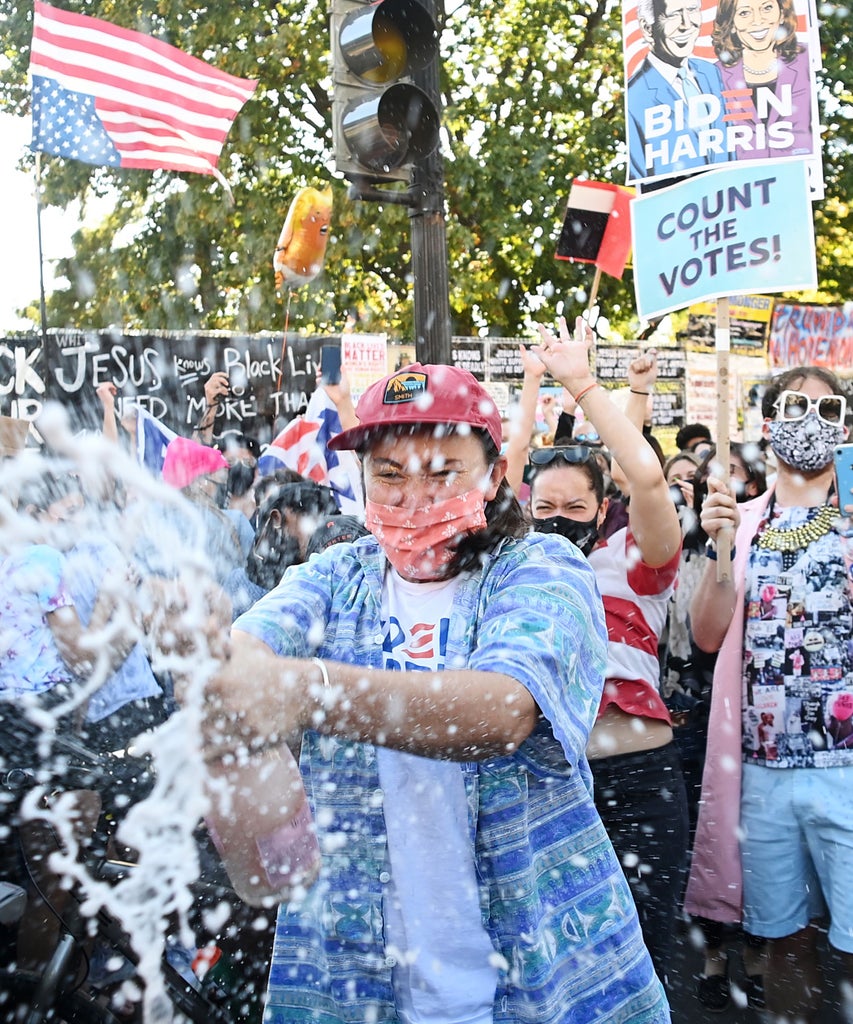 It's a beautiful sunny day in New York City right now — it feels like it must be a beautiful sunny day for all of America. As soon as CNN called the election for Joe Biden this morning, it felt like a surge of energy enveloped the entire nation. In Brooklyn, where I live, hundreds of people poured out into the streets, I with them. People cheered as we passed each other, blasted "We Are the Champions" from their cars and windows, and banged on pots and pans. All over the country, people are dancing in public parks and squares, popping Champagne, jumping up and down — expressing a pure, unbridled joy that feels like it marks the end of an era.
After years of hearing Trump say one unhinged thing after another, months of enduring the ongoing coronavirus pandemic, and the experience of seeing the trauma wrought throughout the country as its president neglected both the virus and urgent calls for racial justice, today's celebration feels like a much-needed collective release. Many of us have been unable to truly feel or express joy for many months, if not years, now — a direct response to the election and administration of Donald Trump. Not only the future, but also the present, felt uncertain and unpredictable; the trajectory that lay ahead seemed irreparably bleak. With our petty dictator-wannabe in the rearview mirror, it suddenly seems like so many more things are possible.
This joy is not uncomplicated by the knowledge that there are many systemic problems that have not disappeared simply because of one election. But it is also pure because, by limiting Donald Trump to one term in office, millions of people have made their voices heard, and reinvigorated this country's democratic foundation that Trump tried so hard to destroy.
I'm savoring this feeling in part because I know it's a moment that will pass. President Biden cannot save this country — no president can. And, just because Trump will be leaving office (though we will have to hear his diatribes probably for a long time to come), Trumpism and white supremacy have not been defeated. But for now, as I'm hearing cars honking on the street below, and young people cheering: "This is what democracy looks like!" I want to keep feeling this thing I haven't experienced in a really long time — so I'm going to cross the river and go pop a bottle of Champagne in Washington Square Park. I know I won't be alone.
Watch scenes from celebrations and protests that broke out in cities across the U.S. after President-elect Joe Biden defeated President Trump. https://t.co/d42aKysfzz pic.twitter.com/uEqYJcR08Q

— The New York Times (@nytimes) November 7, 2020
The celebration continues in Los Angeles, CA. @RianaTweetsNow #BidenHarris2020 pic.twitter.com/gsWmgVy9pC

— Danny Peña (@godfree) November 7, 2020
WE DID IT!!! pic.twitter.com/6RPKSmvRfc

— Rep. Pramila Jayapal (@RepJayapal) November 7, 2020
Like what you see? How about some more R29 goodness, right here?
Patience Is A Virtue: Joe Biden Won!
Trump's Unsurprising Reaction To Biden's Victory
You Don't Need To Feel Empathy For Trump
DMTBeautySpot
via https://www.DMTBeautySpot.com
Natalie Gontcharova, Khareem Sudlow