Erin Corbett
featured
Everything To Know About The Dueling Philadelphia Protests
November 06, 2020
BruceDayne
#DMTBeautySpot #beauty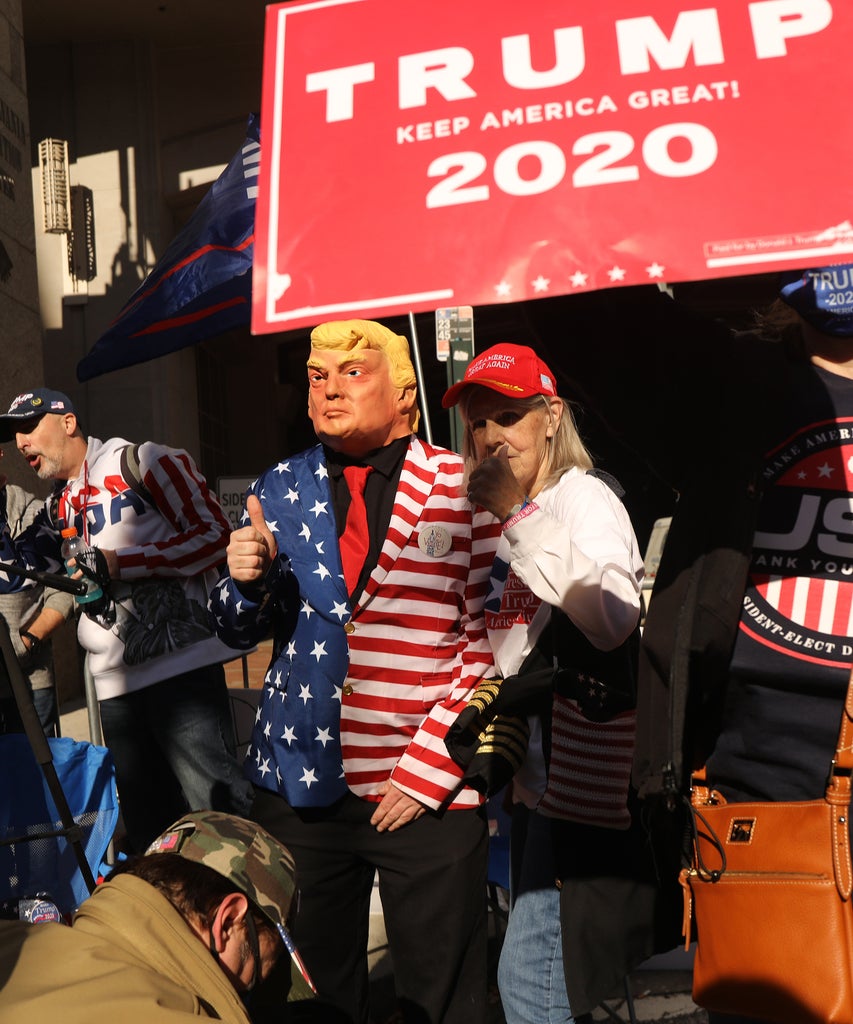 A heated race continues in Pennsylvania, where Democratic presidential candidate Joe Biden narrowly leads President Donald Trump with 98% reporting in the state at the time of publication. Election officials continued counting ballots in Philadelphia on Friday, a city that has become a focus of the Trump campaign both because it leans heavily left, and because the vote count there will be a key factor in determining the next president. While the Decision Desk HQ has already called Pennsylvania and named Biden as the president-elect, the votes are still being counted there and Trump is clinging to what seems to be a last shred of hope as he refuses to concede.
In recent days, Trump has made a number of thinly-veiled racist attacks on some of the cities that are voting blue. "Detroit and Philadelphia, known as two of the most corrupt political places anywhere in our country, easily, cannot be responsible for engineering the outcome of a presidential race," Trump said at a press conference from the White House on Thursday, as he claimed without evidence that Pennsylvania was rife with voter fraud.
But, specifically, the president has repeatedly put a spotlight on U.S. cities with the largest Black populations, even telling his supporters at a rally back in August to "watch Philadelphia, watch St. Louis, watch Chicago" for voter fraud. He added, "And when I say 'watch,' you know what I'm talking about."
Well, despite a number of "stop the count" ralliers, the people of Philadelphia came out strongly against Trump this week, both at the polls and in the streets where protests have been underway since Election Day. Protestors gathered at the Pennsylvania Convention Center in Philadelphia all week, where they are demanding that every vote be counted, despite the president's best efforts to throw a wrench in the electoral process.
Hundreds of protesters made their way to the convention center Thursday and Friday where dueling pro-Trump and pro-Biden protests were being held. But with tension on both sides, a dance party still broke out among those demanding that the vote count continue. "We're dancing in the streets like Lionel Richie," a business-owner named Rowena Dabney told the Philadelphia Inquirer. "This energy is coming from hope."
Coun. Every. Vote. This is how we do it in Philly⬇️ pic.twitter.com/0kbs8iYxt0

— Helen Gym (@HelenGymAtLarge) November 5, 2020
Despite one moment of reprieve, the scene outside the convention center has remained largely tense. On Thursday night, two heavily armed men driving a Hummer decorated with stickers promoting the far-right QAnon conspiracy theory were taken into custody outside the convention center. Philadelphia's Fashion District near the convention center was later evacuated after a bomb threat was called in on Friday afternoon, while protests have remained largely unwavering.
"I deserve the right to vote and have my vote counted," Biden supporter Gwendolyn Hardeman told Philadelphia's local ABC affiliate.
We're back in Philadelphia where the party is already underway even though nothing is official. Biden supporters dance while Trump supporters gather nearby. Inside the Convention Center the final Philly votes are counted pic.twitter.com/GdL4ucKcxi

— Steven D'Souza (@cbcsteve) November 6, 2020
The Flyers' mascot Gritty joined the "Count Them All" protest in Philadelphia and turned it into an old fashioned dance party.pic.twitter.com/pG1HlYDcqG

— Muhammad Lila (@MuhammadLila) November 6, 2020
Back at the Philly convention center, where it's celebration vibes this morning. "it's time for this administration to surrender for democracy" declared a speaker at the count every votes protest. "if you come for Philadelphia, we'll come for YOU" pic.twitter.com/iBJJ4yFqVz

— Amber Jamieson (@ambiej) November 6, 2020
With the impending threat of civil unrest across the country, particularly as we are down to the wire and Trump is unlikely to concede, these early images of a divided America are telling of what might be to come. Our current president has emboldened his supporter base, while a summer of Black Lives Matter protests have washed a wave of advocacy over America. It's hard to imagine that this is the last protest we will see going into the weekend, though we can only hope for more dance breaks, and a miracle from Team Trump to relinquish power.
Like what you see? How about some more R29 goodness, right here?
So, *Nervous Laughter* Is Trump Going To Concede?
RIP Election Purgatory: We Won't Miss You
Trump's Adult Sons Are Already Shaming Republicans
DMTBeautySpot
via https://www.DMTBeautySpot.com
Erin Corbett, Khareem Sudlow