Eliza Huber
featured
For Plus-Size Women, Bridesmaid Dress Shopping Is A Nightmare. Can The Industry Help?
December 01, 2020
BruceDayne
#DMTBeautySpot #beauty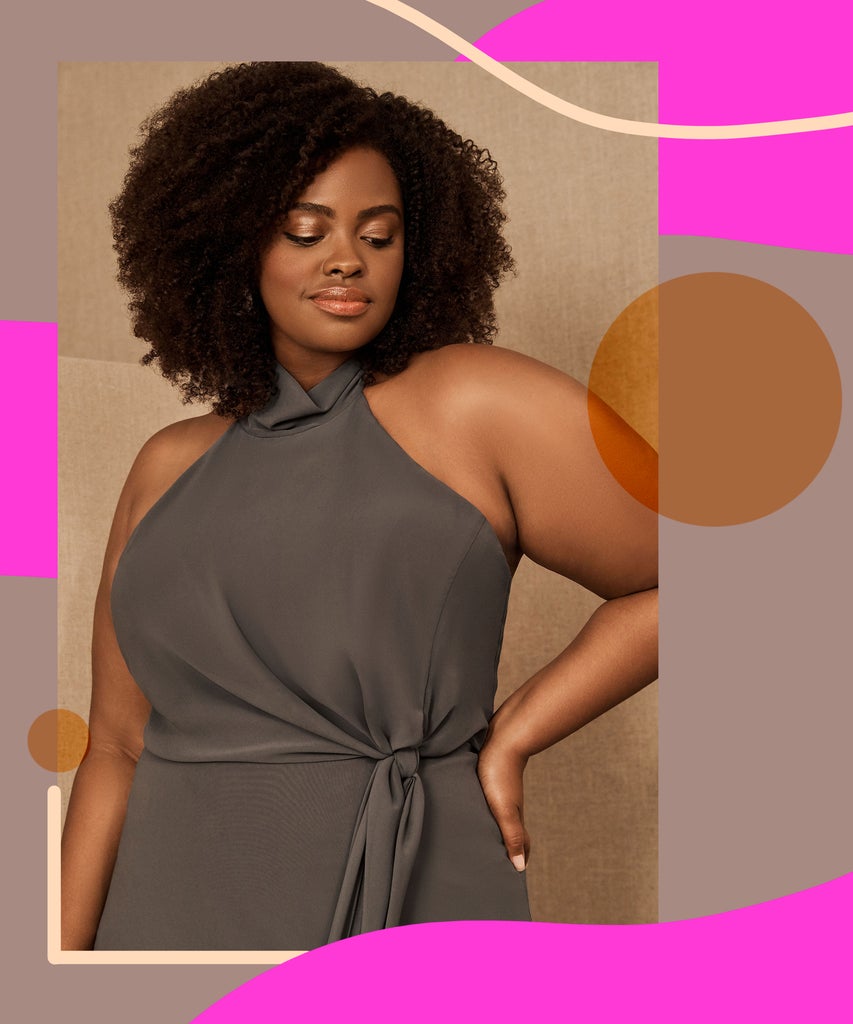 Anyone who's ever been asked to be a bridesmaid knows that the honor is not without its pain points, especially when it comes to picking out a dress for the occasion. For starters, there's the tradition of making every bridesmaid wear the same dress, which inevitably ends with a handful of bridal party members wearing a color that doesn't suit them or a silhouette that doesn't work for their body. Dresses also tend to be expensive, yet they are often purchased with the intention of wearing them one time and one time only. But while the process isn't easy for anyone involved, shopping for a bridesmaid dress when you're plus-size is all the more difficult. Due to the bridal industry's long-standing ignorance toward their sartorial needs, plus-size women are far too often forced to endure painful shopping experiences.
Given that bridesmaids are there to serve the bride and make her life leading up to the wedding calmer, rather than more stressful, the issues around plus-size dresses have long been swept under the rug, with bridesmaids often hiding their frustration, anger, and insecurities in order to spare their loved one's feelings. But, according to Sharon Feliciano, a two-time bridesmaid from Seattle, WA, rarely can the frustration go unnoticed by the bride. Despite trying to hide her discomfort throughout the dress-selection process at her first wedding as a bridesmaid, the bride, her sister-in-law, saw it written all over her face. "I think shopping for a bridesmaid's dress is stressful for everybody — it's stressful for the bride and it's stressful for straight-sized people," Feliciano tells Refinery29. "But there's an extra layer of stress and anxiety that comes along when you don't know if [the store is] going to have a size that you can try on."
During her first experience in a bridal party, Feliciano was the only bridesmaid who was plus-size. According to her, she was also the only bridesmaid to experience disrespect from sales associates, who pressured her into trying on sizes far too small and far too big because the store — a popular bridal chain — didn't stock her size in-person; and the only one to spend the wedding in an ill-fitting dress. "By the time it was all said and done, I felt beautiful," she says. "But a lot of that had to do with the bride and feeling like a cherished part of her team and welcoming her into my family. Having her make me feel that way really helped to soften the pain of being a bigger body trying to shop in a store full of smaller bodies and dresses made for smaller bodies."
Alessandra Gonzalez, a makeup artist living in New Jersey, had a similar experience to Feliciano's. "I've been a bridesmaid twice now, and each time was equally frustrating in its own right," she tells Refinery29. Gonzalez, too, visited a chain bridal retailer first, because she believed it was her best bet for finding dresses of all styles for all sizes. "I was definitely wrong."
Like Feliciano, she, too, was made to try on dresses that were too small and too large, making it so she couldn't get an idea of what any of the styles would look like after alterations. "You're a 20, but we have a 16, so just try it," she recalls the associate saying to her. "'I know my body, and it's just not going to pull up over me. Please stop bringing me these sizes,' I told them, but nothing. And then the other option was a size 24, which they could get on and clip up, but it gave no impression of what the dress would look like in my actual size." Once the dress was chosen, she had to go through rounds of alterations — at her own expense — only to end up with a dress she didn't feel confident in. "It was disheartening, to say the least," she says.
A second attempt at being a bridesmaid brought Gonzalez to a luxury store that advertised plus-sizes on their website. "Thinking this would be a different scenario, I was very excited to go and try on dresses," she says. "Upon my arrival, though, that feeling quickly left." There, she recalls being greeted by associates who scoffed at her for asking for a size they didn't have in-stock while politely serving her straight-sized friends. "I am a size 18 — a very common size in the plus-size world — so I can only imagine how much harder it is to shop there in an even bigger body," she says. In the end, she left feeling "dissatisfied": "I went on to purchase a $300 dress that needed $200 worth of alterations because I had to order it without trying it on and was unable to view it on a plus-size model."
The experience didn't just take a toll on her financially. "I spent the next nine months dieting extremely and exercising excessively in order to not to hate myself in comparison to my friends in the wedding pictures," Gonzalez says. "No one should have to alter themselves to feel good in their skin on a day when they want to feel confident for both themselves and the friend they are supporting during a momentous occasion." According to Chelsea Kronengold, the Communications Manager at the National Eating Disorders Association (NEDA), shopping for a bridesmaid dress can be particularly triggering for women who wear larger sizes. "Bridesmaids dresses notoriously run small, and the price often increases after a certain size," Kronengold tells Refinery29. "When everyone is wearing the same dress, it's understandable that comparisons may occur among bridesmaids."
Four-time bridesmaid Caitlin Scanlon tells Refinery29 that having the freedom to choose her own dress — keeping to black was the only requirement from three of the four brides she served as a bridesmaid for — makes all the difference. "I had more flexibility than some other bridesmaids are afforded," she says. During Feliciano's second bridesmaid experience, she, too, had a better experience when she found out she could choose her own dress. According to her, in addition to dresses, bridesmaids were given the option to rent a tux, opt for a jumpsuit in the same color as the dress options, or add a sleeve or capelet if they wanted to conceal their arms. "The part of the experience that made shopping as a plus-sized person feel a lot more comfortable was having many more options to choose from," she says.
Even with the added flexibility, though, neither Scanlon nor Feliciano were immune to the industry's lack of options for people who wear larger sizes, which, in the U.S., is 67% of all women. "The dresses available in plus sizes still leave a lot to be desired," Scanlon says. "Forget about seeing it on in the color you need. You're forced to use your imagination and rely on blind faith that the dress will look right in your size and color. Both of these factors come together to create what amounts to a guessing game."
I'm researching bridesmaid dresses, and so many "big name" bridal shops have sad excuses for plus size dresses. I want my family to look and feel beautiful in my wedding, but Fashion says they don't get to. I hate y'all. Make bigger clothes.

— Aurora Palomino (@Pixel_Poff) July 21, 2020
These women are hardly exceptions: Twitter is flooded with stories of brides trying and failing to find bridesmaid dresses designed with all bodies in mind, bridesmaids pleading with brides to stop forcing them into unflattering dresses, and friends complaining about how every dress they do find in their size shows off their bras, which are needed since none of the options have proper chest support. One thread even told the story of a man who uninvited his sister-in-law from his wedding after she refused to include his future fiancée in her wedding party because she was plus-size. "She didn't ask my girlfriend to be a bridesmaid because she didn't want to be constrained to picking out a bridesmaid dress available in plus-sizes," the tweet stated. (Twitter user @clapifyoulikeme shared this story, which was originally posted on Reddit's Am I The Asshole? forum.)
As some commenters were quick to point out, leaving someone out because of their size, no matter the added time it may take to find a dress that works for their body, is fat-shaming. That said, as others pointed out, brands should be held responsible for making dress option in a size 16 and larger. Feliciano adds that brands should also be offering as many sizes in-store as are offered online, so that women can enter any location knowing that there will be something that fits them no matter what size they are, rather than being forced to fit into a smaller or larger size. "Having the choice of trying on a size 14 or a 22 when you're actually an 18 is not good enough," says Scanlon.
This should extend to campaigns, too. "Show real people with fat bodies in your advertising," Feliciano adds. "I want to see how a dress is going to look on me — not just a very tall woman who is a little big-boned, curvy, and is a plus-size model. I still have yet to see somebody, who's got a little bit of a belly roll showing through their bridesmaid dress in advertising, and that's just reality."
Gonzalez urges bridesmaid shops to not only carry every dress in every size, but to also "make the slight adjustments necessary to turn a straight-size dress into a plus-size one," rather than just adding more fabric. This process — called size or pattern grading — occurs when a designer creates a sample, which is then used as a reference to "grade" the sizes above and below. Issues arise during the process when brands don't account for different body shapes.
Sure, more bridal brands are offering extended sizes in bridal than ever before — BHLDN recently launched a plus bridesmaid category, as did Birdy Grey and Lulus — but it's still bleak, with few options available to plus-size bridesmaids.
"When you have fat people in your life, you're going to face situations like these," Feliciano says. "Brands need to make it so that the onus is not on the bride to make sure her bridesmaids don't feel terrible about their shopping experience." That's the job of the brand, not the bride — and especially not her bridesmaids.

Like what you see? How about some more R29 goodness, right here?
14 Plus-Size Wedding Dresses To Buy Online
What Does It Take To Get Plus-Size Swimwear Right?
Why Are Boots For Plus-Size Women So Hard To Find?
DMTBeautySpot
via https://www.DMTBeautySpot.com
Eliza Huber, Khareem Sudlow