DMTBeautySpot
featured
Schiaparelli's Couture Show Included Archive References — & Sci-Fi-Inspired Looks
January 24, 2022
BruceDayne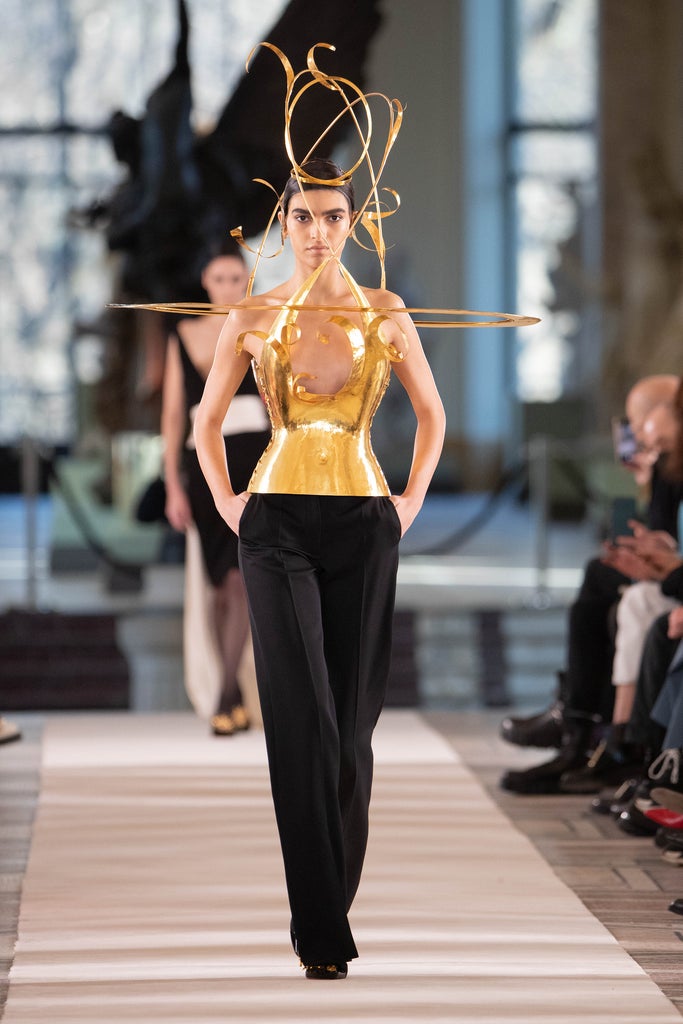 When our realities are confined to our homes and yet another year in the pandemic, it's easy to imagine what life could be like in another universe. So it comes as no surprise that Schiaparelli's creative director Daniel Roseberry wanted to evoke that feeling in the house's spring 2022 couture collection.
"What does fashion mean, what does fashion have to say, in an era in which everything is in flux?" asked Roseberry in the notes of the collection that debuted on Monday. "What does surrealism mean when reality itself has been redefined?"
To answer those questions, the heritage house took over the Petit Palais in Paris to mark the beginning of Couture Week, with sculptural metal pieces, archival references, and orbital symbols all present on the runway. "The heavens [is] a place to escape from the chaos of our planet," Roseberry wrote in the show notes. There were big, circular hats that resembled planetary rings; gold, crystal-encrusted gloves that rose up through the model's hands like precious weeds; and celestial headpieces sprinkled throughout the 23 looks.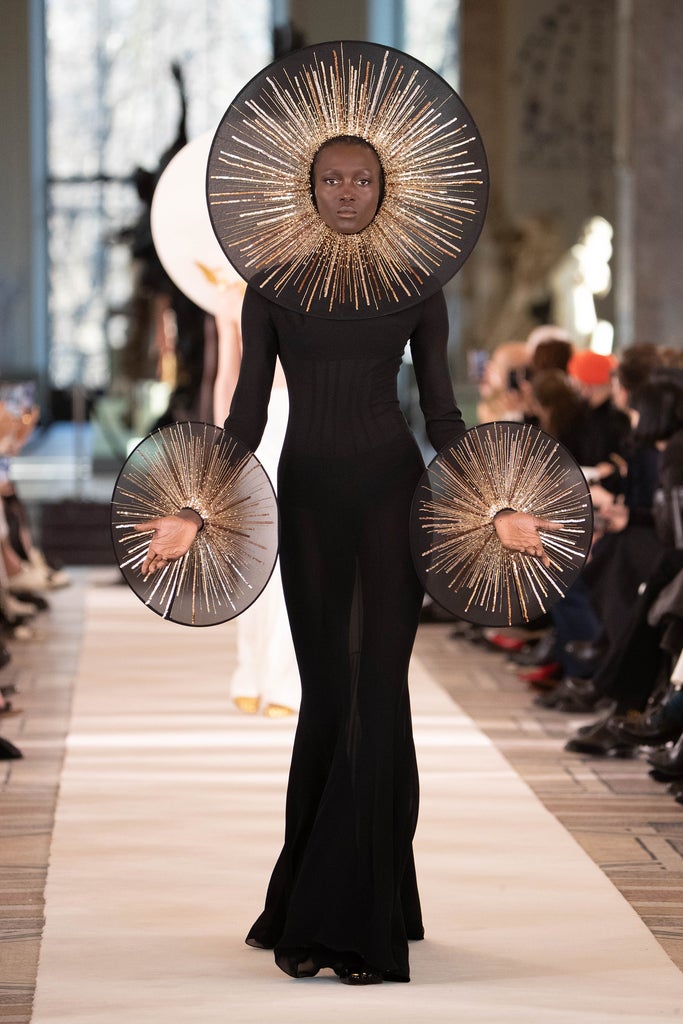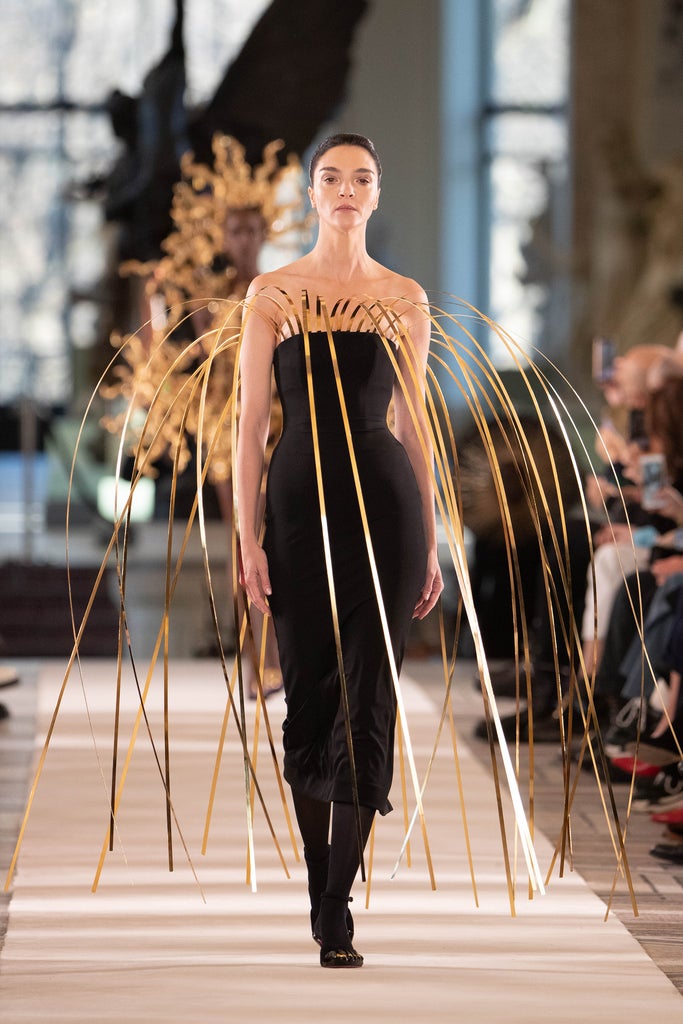 While Roseberry looked beyond planet Earth, the designer also referenced the house's past. Take, for example, the Apollo of Versailles cape that Elsa Schiaparelli designed in the late '30s for actress and socialite Lady Mendl. Roseberry adapted it in the form of gold, confetti-like embellishments blowing up from a little black dress (another Elsa Schiaparelli signature) and round mesh adornments on a model's wrists and head. The designer also referenced a 1936 Schiaparelli black jacket that featured gold, palm tree embellishments throughout the neckline and front of the garment. For the collection, Roseberry deconstructed this piece, giving it voluminous sleeves and heightening its design elements with metal sculptures on the shoulders.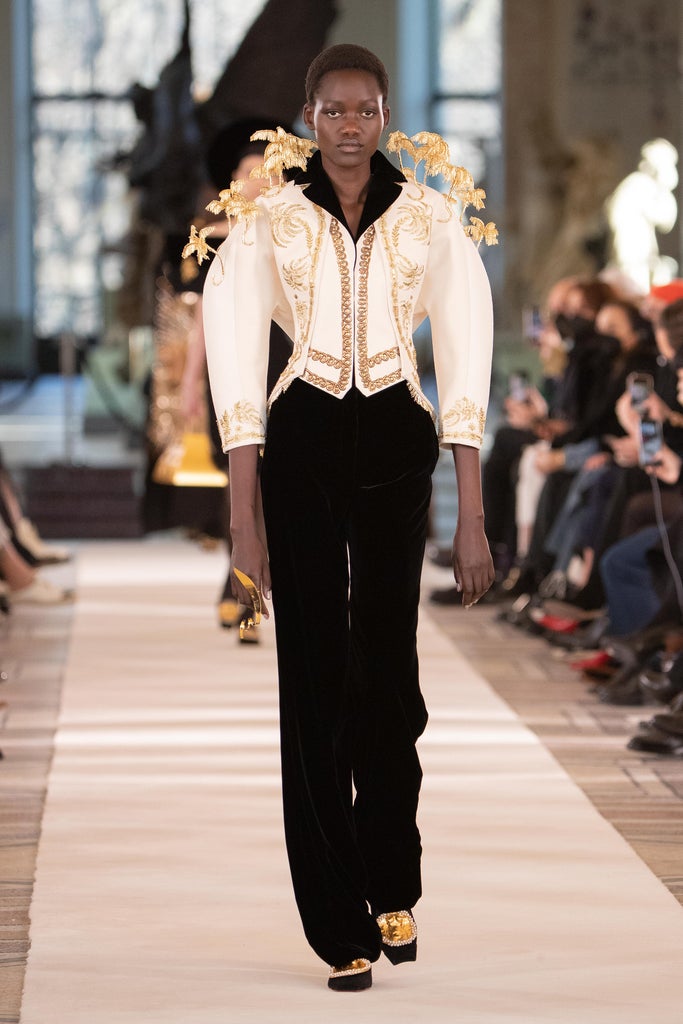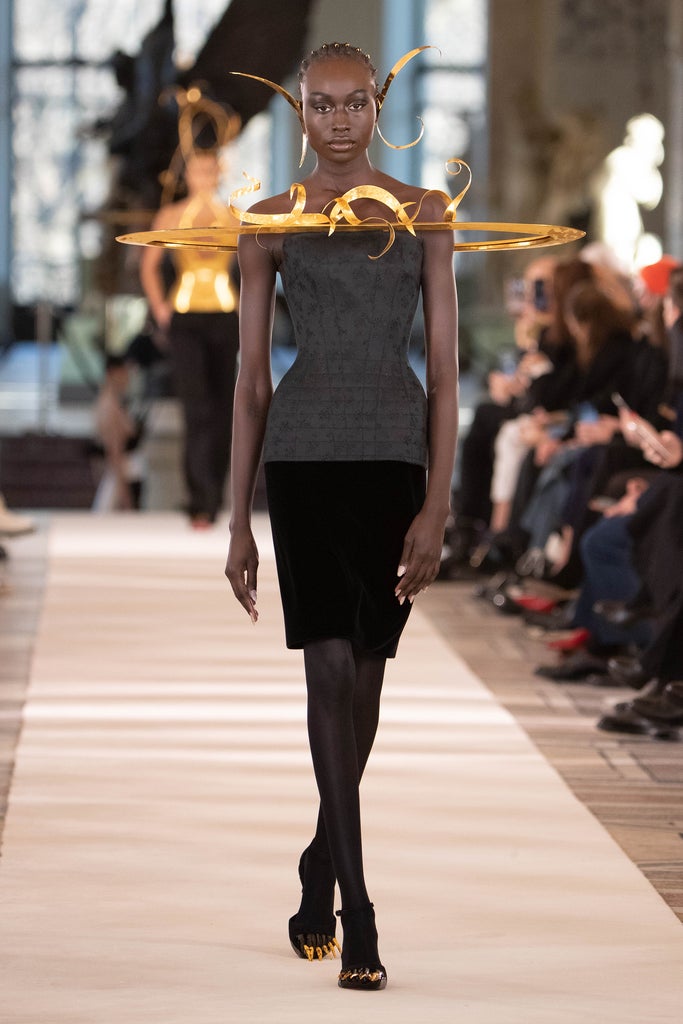 All of the looks oozed surrealism, an artistic movement born in response to a time of war and economic upheaval in the 1920s. Artists like Salvador Dalí and René Magritte defined this era, as well as Elsa Schiaparelli herself, who embedded humorous and quirky details — ie. the house's famous lobster — in her designs. As we once again find ourselves in a time of social and political upheaval, it is fitting that surrealism is appealing to fashion designers once again.
The collection didn't lack in drama factor. After two years in a pandemic, Roseberry has seen firsthand how living through this kind of limbo can make fashion seem "lackluster," as he wrote in his show's notes. His response is to look to the "empyreal." While speaking to Vogue UK, Roseberry said that he's lost count of how many times he's watched Dune, the sci-fi film featuring Timothée Chalamet: "We kept saying 'Planet Schiaparelli.'"
The collection signals we are all due for our own kind of Saturn return — or at least, a more heavenly future. For now, we can only dream. And, if you're lucky, dress the part.
Take a look at the full Schiaparelli Couture spring 2022 collection, below.
Like what you see? How about some more R29 goodness, right here?
Beyoncé Was Fashionably Late In Schiaparelli
At Paris Couture, Menswear-Inspired Looks Are In
DMTBeautySpot
via https://dmtbeautyspot.com
Frances Solá-Santiago, DMT.NEWS, DMT BeautySpot,