DMTBeautySpot
featured
In The Battle Of The Braiders, African Aunties Will Always Win
June 21, 2022
BruceDayne
It's 23 degrees celsius on a late Saturday afternoon in Peckham, south-east London, and I'm squeezing my way through a dense crowd of people on Rye Lane. As I lope across the concrete pavements dotted with chewing gum, I pass shopfronts selling fresh fruit, vegetables, raw meat, fish, phone accessories, and silk scarves, I make the mistake of catching the eye of an African woman — standing by the entrance of Sky Shopping City — who waves hello and asks me if I want to braid my hair.

Teresa Johnson pulls at her multicolored cobalt blue, platinum blonde and purple Ghana braided ponytail as she escorts me to the end of the time-worn shopping centre, where the beauty salon she opened 32 years ago is still standing and well established. A vintage poster of Black women showcasing different hairstyles is plastered on the shop window, below a sign that asks clients to wear a face mask. There is no artwork on the lemon sorbet interior brick walls, just styling units and tall white cabinets stuffed with towels, wig heads, and hairstyling products, that are being shared with five other braiders who have rented a chair.

In 2012, the 45-year-old moved to Peckham after arriving at Heathrow Airport from Burkina Faso. "I was told there was a strong Black community here and the place to be if you wanted to do hair," she says. "I've been doing it for over 30 years now. It's my passion, gift, and choice of art. In fact, I was even born with hair in my hands." In response, the salon erupts in laughter, hoping, perhaps, that Johnson is joking. "It's God who is really sustaining us."
When Instagram hairstylists surfaced on social media, and it started to feel like the African aunties were struggling to keep up with the latest braiding trends, many young Black women stopped walking through their doors. But as more and more horror stories pile in about the last-minute cancellations, excessive fees — where you'll need to pay a deposit via a booking system to secure an appointment and can be charged for being late, wanting extra length or color, and of recent, even parting your hair — sometimes bad customer service, young people on social media are boycotting Instagram hairstylists, particularly those on TikTok, who are going back to Britain's African braiders.
From 'pick and drop', lemonade braids to micro braids, content creator and London School of Economics law student Mary-Grace Olu, 20, thinks young Black women sometimes forget that these aunties started doing hair back when some of the trending braiding hairstyles were popularly worn. "We are just seeing the resurgence of trends, so why not give them a chance if they have got the experience and skill? Even if they haven't done the style before, you can show them pictures," she explains.
In collaboration with a Congolese auntie, who goes by Hair by Amanda Nice and Neat on Instagram, Olu posted a TikTok video – now with over 72,000 views – showing off her beautiful platinum blonde and pink knotless braids with curled ends, declaring her decision to join the UK girls leaving Instagram hairstylists and returning to aunties. "Amanda was scared to collaborate at first because the most she has done is paid adverts on Instagram, but it did so well, and helped her gain over 1,000 followers. I think the onus is also on millennials and Gen Z to bridge the gap and mend this broken relationship."

Many African women were brought up to have a wide set of skills across sectors, connected to industrial clusters that have prepared them for the intricacies of 21st-century entrepreneurship. It's why some Black women spent the majority of their childhood and adolescence sitting in their salon styling chairs. From cornrows with beads to box braids, which gained popularity in the 1990s, we became so privy to the process of interlacing three or more strands of hair.

And as part of a new wave of post-Brexit migration, the number of non-EU workers coming to Britain has soared, according to a recent analysis conducted by British Future, a think tank specialising in immigration and integration. Since the number of professions that qualify for skilled visas has been expanded to include jobs, such as health and care workers, chefs, and hairdressers, work-related non-EU visas have jumped by more than 20 per cent, with Nigeria being one of the countries experiencing some of the biggest increases from 1,400 to 11,600.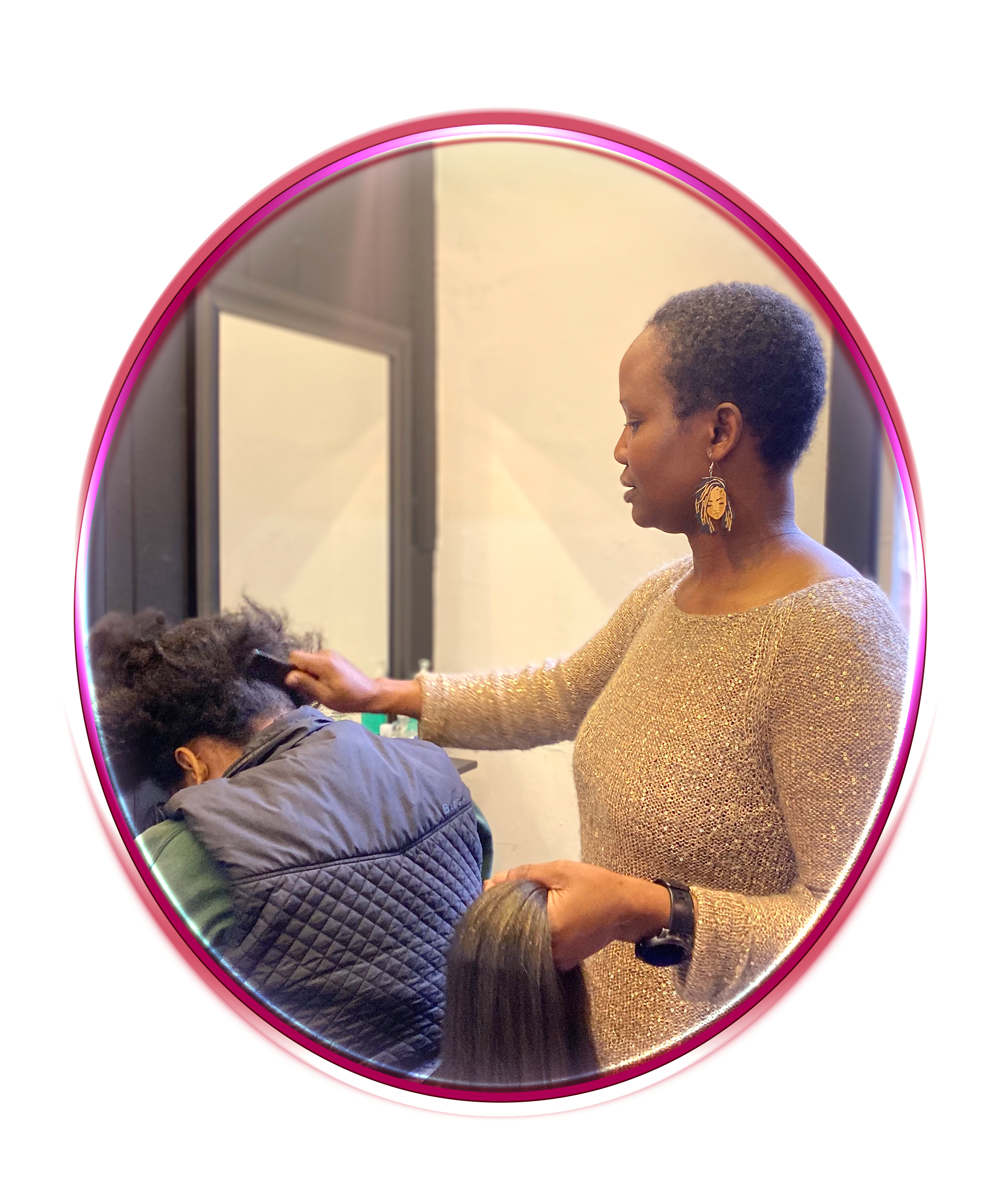 Juliet Ogbebor-Obazee was 19 when she left Benin in 1994. She had just completed her hairdressing training and wanted to open her own salon before a neighbour promised her a way out of her village. But when they were separated in Lagos, Nigeria, and she found herself stuck and working as a house girl in the capital of Togo, Lomé, she knew her search for a better life in Europe was going to be an uphill battle.

She travelled from Ghana to Morocco, Spain (where she lived for 14 years and worked as a chef and part-time hairdresser with mostly white clients) Norway, and then London in 2016, where she opened her first salon in Peckham with her older sister and a woman from her local church, until she was pushed out by some members of staff. But not too long after, in January 2020, Ogbebor-Obazee collected the keys for OGB6 Beauty Palace in Crystal Palace, south London. But then the pandemic hit.

"Braiding has been my lifeline," says the 44-year-old. "So I cried when we went into the first lockdown, because I had already paid my landlord upfront and spent all my life savings to do up the shop myself. It was just horrible. But I'm a dreamer, so I did what I do best and fight."

Even though she doesn't classify herself as "a social media person," her daughter encouraged her to join Instagram and she offered a service that allowed clients to order the hair products they needed until restrictions were eased. It's the great customer service and word of mouth that have kept her shop open. "It's not always about money. I just want people to feel like family and comfortable enough to correct me if they don't like how I am doing their hair," she says. "We don't need to take everything personally. I want all my customers, both young and old, to be happy and feel beautiful."

Victoria Cole, 55, the owner of Crown and Glory in Camberwell, south London, is from the same school of thought. But whatever happened to the renowned hair salon that established such a reputation for excellence when it came to hairstyling? "We are still here," she says with a warm smile. "We've just downsized. I remember when the salon used to be so full that we would be forced to use the basement. And if we didn't open by 7:30 am, we would have a long queue stretching along Cold Harbour Lane."

On average, Cole — who is also in the second year of her adult nursing degree at Kingston University London — would have at least 100 customers visiting her salon every day. It's why, almost immediately, they introduced the ticket system, outdoor seating, and served snacks, to avoid seeing grown women fighting about who came first. "It was also quite tough back then too because new styles would come out so quickly and there was no YouTube you could go on to learn. You had to teach yourself.

"But my generation didn't always value our time like this generation. We would accept the peanut money that came, just so we could survive and pay our bills. I was a mother with young children, who would sometimes be in the salon till 11:00pm.

"And although most of the ladies on Instagram have never worked in a salon, some of them are highly skilled. I think we can all learn from each other. It's why I can't even get upset about the prices they charge. They have encouraged me to be more marketable."

Jennifer Olaleye, 30, who has been an influencer for over ten years, has seen the benefits of collaborating with her auntie Cecilia Okonta, 47, who has a shop called Wendy Shalom Hair and Beauty in Enfield. "She's now on TikTok and has been doing my braids since I was 14. It's more affordable and there's just something about not having to jump through so many hoops to secure an appointment. Also, you can go to any hairstylist and they can get things wrong. I think people just need to be more comfortable with speaking up about what they do and don't like."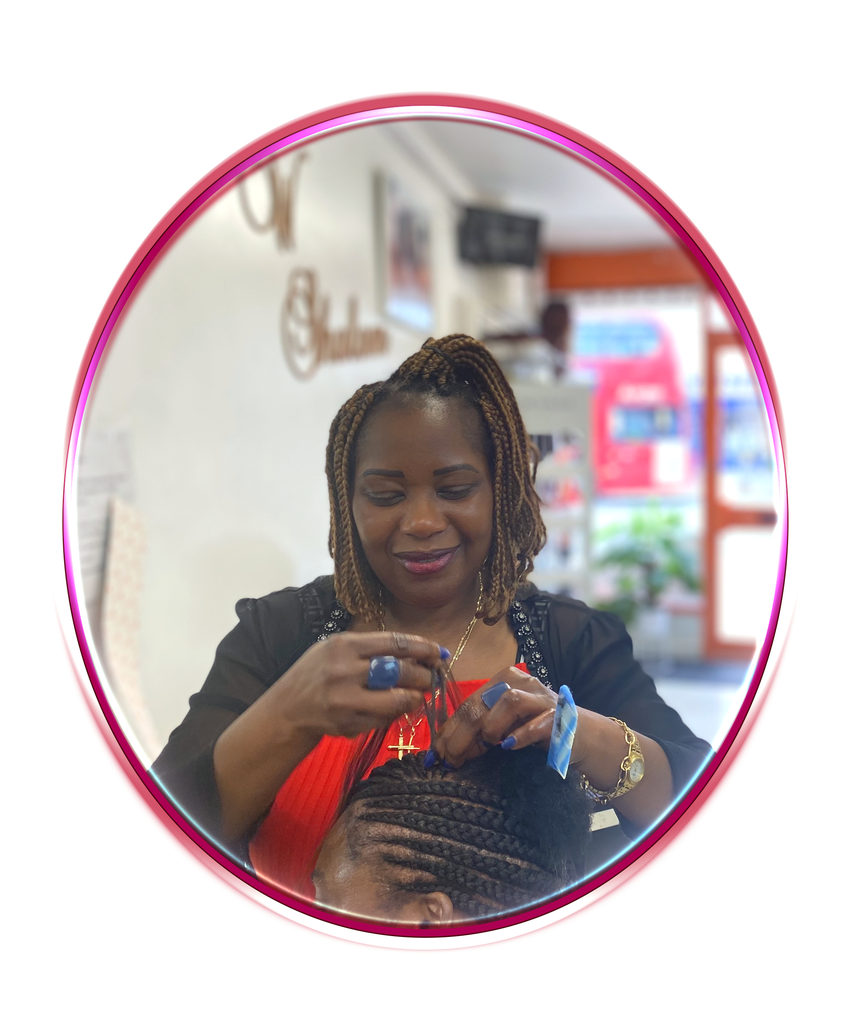 But since losing her full-time staff after the coronavirus pandemic hit and seeing rent prices increase by over £2000, Okonta who left Nigeria in 2004 after studying hairdressing at The Polytechnic Ibadan and training at four different salons across the UK, made the difficult decision of closing down the shop she has run for 12 years and will start working from home later this month.

"It wasn't an easy decision to make, but hairdressing as a profession has changed, due to Covid and social media. People are also now doing other jobs on the side to make ends meet," Okonta says. "I remember when Jennifer posted the lemonade braids I did for her in 2017, my phone wouldn't stop ringing. I gained so many new and young clients from that collaboration. But I also noticed when there was a decline, and happy they are coming back."

Even though times have been hard, and some of Britain's African braiders have had to switch careers and become bus drivers or health care workers, most will never let hairdressing go. "Our customers won't even allow it. We are here to stay, whether we like it or not. But we've got to be innovative, that's why I turned half of my salon into a restaurant," says Cole.
I'm planning to get my hair braided in August for my birthday, maybe this time around, when an African auntie asks me if I want to do my hair, I'll say yes.
This story was originally published on Unbothered's UK edition.
Like what you see? How about some more R29 goodness, right here?
Why Black Women Are Giving Weaves A Second Chance
Do Black Women Need The 1A-4C Natural Hair Scale?
Why 'Hair Autonomy' Matters So Much To Black Women
DMTBeautySpot
via https://dmtbeautyspot.com
Yolanthe Fawehinmi, DMT.NEWS, DMT BeautySpot,