#DMTBeautySpot #beauty


Photography by Raul Romo
Styling by Adrian Martin
Words by Sonia Webber
Grooming by Cassie Lyons
Miles Richie may be the son of famous musician Lionel Richie, but there's a lot more to him than just being part of a celebrity dynasty. In fact, Miles tries to downplay his famous last name whenever he can. "I'd like to be viewed not just as the 'son of,' or the 'brother of,'" he says. "I'd like to develop my own identity." These days, he's doing just that: developing his own identity as a model, actor, tattoo enthusiast, and romantic.
Miles is signed to Wilhelmina Models and walked in his first runway show at New York Fashion Week in 2018. The runway show, featuring the work of designer Philipp Plein, was an outrageous affair that included indoor snow, a real robot, and an after-runway rave. Miles showed off his well-coiffed beard and dazzling array of tattoos while sporting a futuristic black pleather coat. Miles may not have been the first Richie to walk for Philipp Plein—his sister, model Sofia Richie, has walked for Plein's shows in New York and Cannes—but he certainly made an impression. Miles says he loves fashion because gives him the opportunity to travel, his favorite thing in the world.
He's also famous for his tattoos. Miles' most famous ink is probably the letters "KJ" on his hand, tattooed by Kendall Jenner when they were both teenagers. But it's far from his only body art. Miles estimates that he's spent over 150 hours in the tattoo chair at this point, acquiring an incredible collection of ink that includes a giant Buddha face on his back, the names of his father and sisters, and the words "True Love" on his neck. And he's still excited for more tattoos to come.
We had a chance to talk to Miles about his life, his passions, and what excites him about the future.
look KAISER CLARK
What do tattoos mean to you?
Tattoos are a way to express yourself in my opinion. A way to show things of meaning and also completely random thoughts that go through your head on your body.
Any upcoming pieces?
Gonna do my leg sleeves next.
Who are you closest to outside of your family?
My girl because she knows my deepest secrets, insecurities, and issues and rides with me through all of them.
Which fashion designers are you currently into?
Chrome Hearts always, Amiri, Balenciaga, Louis Vuitton.
If you could describe your childhood in three words, what would those be? And why?
Funny because I got into so many random things, Different, because I didn't enjoy things that other kids enjoyed, and loved.
What has been one of the sickest experiences as a model?
Traveling, traveling is my favorite thing to do. I don't even care where.
Would you say you have a multicultural identity?
Yes I would say so I like to contribute several different cultures into what make me me. I take different aspects of Asian cultures, rock culture, hip hop culture... pretty much everything and mix it all together.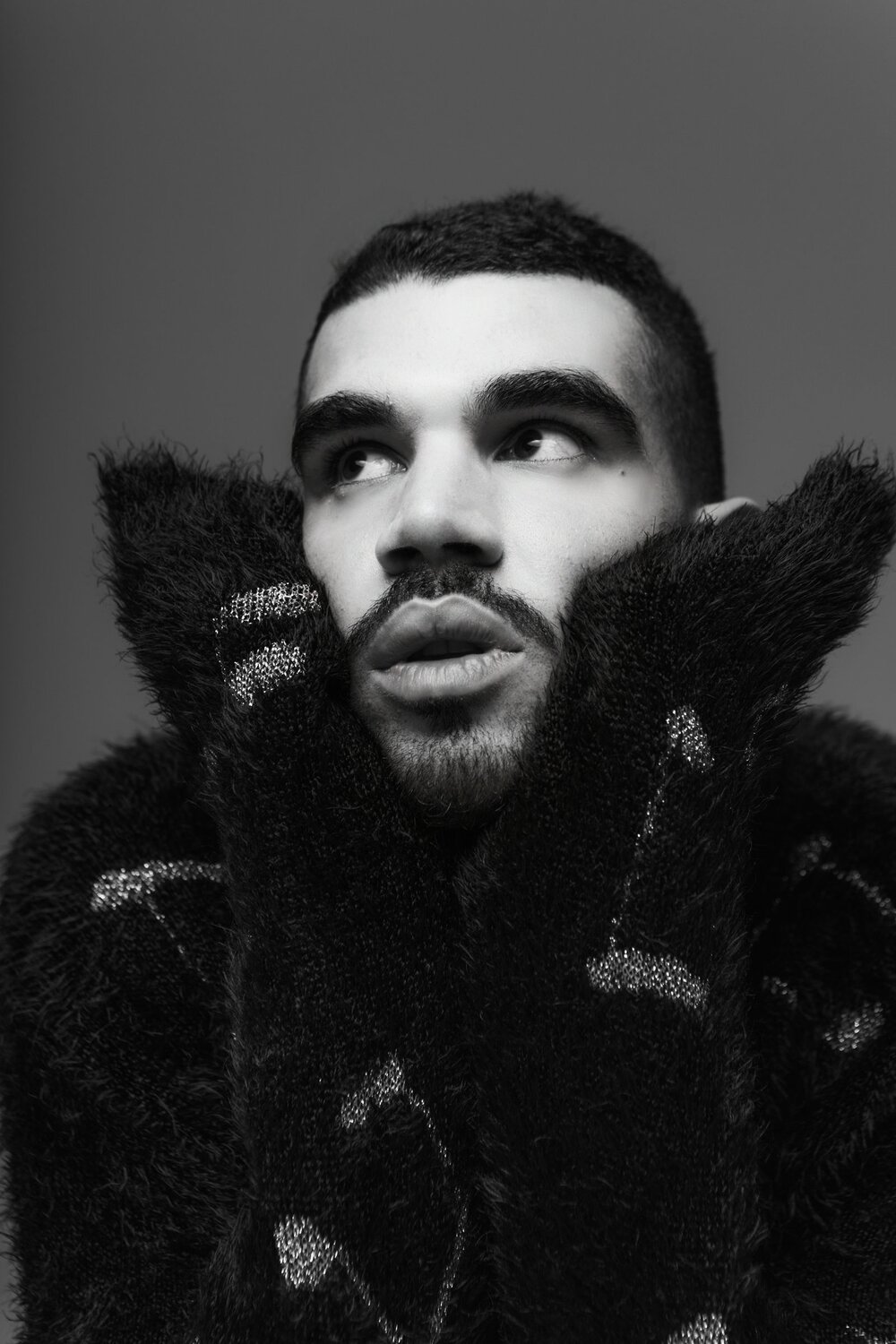 sweater SAINT LAURENT
How would you describe this?
It has made me more of an open minded person, open to others perspectives and beliefs.
What's a quote you like to follow or believe in?
It's all love man.
If you can give yourself a title, what would that be?
Lost Child.
What are you currently listening to?
Ed Sheeran always.
Being born into a family that is on the spotlight, what has helped you maneuver through the complexities of this type of upbringing? Any advice for those who might be in similar shoes?
I pretty much just avoided it my entire life so I probably am the last person to give advice in it.
What is a misconception that you wish to end?
That people with tattoos are uneducated or criminals.
shirt RAF SIMONS
What's next for Miles Richie?
I have a docu series that I'm working on getting started that I'm really excited about, also acting, as well as a few fashion things. I'm very excited about the future.
What's the dream?
To move to a house in Hawaii, have a family, grow dreads, and never look back.
Any shoutouts?
The man upstairs.
--
As Miles Richie knows, who you are on the inside matters a lot more than your last name. His thoughtfulness and his creativity carry him through every day of his life, whether he's modeling, dreaming up new tattoos, or just posting a quick snap on Instagram. For Miles, it all comes down to self-expression.
He's made the most out of the crazy life he was born into and we look forward to seeing Miles on runways, movie screens, and magazine covers for years to come.
shirt RAF SIMONS, pants & boots SAINT LAURENT
DMTBeautySpot
via https://www.DMTBeautySpot.com
Sonia Webber, Khareem Sudlow