#DMTBeautySpot #beauty


Welcome to Money Diaries, where we're tackling what might be the last taboo facing modern working women: money. We're asking women how they spend their hard-earned money during a seven-day period — and we're tracking every last dollar.

Today: a data scientist who makes $143,000 per year and spends some of her money this week on a strawberry matcha latte.
Occupation: Data Scientist
Industry: Tech
Age: 25
Location: New York, NY
Salary: 143,000
Paycheck Amount (Biweekly): $3,300
Gender Identity: Woman

Monthly Expenses
Rent: $1,960
Loans: $0
401(k): 13% of pre-tax paycheck
Roth IRA: $500
Equinox Membership: $265
Pilates: $0 (I go once a week, which sums up to $92.36 but it's fully reimbursed by my company)
WiFi: $25.81
Phone: $20 (unlimited data/text/phone calls)
The Economist: $18.33
New Yorker:$10
New York Times: $4
Amazon Prime: $5.35
Spotify: $2.50
Netflix: $3.25
HBO: $5
Renter's Insurance: $5
Day One
7:30 a.m. — Alarm goes off. I shower, give myself a lymphatic massage, and stretch for 10 minutes, then do my make up. I put on a taupe grey wool coat from Theory, pastel green plaid cashmere scarf from H&M, a pair of straight grey jeans from Massimo Dutti, a white heat-tech long-sleeve shirt from Uniqlo, and black suede laced boots from Topshop. I love clothes and taking daily mirror outfit selfies ~sparks joy~.
9:30 a.m. — I hop on the train. I have an extremely flexible work schedule that allows me to work, rest, and do anything whenever I want. It feels so amazing to be able to lead my own projects and manage my time throughout the week, all the while making a direct impact on the company's strategy. I find myself working on weekends too, but it's all self-driven (or so I tell myself? #burnoutgeneration). It truly is my dream job so far, so I spend the extra time to nerd out and dig deeper into my findings. $2.75
10 a.m. — The fire alarm goes off and everyone in the building treks downstairs, which itself is a spectacle since I get to see all the hip people in their neon beanies with their doggos on our way down. I use this time to head over to Breads Bakery to pick up their chocolate babka for my friend that I'm visiting this weekend. I always try to bring a piece of New York to friends who've left the city, and babkas are better than a soggy bagel or a cold slice of Joe's. $16
12:30 p.m. — I work for two hours and decide to eat lunch while working. I make it a point to meal prep every week since it's healthy and affordable. I always prep in the "buddha bowl" style, with three or four veggies, one healthy carb, and one protein. Today I packed two eggs, kale, cauliflower gnocchi, lettuce and carrot stir fry, string beans, a scoop of horseradish hummus, a dash of olive oil, and a teaspoonful of chia seeds in one bowl (bought grocery last weekend).
2 p.m. — I hit a mental block and decide to finish up from home. It's lovely to soak up vitamin D while walking home. I take the subway home then code for two more hours before I hop on a call with a colleague for an hour. I suggest the idea of creating an office Slack channel for skincare and we get excited. $2.75
6 p.m. — I subway to the Equinox Bryant Park location for a hot yoga date. I'm wearing a cream-colored yoga top that shows off my collarbones (gift from a friend for occasions like this) and a pair of high waist leggings. I'm dragging him to his very first yoga class for our third date. As expected, the midtown location is packed with bankers and consultants trying to squeeze in a 30-minute workout before heading back to the office. I bring a travel-size Purell into the yoga room and wipe my mat before lying down (better to be more precautious than not). The hour-long class is just perfect and helps me decompress. The yoga teacher makes a joke about how my date and I would need the yoga to be flexible for our "post-class activity"! My date blushes and leans in to whisper "oh my god" in my ears. He is a cutie patootie. $2.75
8 p.m. — We both shower and head to Whole Foods. We each get a protein bar and a sorbet, which my date pays for. My date also works in tech, so we chit chat about life/career goals and compare SF to New York. He walks me to my subway stop and we kiss goodbye. $2.75
9 p.m. — I switch into my PJs and do work for an hour, read magazines in bed, then doze off.
Daily Total: $27
Day Two
6 a.m. — I wake up early to finish up on a deliverable due at 10. I make myself an oat latte with a cold brew concentrate and oat milk barista edition I bought over the weekend. I nibble on dried mango while anxiously completing work. I decide to work from home since my mind is always the clearest in the morning. I present my deliverables to the stakeholders and collect feedback.
12 p.m. — I head to the gym for a dance cardio/strength training class. This helps me exhale out the stress and the excessive amount of caffeine I consumed in the morning. I'm a gym rat and body sculpting is another fun personal project! It's so interesting to test how much stronger I can become with a combination of different routines. I feel INVINCIBLE.
1:30 p.m. — I shower and eat lunch (same as yesterday) with organic blueberries and strawberries while coding. I also pack for my trip to SF this weekend.
5 p.m. — I wrap up work for the day and get ready to head to an art show. Given that I got less than six hours of sleep last night, my friend and I decide to skip the pre-show-cocktails and head straight to the exhibition.
8 p.m. — My friend and I head to a wine bar to talk about politics, Myers Briggs, and siblings over a glass of Chianti and tomato mozzarella ($20). Although I normally walk everywhere within 20 blocks, it's chilly tonight so I uber back home ($10). $30
9:30 p.m. — I use my foot massager (the only gift from my college ex that I have not discarded) for 30 minutes, throw on a face mask for 20 minutes, give myself a lymphatic massage for 10 minutes, and then go to bed.
Daily Total: $30
Day Three
4 a.m. — The alarm goes off and I struggle to crawl out of bed. I trudge to the fridge and munch on an apple and dark chocolate covered almonds. I wash my face, skip the makeup but do not forget to put on sunscreen (the only fool-proof anti-aging tactic sworn by my mom, who's a dermatologist), and call an Uber to JFK ($67.60). I pay $6.36 for a 700ml bottled water at the airport. $73.96
11 a.m. — I sleep for five hours on the flight to SF. I only eat the fruits and a tiny Clif bar from the plane lunch (already included in the fee). I call an Uber to my friend's apartment. $24.94
11:30 a.m. — I reunite with my college friend and we chit chat briefly before she runs off to her lab. I eat a protein bar, quickly FaceTime with my mom, then uber to the Equinox in SF's Financial District ($10.66). I do a few ab and leg exercises and take a 45-minute barre class. It's 1 p.m. on a Friday, so it's pretty much a private lesson with only two other people. #blessed $10.66
2:30 p.m. — I shower and head over to Philz's coffee, to order their signature mint mojito iced coffee, an orange juice, and a coconut chocolate chip cookie. I read the magazines I brought and code for a few hours. I intentionally brought a grey hoodie just to casually "blend in" with the other techies for funs and giggles. At my previous company, it never felt like my work truly mattered to anyone, but it's so different at a startup. Having a purpose is very important. $13.80
6:30 p.m. — I uber back to my friend's place, and we head to a fancy fusion seafood restaurant. As a belated birthday/friend appreciation gift, I pay for the meal. $110
11 p.m. — We go out to a techno club in Soma and I order an old fashioned. We dance the night away alongside men in their company-branded t-shirts ($20 for cover + $13.80 for drinks). I've been in NY for seven years, but now SF seems and feels like a good city to move to with chiller people, more space, nicer weather, and a higher salary. $33.80
Daily Total: $267.16
Day Four
10 a.m. — I feel SO well-rested after an eight-hour snooze. I shower and do a couple of ab exercises. I throw on an Off-White Nike shirt that I thrifted from a store in Bushwick, a grey and burgundy plaid blazer, grey sweatpants, and a pair of Nike Air Force 1 sneaks.
12 p.m. — We head to brunch at a farm-to-table restaurant. There's a long wait, so we head to a coffee shop where we order juice (friend pays) and get work done while people-watching. The sun is just so nice.
1:30 p.m. — We're seated for brunch. I order a combination of fluffy lemon ricotta pancakes, pork sausage, scrambled eggs, and roasted potatoes. Everything tastes so satisfying and wholesome. $24
3 p.m. — We head to a coffee shop to work. I order an oat cappuccino ($4.75). There are no outlets to charge my laptop, so we head to my friend's apartment after an hour and stop by a deli to buy two bars of dark chocolate as my work fuel ($8.98). My friend heads to her lab and I work for three hours. $13.73
8 p.m. — We head to a quaint wine bar in Mission. We're not too hungry, so I order a glass of Cab Sauv and we share roasted brussels sprouts and a mushroom spinach flatbread. My friend and I stumble on a cozy jazz bar and stand outside for a bit just to enjoy the music. We decide to have a tame night and head home. $24
Daily Total: $61.73
Day Five
9 a.m. — We lost an hour due to daylight savings ending. I shower, do my ab exercises, then put on grey trainers, a cropped short sleeve blouse from Topshop, a masculine-fit black leather jacket from Massimo Dutti, and tie my hair into a half-bun with a light pink scrunchie.
11:30 a.m. — We head to a Burmese restaurant for lunch. The mango lassi, roti, and coconut shrimp are all SO amazing. I reminisce about my blissful summer interning in Singapore where I tried all the world's cuisines at hawker centers and made a ton of euro friends. $45
1 p.m. — We browse a few boutique shops at Mission and try on mesmerizingly beautiful dresses that we may or may not wear once a year.
2:30 p.m. — We head to the Tartine bakery where I pick up a canelé and a brownie. $9
2:45 p.m. — We go to a coffee shop to work and read. I order an iced strawberry matcha latte and work away on my deliverables due tomorrow. $7
5 p.m. — The next stop is Mission Dolores park and we talk about the frenzy, the beauty, and the loneliness of post-grad life while eating ice cream ($6). We grab two tacos ($8, friend pays) and head back to my friend's apartment. I uber to SFO ($48). $62
Daily Total: $123
Day Six
7 a.m. — I take a red-eye flight back to JFK and uber home ($66). I make myself an oat cold brew latte, finish and complete my deliverables, attend a few meetings, and eat half of an egg salad sandwich I bought at JFK ($12). It's lovely that I get to work from home freely during these chaotic times. I turn on my Roomba to vacuum my entire apartment, scrub bathroom, and kitchen tops, then go to bed early. $78
Daily Total: $78
Day Seven
9 a.m. — I wake up, attend a few meetings, get a few work tasks done, and meal prep tofu, kale, string beans, and quinoa pasta bowl for the week. Now that gyms aren't really an option, I do my ab, arm, and leg workout routine with the five-pound weights and bands I ordered last weekend.
5 p.m. — I step outside for the first time of the day to head to the grocery store to buy dried mango, fruits, muesli, and dark chocolate. I get home and lounge and work for the rest of the day. $15

Daily Total: $15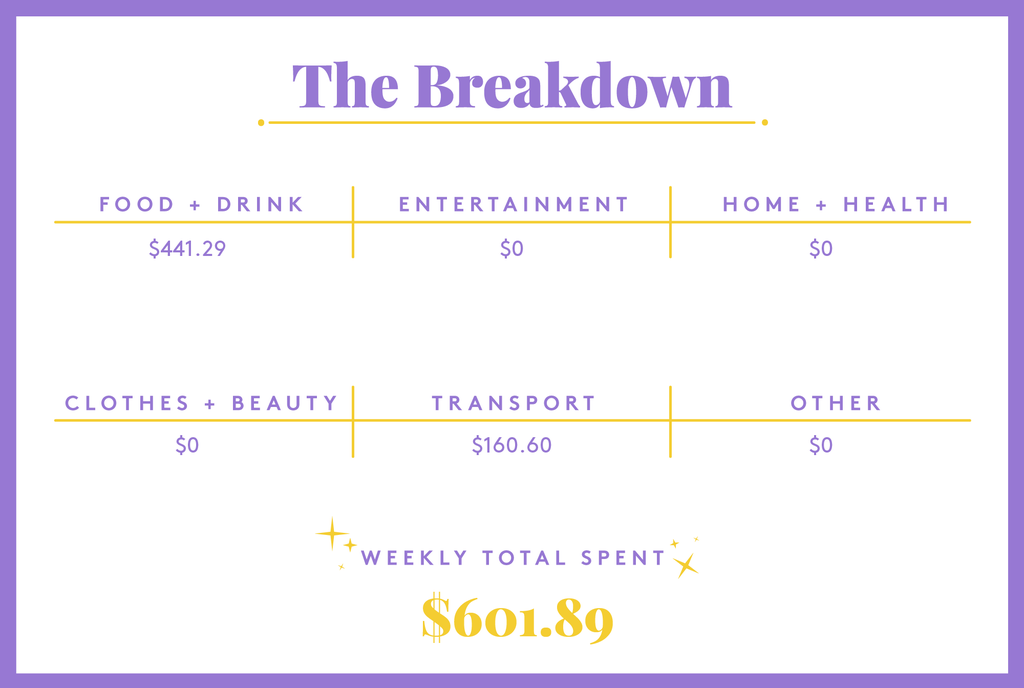 Editor's Note: This diary was written before COVID-19 was declared a global pandemic and current CDC guidelines about social distancing and travel restrictions were put into effect. Go to the CDC website for the latest information on symptoms, prevention, and other resources.
Money Diaries are meant to reflect individual women's experiences and do not necessarily reflect Refinery29's point of view. Refinery29 in no way encourages illegal activity or harmful behavior.

The first step to getting your financial life in order is tracking what you spend — to try on your own, check out our guide to managing your money every day. For more money diaries, click here.

Do you have a Money Diary you'd like to share? Submit it with us here.

Have questions about how to submit or our publishing process? Read our Money Diaries FAQ doc here: r29.co/mdfaqs
Like what you see? How about some more R29 goodness, right here?
A Week In Los Angeles, CA, On A $70,000 Salary
A Week In San Francisco, CA, On A $60,000 Salary
A Week In Bethesda, MD, On A $110,000 Salary
DMTBeautySpot
via https://www.DMTBeautySpot.com
Refinery29, Khareem Sudlow