featured
Jessica Morgan
How My Beauty Routine Is Helping Manage My Anxiety During The Pandemic
May 22, 2020
DMT Beauty
#DMTBeautySpot #beauty


Do you feel like everything has gone to shit? Don't worry, you're not alone. We are currently living in Unprecedented Times. The COVID-19 crisis has thrown life as we know it up into the air, affecting our daily routines. We're questioning everything: our health, our job security, our family and friends' safety. And, of course, when the hell this is all going to end.
As someone who has been living with crippling anxiety for the last decade, stress and fear are the friends who always show up to my parties. But this time it's different — my anxiety feels like Final Destination on steroids. In mid-March, I contracted coronavirus and was hospitalized for five days. I survived, but the stress it caused before, during, and afterwards has been profound. Experiencing coronavirus directly while also reporting on it has triggered all types of anxiety and post-traumatic stress. I haven't been able to switch off, which has made my anxiety worse because it's not a scenario I can control. What I do have control over, however, is my beauty routine.
While the lower half of my body hasn't seen a waxing appointment in over 60 days, twice daily I take the time to exfoliate, moisturize, and massage deliciously decadent creams, serums, and essences into my skin. You may think I'm superficial, but I'm not alone: 34% of the 2,000 adults polled for a recent study commissioned by Skin Proud are taking care of their skin now more than usual. A flick through Instagram shows thousands of skin-care posts dedicated to alleviating stress during the pandemic.
"There's something therapeutic about spending some alone time, looking in the mirror and taking care of my skin," says Sharmmaine Furamera, a digital-marketing professional and skin-care Instagrammer. "Skin care has become my go-to whenever I'm feeling anxious or if I've had a bad day, especially during the last nine weeks in quarantine. It's something I'll definitely carry on once life goes back to normal."
Research has shown that rituals can help lower anxiety levels, and Dr. Dimitrios Paschos, consultant psychiatrist at Re:Cognition Health, agrees that routines are useful in giving people back control. "Routines take away the uncertainty, which is why they are so important for us during this period of uncertainty we're all living through," Dr. Paschos tells me. "Routines can be extremely comforting, as we know what to expect throughout our day. They empower the individual by giving more control."
Dr. Paschos continues: "We also end up being more productive when we have a routine, as we are better at time management. Routines reduce stress levels, and through better time management they afford us the opportunity to relax and therefore reduce and manage anxiety levels."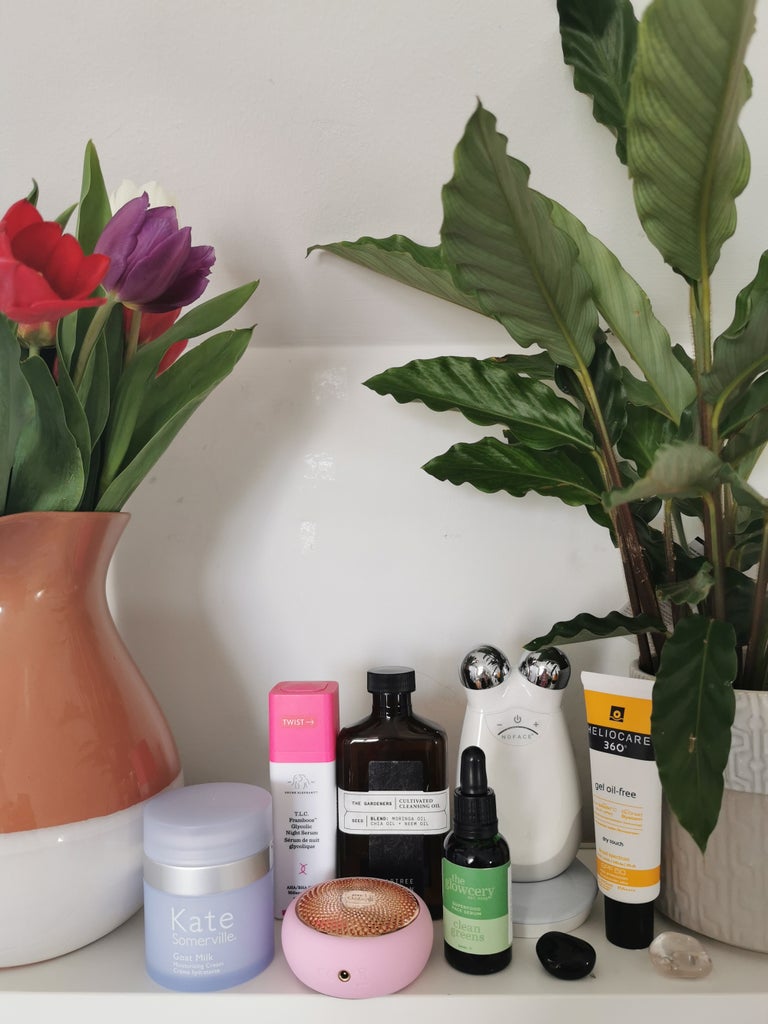 My new quarantine beauty routine has been an absolute dream for my mental health, and I've gotten it down to a science: I wake up and massage a bit of Crabtree & Evelyn's Cultivated Cleansing Oil onto my face, then exfoliate my skin using Neal's Yard Remedies Honey and Orange Facial Scrub. After using my Foreo Luna 3 with Kate Somerville Goat Milk Moisturizing Cleanser in the shower, I stick a Bioré Ultra Deep Cleansing Pore Strip on my nose to get the gunk out (my favorite part), pat my face dry, and then smooth on Glowcery Clean Greens Superfood Serum Facial Oil. I follow this all with a thick layer of Heliocare 360 Oil-Free SPF 50, because sun damage is real — even indoors.
This routine makes me feel calmer going into my day and provides me with a sense of comfort. The world around me might be on fire, but my little bubble is safe. The hour I dedicate to myself each morning lets me escape from the chaos.
At night, my routine consists of giving myself a soothing facial treatment using my NuFace Trinity Facial Training Kit to contour and tone. I then apply Drunk Elephant T.L.C. Framboos Glycolic Night Serum, and swipe on Ole Henriksen Banana Bright Eye Cream before applying Dermalogica Sound Sleep Cocoon Transformative Night Gel-Cream, which helps me decompress. Before I meditate, the Neom Wellbeing Pod diffuses calming essential oils around my room.
Getting myself fully prepped for an evening of calm is important for me and my anxiety. It helps me debunk my anxious thoughts like, Will I get sick again? or Will I lose my job if the economy goes to shit? and I'm not feeling productive today, will I get fired? These thoughts make my levels of cortisol (the stress hormone) skyrocket — which, ultimately, shows up on my skin.
"Stress is a recognized trigger for inflammatory skin conditions such as eczema, psoriasis, and acne," says Dr. Susan Mayou, consultant dermatologist at the Cadogan Clinic. "It's unsurprising that more people are reporting breakouts at this uncertain and very stressful time." Dr. Mayou suggests using this time to get to bed early and keep an exercise routine as consistently as possible. "Try to incorporate relaxation into your everyday routine, such as practicing mindfulness or meditation, too," she says.
On top of that (yes, there's more), stress can cause disrupted sleep, which can also show up on your face. "Sleep deprivation can negatively impact the skin and affect collagen, one of its main structural proteins," notes Dr. Emma Wedgeworth, consultant dermatologist and British Skin Foundation spokesperson. "Lack of sleep can also compromise skin barrier function," she adds. "This leads to dryness of the skin and an increase in the frequency of breakouts."
But if you think I'm spending hours on my skin-care routine each day to look good, think again. Lockdown has taught me that it doesn't really matter what we look like on the outside; more important is how good we feel about ourselves. I don't want to find myself shivering in the corner like Courage the Cowardly Dog each time the government starts its daily briefing, or whenever the daily death toll is announced. If massaging an $80 moisturizer into my skin makes me feel better, then so be it.
Of course, everyone is different, and there are plenty of ways to lower anxiety levels during the lockdown. Perhaps for you it means taking up a new hobby such as crocheting, bullet journaling, or even cooking an amazing meal. Baking banana bread counts, too. Maybe, like many of my friends, it means rewatching seasons 1-8 of Desperate Housewives on Amazon Prime (you're welcome).
During times like these, we must allow ourselves the space to be vulnerable. There's no shame in admitting that you need to switch off and take a break from the chaos. Whatever routine or ritual you decide upon, I hope it brings you calm and peace.
This story was originally published on Refinery29 UK.
Like what you see? How about some more R29 goodness, right here?
My Skincare Routine Costs £30 & My Skin Is Glowing
Is It Hygienic To Wash Your Hands With Bar Soap?
8 Products Transforming My Skin In Lockdown
DMTBeautySpot
via https://www.DMTBeautySpot.com
Jessica Morgan, Khareem Sudlow