featured
Khareem Sudlow
I Put This Self-Tanner Under 3 Stress Tests — Here's What Happened
June 22, 2020
DMT Beauty
#DMTBeautySpot #beauty


During my first-ever full-body check from a dermatologist at 28 years old (yikes, I know), my doctor removed two worrisome moles. She called a few days later with my biopsy results and — very gently but matter-of-factly — informed me that one mole was precancerous and the other a malignant melanoma.
Take it from me, nothing sends you into a tanning shame spiral quite like the words "skin cancer." My fond memories of long, lazy days spent lying in the sun are tinged with so much regret. And I can't fathom why on Earth I thought it was a good idea to go to a tanning bed…especially when I was at school in sunny, blazing-hot Arizona. Unfortunately, by the time my common sense kicked in and the judicious sunscreen application began in my early 20s, the damage was already done. I had to have surgery to remove the moles, which was painful and expensive. In the six years since, I've been lucky to be melanoma-free. I'm diligent with my skin checks, I avoid being in the sun for extended periods of time, and I'm rigorous about my sunscreen application. And because I absolutely don't tan at all, I've found the only way to achieve that coveted sun-kissed glow safely (both in terms of zero sun exposure and in compliance with social-distancing guidelines) is with a self-tanner.
I'm here now as both a cautionary tale and your self-tanning sherpa. As a devout user of self-tanning lotions, potions, sprays, and drops, I can tell you that self-tanners, when done right, can actually look like the real thing. But since I've found there's still a lot of disbelief around faux tans, I decided to put St. Tropez's Classic Bronzing Mousse to the test to debunk three common myths: that application is messy and arduous, it leaves you looking orange, and it streaks the moment you start to sweat. Here's what happened.
The myth: Self-tanner takes too long and gets messy.
The test: Apply self-tanner in minutes.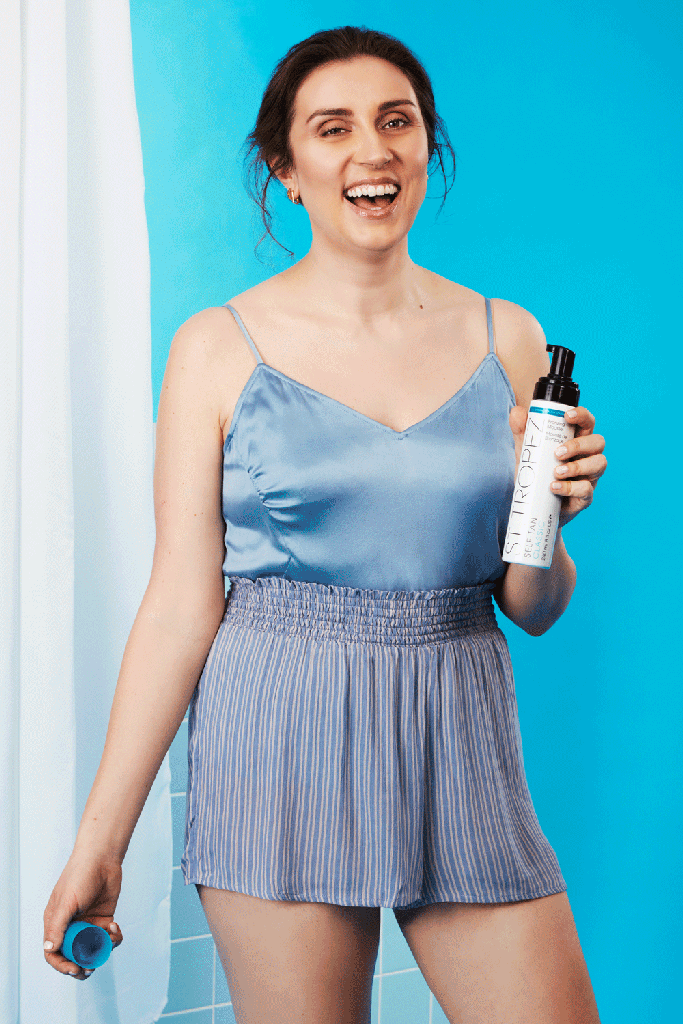 Let's do this! Fresh out of the shower, I dried off, twisted my hair into one of those microfiber hair towels, and searched through my phone for some hits that evoke the same vibe as lying on a beach. I honestly find applying self-tanner to a beat to be almost meditative. I cued up one of my current favorites, a slow-ish breakup song that's also a bit sexy, which is, obviously, perfect for carefully and methodically rubbing your whole body with a velvety mitt in pursuit of the perfect faux tan. I set the song to repeat on loop, just in case.
With the mitt on my dominant hand (after putting a swipe of moisturizer on my knees and elbows), I dispensed four or five slightly-larger-than-a-cherry-size dollops of mousse onto it. Propping a foot up on the toilet (so glam!), I started with one leg and then the other, rubbing in the frothy brown formula with circular motions. Since the mousse has a slight tint, you can see your progress as you apply and avoid any missed patches or dark spots.
I finished applying to my legs, arms, shoulders, and chest before the song ended a second time, which is to say, it took less than eight minutes. I followed the instructions and waited for the formula to feel dry to the touch before getting into my pajamas and hopping into bed.
The myth: Self-tanner leaves you more orange than bronzed.
The test: Wear white without looking orange.
Because I applied the tanner at night, I went to bed like a kid on Christmas Eve — I could hardly wait to wake up and see the results (though if I'm being honest, that didn't stop me from hitting snooze at least three times). Upon first glance in my PJs the next morning, the glow was noticeable to me but not outrageous.
To get the full effect, I pulled a super-summery white dress from the back of my closet. Instead of bringing out an orangey undertone, the white amplified the tawny golden-brown of the tan. Later, my roommate remarked that I "looked like I'd been on vacation."
Aside from totally obvious streaking (more on that in a sec), looking orange is probably everyone's primary hang-up when it comes to self-tanner. I can say with confidence that even when wearing a white dress, this color looked really nice. The formula is meant to work with your natural skin tone, so the color is true to how you'd look with an authentic tan.
A bad faux tan can look supremely obvious (case in point: cringeworthy photos from my high-school dances). But now I looked like I was glowing, not radioactive. Mission accomplished.
The myth: Self-tanners fade or streak as soon as you sweat.
The test: Maintain an even self-tan after a workout.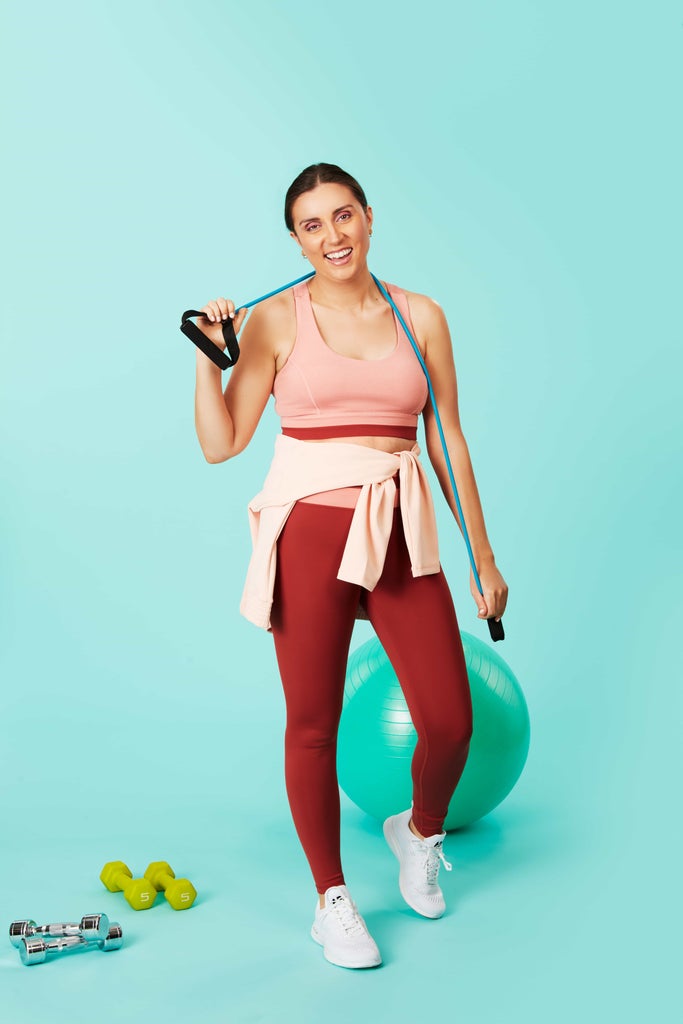 The first thing I should probably be upfront about when it comes to this test is that I don't love working out. However, in the name of journalism, I turned my apartment into an at-home gym, lifting five-pounders and performing resistance-band exercises until I couldn't feel my arms. When I decided it wasn't enough, I endeavored to ride a bike from my apartment in the East Village to Tribeca and then back again. When I combined the mental acuity required to keep up with traffic and maintain a distance of at least 6 feet from other cyclists, with the moderate physical strength required to pedal those six miles…well, it was a serious workout.
Outfitted in leggings, a sports bra, and a hoodie, I docked my bike feeling sticky and a little overheated. I then took the stairs to my walk-up two at a time, just to be sure I juiced every second of my workout. I don't know if you know this, but it is statistically impossible to get to the top of three (very steep) flights of apartment-building stairs without becoming slightly short of breath.
While my top did smell a bit like the tanner, there were no visible signs of transfer, and best of all, my tan looked as good as it did that morning. I saw no streaks from the unavoidable boob sweat and no signs of rubbing off on my legs or under the band of my sports bra.
I know I don't need to remind you to wear your sunscreen. Take it from me, sun damage is not chic, but it's perfectly normal to want your skin to still look glowy and healthy. A weekly self-tanner ritual is like the meal prep of body care: Invest a little time one night and you'll reap the every-outfit-looks-even-better benefits for days to come. But seriously, don't forget the SPF, too.
Like what you see? How about some more R29 goodness, right here?
DMTBeautySpot
via https://www.DMTBeautySpot.com
Taylor Davies, Khareem Sudlow