Brianna Provenzano
featured
Why Have Incarcerated People Been On The Frontlines Of California Wildfires?
August 24, 2020
DMT Beauty
#DMTBeautySpot #beauty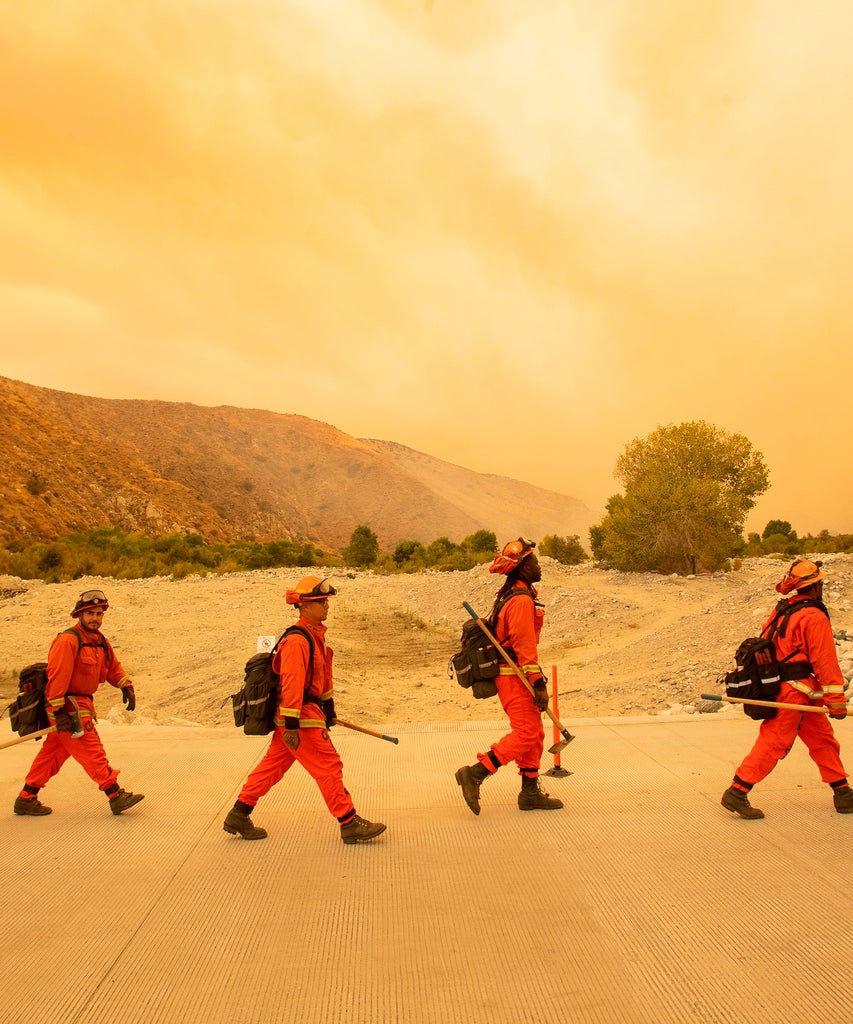 Record-breaking wildfires continued to engulf northern California on Monday, with firefighters struggling round-the-clock to battle the deadly blazes as ominous weather conditions threatened to make the situation worse.
An estimated 1.1 million acres of California land have already been burned in the wildfires, which have continued to rip through the state unabated amid severe lightning storms, seasonal drought, and windy conditions that make it difficult to contain the flames. At least seven people have been confirmed dead as a result of the fires, including, most recently, a 70-year-old man who had previously been reported missing.
On Saturday, California Gov. Gavin Newsom confirmed that California had been granted a Presidential Major Disaster Declaration in light of the historic fires, meaning that the Trump administration will release federal aid in order to help rebuild areas devastated by the wildfires. But as some firefighters pull 24-hour shifts to battle the blazes, officials claim that one COVID-19-related hiccup has severely limited their ability to put out the flames once and for all: their inability to use prison labor to get the job done.
For decades, incarcerated people have played an integral role in helping to bring seasonal wildfires to heel in California as a part of the state's controversial Conservation Camp Program. According to its official government website, the program was conceived as a way to "provide able-bodied inmates the opportunity to work on meaningful projects throughout the state." Those who volunteer to participate in the program are given entry-level training and then dispatched to supervised assignments, usually the sites of emergencies like floods or fires.
During the 2018 Camp Fire — the deadliest wildfire in California's history — the program received widespread scrutiny for putting incarcerated individuals in high-risk situations while paying them just $2 per day plus $1.00 an hour after that.
But thanks to an early-release program brokered by Newsom in an effort to mitigate the spread of coronavirus among the state's inmates, many who fought fires on the front lines during past blazes have since been sent home from prison — leaving a state that had relied on the labor of the incarcerated struggling and strapped for resources.
"The inmates should have been put on the fire lines, fighting fires," Mike Hampton, a former corrections officer who previously worked at an inmate fire camp, told the New York Times. "How do you justify releasing all these inmates in prime fire season with all these fires going on?"
Though Hampton argues what "should have been" a possibly deadly future of California's incarcerated people, those who help fight wildfires while serving time are regularly denied necessary licenses to become actual firefighters upon their release. According to a 2018 report, all California firefighters are required EMT licenses, which are frequently refused to anyone with a criminal record.
Now, with the unjust deployment of prison labor at a low during wildfire season, officials are struggling to find enough able-bodied volunteers. California's primary firefighting agency, Cal Fire, has appealed directly to Newsom for help, saying that the 13,700 firefighters that have already been dispatched are not enough to battle the complex and growing blazes.
"Inmate fire crews are absolutely imperative… and do arduous work on our fires," Brice Bennett, a spokesman for Cal Fire, told the Times. "They are a tremendous resource."
Despite a shortage of personnel, there are still 102 inmate crews, or 1,306 incarcerated individuals, battling California's wildfires, CNN reports. As the fires blaze on, the state has requested help from crews from as far away as the East Coast and Australia to assist in getting the situation under control.
The blazes, known collectively as the LNU and SCU Lightning Complex Fires, have already torched an estimated 1,200 structures in California, and prompted calls for evacuation for nearly tens of thousands of residents. According to CNN, as of Monday morning the LNU fire was about 22% contained, and the SCU fire was only about 10% contained.
As for the ethics of utilizing prison labor on the front lines of deadly fires, the pandemic — and the still-raging wildfires — will probably be enough to delay the conversation for the foreseeable future.
Like what you see? How about some more R29 goodness, right here?
How Iowa's Derecho Has Torn Cities Apart
California To Give Migrants Relief Aid
What Is Happening At The Belarus Protests?
DMTBeautySpot
via https://www.DMTBeautySpot.com
Brianna Provenzano, Khareem Sudlow