Cat Quinn
featured
I'm A Beauty Editor Road-Tripping Across The Country — Here's What I Packed
September 03, 2020
DMT Beauty
#DMTBeautySpot #beauty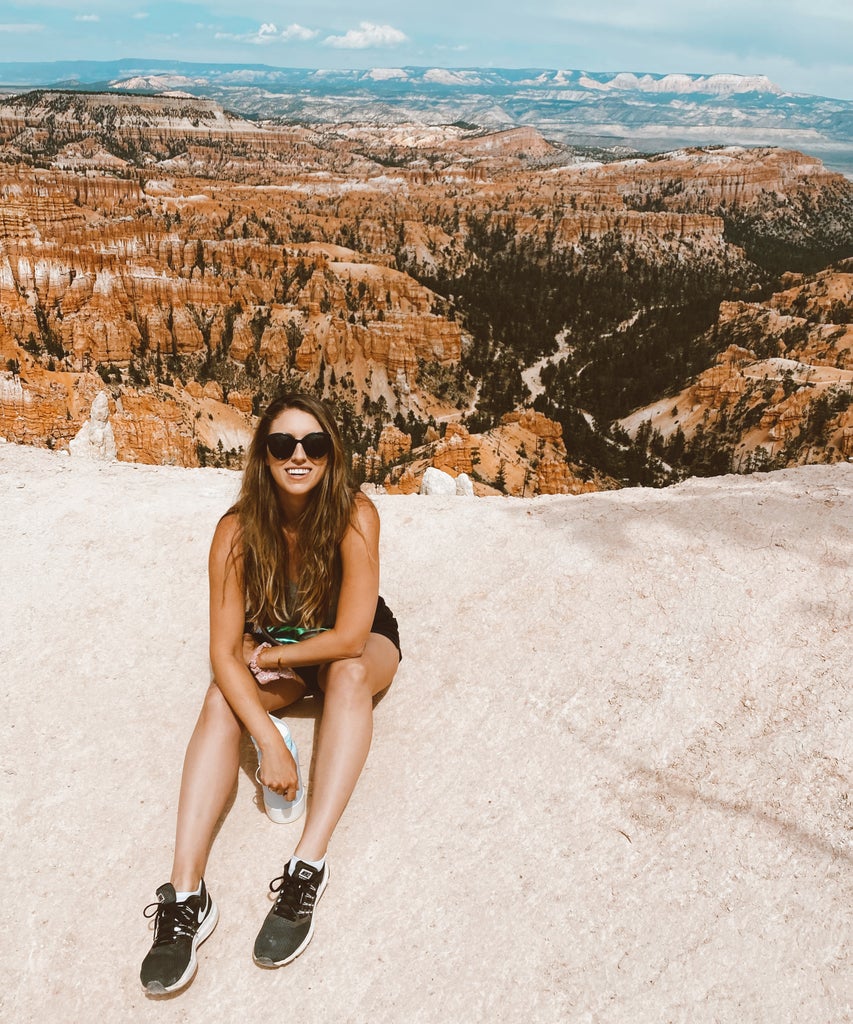 If you had told me one year ago, on my wedding day, that I'd be spending my first year of marriage living out of a car and traveling across the country with my now-husband, I probably would have laughed — then organized my gift registry a bit differently.
Instead, the Frette towels and matching Parachute robes that seemed so important to me at the time are locked away in storage, and I'm writing to you from my new home: a foldable twin XL mattress I bought on Amazon that's nestled into the trunk of our car. The star-flecked sky of Zion National Park is glittering through the sunroof above me, and my hair is still dripping wet from the $4 coin shower I just took at a mountainside rest stop.
It's not the 2020 I had planned (is anyone's?), but it's exactly what I need right now.
When the stress of, well, everything resulted in a shingles diagnosis a few months back, it was a much-needed wakeup call to prioritize my mental health and take a long overdue reset in nature. Within a few weeks, my husband and I decided to sublet our apartment, finance a car, and embark on a cross-country roadtrip. We'd continue working remotely, safely visit friends and family, and see where the road took us. With my offices closed because of COVID-19 until early January, we figured, If not now, when?
While hitting the big open highway (and managing my anxiety through telemedicine) has been deeply restorative and a privilege I know is not afforded to everyone, I'd be lying if I said it was all one big Tezza-filtered Instagram reel. Twice now, I've nearly peed my pants trying to find a safe public restroom amid COVID restrictions. I broke down in tears the night we had to drive down a dirt path until 1 a.m. in the pitch black because all the campsites in town were booked. Sometimes, after a cold five-minute shower, I really, really want those Frette towels.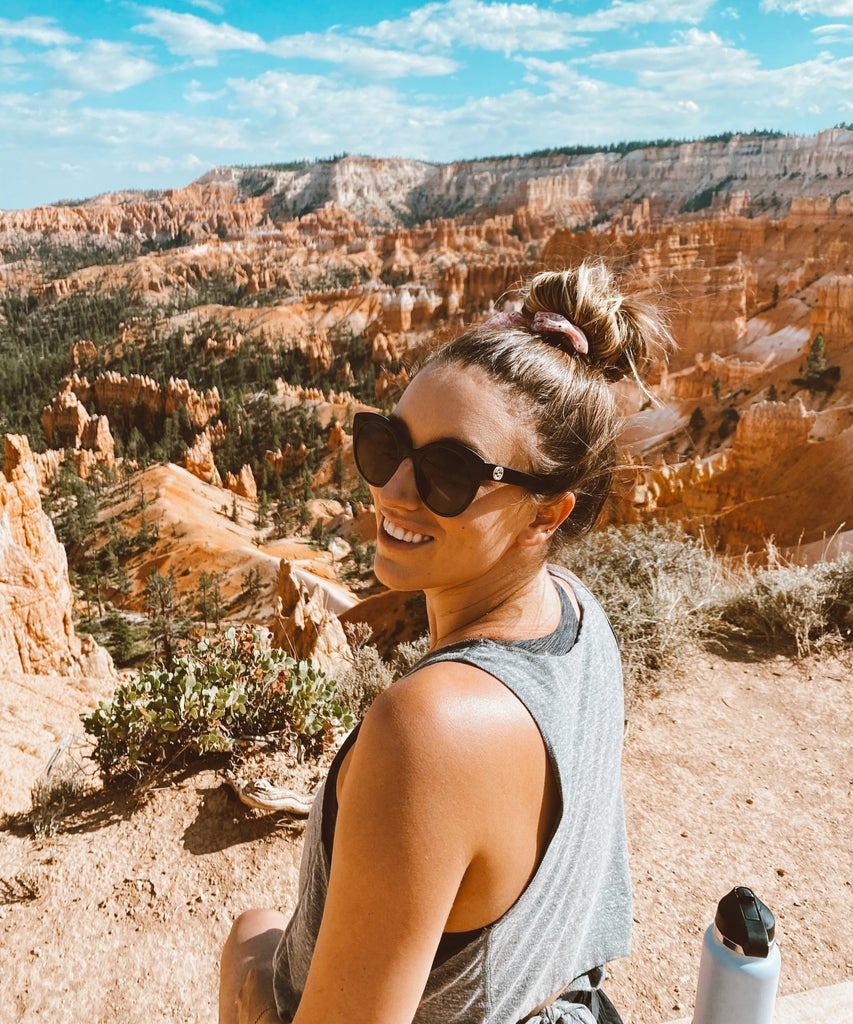 But the one aspect of nomadic life that's been surprisingly easy for me? My beauty routine. For an editor who's been working in the cosmetics industry for the past decade, I am not what you would describe as "low-maintenance" when it comes to products. I have so many hairsprays and dry shampoos, I store the overflow in my kitchen cabinets. I recently pared down my red lipstick collection to what I consider to be a modest 25. The mailroom downstairs had to dedicate extra shelf space to handle the influx of product samples that arrive to my work on a daily basis.
But weirdly enough, the switch to a roadtrip routine has come naturally to me, and I've found a lot of comfort in the products I've hauled with me across multiple state lines. That being said, I do have some advice for anyone else considering a months-long, or even weekend-long, trip along Route 20, and it might not be what you'd expect. From camping towels to sheer sunscreens, check out my top tips ahead.
This Isn't The TSA — Go Full Size
If there is one massive perk to ground travel, it's the ability to pack whatever the hell you want without a grumpy security agent arguing over the last .05 ounces of your favorite serum. Skip the travel toiletries (which are bad for the environment anyway and cost way more in the long run) and go ahead and pack your glorious 8 oz. cleanser. Sure, it will take up a little more space in the car, but when you're away from home and rinsing off in a public shower after a long, sweaty day of hiking, there is something truly comforting about squeezing out a handful without worrying if it's going to last you through Sunday. I've been sticking to my longtime acne routine, below, and haven't suffered a single travel breakout.
Commit To A Scent
Rose-scented shampoo and sandalwood body wash with a spritz of fruity texturizing spray might work at home, but within the confines of a 14×6-foot box hurtling down the highway, it's a migraine waiting to happen. (I ditched my dry shampoo after one day because the scent made me so nauseous in the car.) Either go fully fragrance-free — your co-pilot will thank you — or stick to one scent story that everyone agrees on. Mine is coconut oil and shea butter, which smells heavenly to both me and my husband, and also keeps our skin and hair soft as we pass through the desert heat.
Flip-Flops Are Non-Negotiable
Take it from a kid who once caught plantar warts from walking around barefoot in a YMCA locker room: Extreme shower hygiene is a must — especially during COVID. Research the bathroom situation before you commit to a campsite, hotel, shower station, or Airbnb (if the Yelp review is less than three stars, run). Then, invest in a pair of cheap plastic flip-flops with high floor clearance; the last thing you want is murky shower water pooling around your ankles. Trust. Me.
Other essentials I recommend: a camping microfiber towel. No, it's not the kind of big fluffy bathroom towel that makes you want to sit on your bed and stare aimlessly at the wall for hours, but it dries super fast so you can toss it in its mesh carrier without the smell of mildew ruining your trip. For hair, I can't recommend Kitsch microfiber scrunchies enough; they soak up every last bit of moisture, minus the weird looks you'd get if you wore a towel on your head while driving down the interstate.
Finally, in the event you can't get to a sink with running water, make sure you have a few liters of water in the car to stay hydrated and brush your teeth, and some face and body wipes on hand for quick clean-ups. I generally believe makeup wipes are the devil, but the Cetaphil ones work well in a pinch, without rubbing my sensitive skin raw.
Don't Sit Out Sunscreen
Even the nicest UV-filtered car windows still let in plenty of harmful, skin-damaging rays. (Google 'truck driver half-face study' if you want to be scarred for life.) But your typical outdoor sunscreen routine probably isn't going to cut it. For one, this shit is like glitter — it gets everywhere. After a few hours, my seat, armrest, steering wheel, and door were covered in white residue. Now I stick with totally clear formulas, like Supergoop Glow Screen and Black Girl Sunscreen, which are easy to reapply with one hand while driving and don't ruin my interiors. If you have a sun-roof, don't make the mistake I did and forget scalp sunscreen. Ouch.
Lean Into The Heat
Lipsticks, foundation sticks, and other solids don't enjoy a very long shelf life in the front seat of a hot car. Go for squeeze-tubes that allow you to control how much product you dispense at a time. (Just be careful when passing through high altitudes, as products tend to ooze out at a much faster rate.) My five-minute on-the-go makeup routine now consists of It Cosmetics CC cream, Maybelline Cheek Heat, and Clarins lip perfector — which all have a convenient squeeze tip and happen to look a little better when they've been sitting in the heat.
Whenever possible, though, store your products in a heat-resistant, waterproof bag (I love my Dagne Dover neoprene toiletry kit) and keep them stashed in the backseat away from the sun or, better yet, under the air conditioner in the seat beneath you. Bacteria love a warm, moist environment, and your roadtrip makeup bag is a petri dish waiting to happen.
Perfect The On-The-Road Air-Dry
Don't bother packing a hair dryer — you probably aren't going to use it. (Electric hookups at campsites cost quite a bit extra, and if you're staying somewhere with outlets, chances are they've got a hairdryer you can bum if you really need one.) Instead, I've been using the last three months as an excuse to go heat-free, and my hair already looks so much healthier.
For me, it's all about finding a shampoo and conditioner with plenty of moisturizing ingredients, raking a leave-in conditioner or defining cream through my waves, and then rolling down the windows. My silk pillowcase — I never travel without it — and satin-lined baseball cap help keep frizz to a minimum, and when all else fails: I just throw my hair up in a jumbo scrunchie. I keep one in every pocket, cupholder, and glovebox whenever I need to get loose strands out of my face — which is 97% of the time.
Take Your Face Mask The Extra Mile
If you're clocking three to four hours in the car a day, you might as well use that time to get some mileage out of your favorite products. Smooth on a face or lip mask, pop on some teeth-whitening strips, rake a hair treatment through your ends — as long as it doesn't interfere with your ability to focus on the road, it's fair game. Nobody said your roadtrip had to be rustic — take it from a beauty editor.
At Refinery29, we're here to help you navigate this overwhelming world of stuff. All of our market picks are independently selected and curated by the editorial team. All product details reflect the price and availability at the time of publication. If you buy something we link to on our site, Refinery29 may earn commission.
Like what you see? How about some more R29 goodness, right here?
DMTBeautySpot
via https://www.DMTBeautySpot.com
Cat Quinn, Khareem Sudlow