#DMTBeautySpot #beauty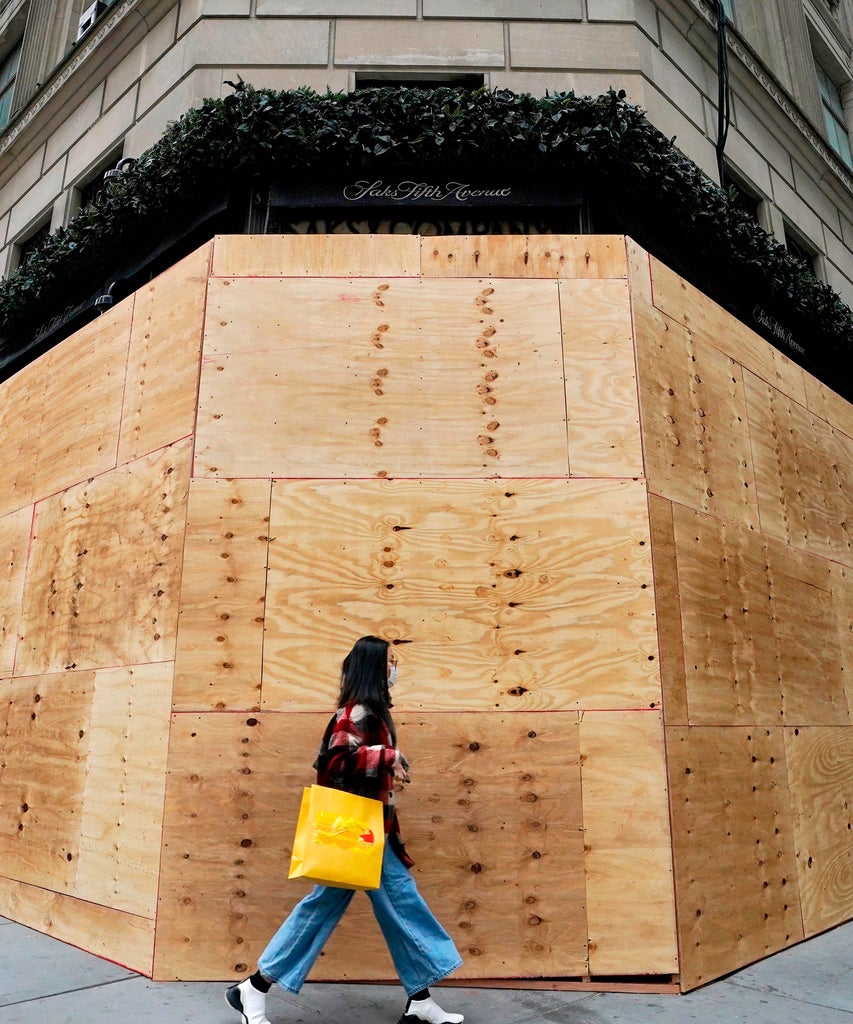 As the countdown to Election Day draws to a close, businesses across the country are preparing for the unknown fallout of the tensest political contest in recent history. Major retailers like Nordstrom, Tiffany & Co., and Saks Fifth Avenue are boarding up storefronts in anticipation of potential unrest following Tuesday's election — regardless of who wins.
Across the country, storefronts have been boarded up with plywood, signaling to most that the election results will be a far shot from swift or painless. In Washington, D.C. the streets are lined with wood-covered windows, and even the White House is building a "'non-scalable' fence to secure the [White House] complex, Ellipse and Lafayette Square," according to NBC News White House correspondent Geoff Bennett.
In New York City, too, Macy's is "implementing additional security measures" out of "an abundance of caution," a spokesperson told NBC New York. Shane Fernett, who owns a contracting business called Jack of All Trades in Colorado Springs, told the New York Times that he's been stocking up on plywood to board the windows of his retail customers because "we think all hell is going to break loose."
Experts say people are right to be concerned. "What we fear is that guns, protests and elections do not mix well," Hrair Balian, director of the Conflict Resolution Program at The Carter Center, told NPR. Balian is referring to the increasingly militant armed groups of Trump supporters who have become increasingly visible over the last few years — from showing up at the Michigan State Capitol, to riding around in pro-Trump caravans, to arriving at polls to intimidate voters. Right-wing groups have also been a huge presence at nationwide protests over racial injustice since the death of George Floyd at the hands of a Minneapolis police officer this summer.
But violent conflict surrounding elections — which we have seen since Donald Trump's first campaign in 2016 — is quite common in American history, even going back to the founding of the country. Even the well-known story of the death of Alexander Hamilton in a duel against Aaron Burr was the result of Burr's anger at Hamilton working to deny him the political positions Burr craved.
This is entirely different, though: the kind of fear around mass unrest we are seeing today is unprecedented — partly because of the ways in which Trump has fanned the flames of his supporters, both in sending them messages to "stand by," but also in his refusal to commit to a peaceful transfer of power, which has been the hallmark of American democracy since the country's inception.
"Probably the biggest issue is the president of the United States right now, who has portrayed himself as somebody who, you know, is not necessarily interested in calming the waters," Stephen Pomper, senior director for policy at the International Crisis Group, told NPR, adding that Trump "might actually court unrest in order to serve his political and personal goals."
The uncertainty around whether or not there will be massive political unrest following the election is a sign of an unstable democracy, and evidence of how much Trump has degraded so many aspects of American life over the last four years. America's democracy was never perfect — the GOP has long used voter suppression in order to maintain any semblance of power in the U.S. and the electoral college is far from fair. But under Trump, the hallmarks of tradition and engaging in the system in good faith have all gone out the window.
Boarded up windows ahead of Election Day are a very 2020 sighting — between the ongoing protests against police violence and racial injustice that have lead to property damage, to the vacant storefronts of shuttered businesses that have fallen victim to the economic impacts of the coronavirus pandemic, these are not the images of "Joe Biden's America" as Trump may purport. They are — literally — the images of a Trump presidency, and everything that has happened under his watch.
Like what you see? How about some more R29 goodness, right here?
Trump Refuses To Pronounce Kamala Correctly
Trump Is Replacing The American Flag With Another
Jared Kushner Wants Trump To Keep ignoring Doctors
DMTBeautySpot
via https://www.DMTBeautySpot.com
Britni de la Cretaz, Khareem Sudlow