#DMTBeautySpot #beauty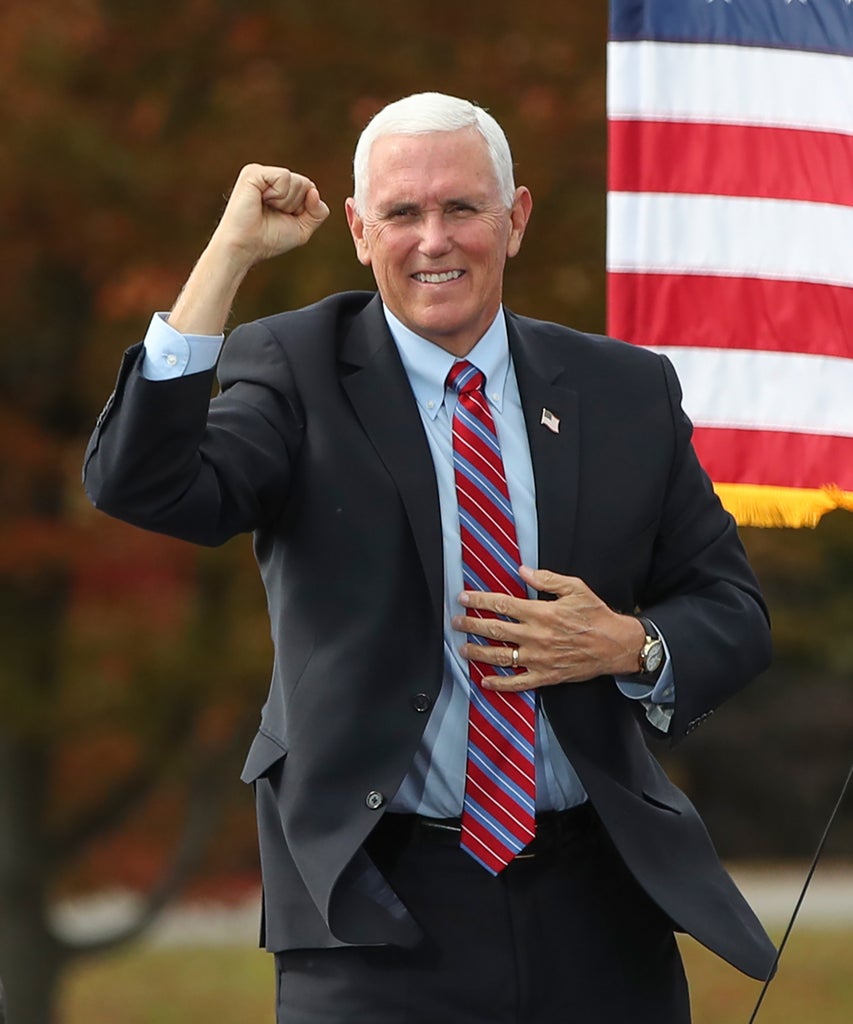 What better time for a little R&R than when your political running mate is refusing to concede the election and admit that losing both the electoral college and popular vote means he has zero chance at a second term in the White House? That's exactly what we suspect Vice President Mike Pence thought to himself before booking a vacation to Florida this week.
According to the Miami Herald, the VPOTUS is headed to Sanibel today where he will stay through Saturday. News of Pence's vacation comes almost immediately after he went MIA for a week following Election Day. Though many suspected that Pence, like White House Chief of Staff Mark Meadows had contracted COVID-19 and was just laying low, he was reportedly "active" at the White House last week and just picked, oh, the week of the election to go silent. It seemed strange that, during such a critical time, Pence wouldn't be out trying to rally support from the Trump administration's voter base, and even stranger now amid Trump's impending legal battle to try and "steal" the presidency that Pence would just leave town altogether.
But let's be honest: Pence's vacation to the southwest Florida island is rage-inducing for other reasons. After we have all spent the majority of the year either sheltering in place, in quarantine, or just generally not going anywhere because of a global pandemic, the person leading the COVID-19 task force is now leaving town amid a Capitol Hill outbreak and a volatile election that has dissented into a party-line battle to the death.
It's okay, though, because at least we have these internet reactions to Pence's vacation to keep us happy and warm.
SPOTTED: mike pence on vacation https://t.co/HAVJ5cmrzR pic.twitter.com/Tm5G8yVRU7

— Jill Gutowitz (@jillboard) November 10, 2020
OK, have a great time and thanks for containing COVID! https://t.co/L3W0c6OdqR

— Louis Pumpkin Pie-tzman (@LouisPeitzman) November 9, 2020
Internal White House Memo: Unused vacation days may NOT be converted to a cash payout when you get fired

Mike Pence: https://t.co/9iqOl7lHZ3

— Eric Haywood (@EricHaywood) November 10, 2020
So Pence is going on vacation and Trump hasn't done anything in two days after golfing all weekend. They know there's still an out-of-control virus killing communities across America, right?

— Matt McDermott (@mattmfm) November 10, 2020
Trump will be fighting hard from the golf course.

Pence will be fighting hard from his vacation rental in Florida.

But by all means, they're serious about voter fraud and are not at all trying to scam you with their fundraising for legal battles. pic.twitter.com/HNB3Vp2TYy

— Leslie – 71 to 46. 🇺🇲 (@Leslieoo7) November 10, 2020
But before you grow envious of his undeserved week in the sun, would it help to know that it won't even be that nice when he's there? According to local weather reports, Tropical Storm Eta made for a wet start to the week, bringing heavy rain and high winds to the Florida area. Continued showers and overall poor conditions are expected through at least Thursday. So while you're angrily envisioning Pence on some beach somewhere, just know that his trip will probably involve more longing, moody gazes out of a rain-soaked windowpane.
And, just in case, we've gone ahead and written Pence a quick Out Of Office message that he is free to use.
Hello [NAME],

Thank you for your email. I am currently hiding from reality with limited access to internet or Donald Trump. If you are reaching out regarding the COVID-19 pandemic, please contact sick@whitehouse.biz for all further inquiries. I will return on Thursday, but don't wish to be contacted until all legal votes are counted.

Warmest Regards,
Mike
Like what you see? How about some more R29 goodness, right here?
Meanwhile, Where In The World Is Mike Pence?
Melania Trump Doesn't Deserve Your Sympathy
Megyn Kelly Talks "Feelings" After Attacking Biden
DMTBeautySpot
via https://www.DMTBeautySpot.com
Sarah Midkiff, Khareem Sudlow