featured
Khareem Sudlow
We Have A Lot Of Questions About That Photo Of The Bidens & The Carters
May 04, 2021
BruceDayne
#DMTBeautySpot #beauty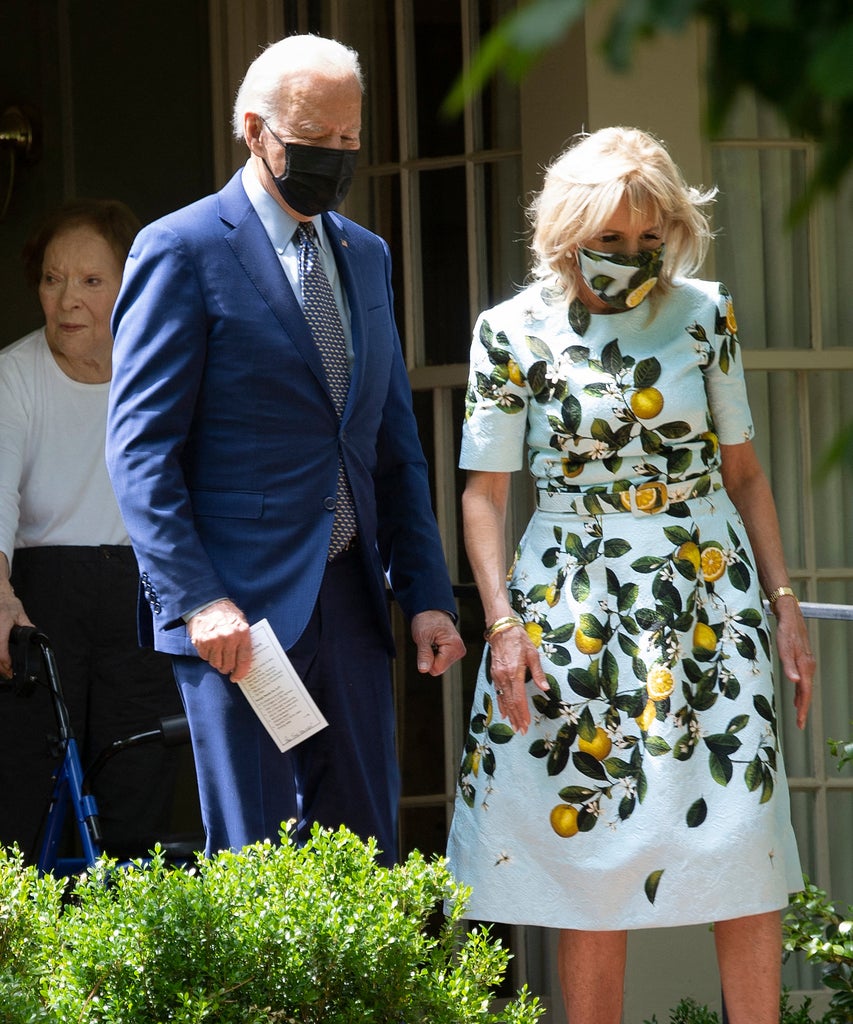 On Thursday, President Joe Biden and Dr. Jill Biden visited former President Jimmy Carter and Rosalynn Carter in Plains, GA for the first time since Biden took office. According to CNN, the Bidens wanted to "stop by and say hello" since the Carters were unable to attend the inauguration in January. "It was great to see President Carter. It reminded me that I was the first person to endorse him outside of Georgia," Biden told reporters of the very wholesome meeting. "We sat and talked about the old days and he introduced me to a friend of his, a reverend he wanted me to get to know, and Rosalynn was great, too."
This would normally not be a headline-worthy story. But after the visit, the Carter Center shared "a wonderful photo" of the couples smiling and enjoying each other's company. And the closer you look at the picture, the more obvious it becomes that something is very, very off. The Bidens appear to be looming over the Carters, who are not only incredibly tiny but also seem to be seated in miniature chairs. Everything in the room looks proportional to Carter's small stature, but both Bidens tower over the furniture and the former presidential couple.
The image prompted reactions like, "This is a beautiful photo. Genuine smiles," and "LOVE THIS. I love the Carter Family and the Biden Family," and "Dude what is with the size difference between these people what the hell is going on here."
What is going on here? Is it a bad Photoshop job? Are Jimmy and Rosalynn Carter — who are 96 and 93 years old, respectively — just very small people living in a human dollhouse? Is Biden larger than we thought? (He's around 6 feet tall.) The internet exploded with theories, jokes, and memes.
Just a reminder that the Bidens got the vaccine before most of us, and they have already grown to 1.5x the size of a normal human. https://t.co/uhoI1G5imZ

— Josh Jordan (@NumbersMuncher) May 4, 2021
CANT SLEEP BECAUSE OF HUGE BIDENS pic.twitter.com/QtSkqDMf1I

— Luke Mones (@LukeMones) May 4, 2021
This may be an inappropriate observation, but it looks like the Bidens are ventriloquizing the Carters here https://t.co/RRXqh2s9RE

— Derek Duplessie (@dnduplessie) May 4, 2021
i can't stop laughing at big bidens and baby carters pic.twitter.com/WIJxcqThra

— Vincent Martella (@VinMan17) May 4, 2021
Several photographers and experts weighed in with answers. "Even though the natural physical changes during old age may be playing a role here, I don't think ageing shrinks you that much. Also, the scale of Jimmy Carter's feet compared to the rest of his body is weird — sort of like a reverse statue of David," said Carly Earl, a photo editor for The Guardian Australia.
She said that the photo was likely taken using a wide-angle lens, a feature available on many cameras and iPhones. "When taking photos in a smaller space you often don't have room to move far enough back to get everyone in the frame, so you use a lens that can take it all in," Earl explained. It's very likely that at least part of the explanation here is the fishbowl effect: the Biden's are on the end of the wide-angle photo, and the Carters are in the middle, making them appear (comically) smaller.
However, Jonathan Alter, who wrote the biography His Very Best: Jimmy Carter, A Life, also said that there is a difference in size, given Carter's age and height. Even when they were in the White House, they weren't "tiny people," but they were "in the medium-to-smaller size among presidents and first ladies," Alter told The Washington Post.
For such a sweet, posed photo, there's a lot going on here. Some Republicans have already called the Bidens hypocrites for posing without masks, even though the CDC has said it's safe for fully vaccinated people to gather indoors. And many people have worried about Carter's health, although Biden told reporters he's "gotten better." But when Biden's head is roughly and alarmingly twice the size of Rosalynn Carter's, it's difficult to focus on anything else.
Like what you see? How about some more R29 goodness, right here?
Major Biden Promises To Be A Very Good Boy
100 Days Later, What Has Biden Actually Done?
Petition Asks Jill Biden To Fix The Rose Garden
DMTBeautySpot
via https://www.DMTBeautySpot.com
Lydia Wang, Khareem Sudlow