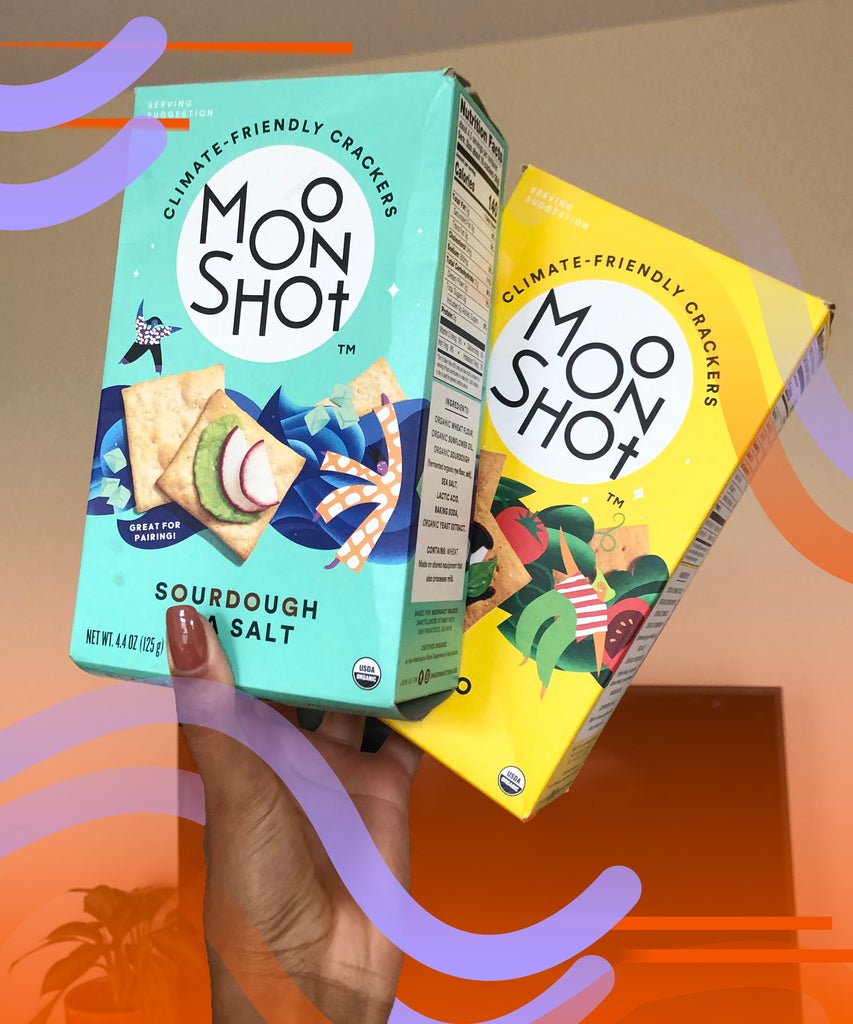 Picture it: it's a rare Friday night in and my glass of cabernet is decanting wonderfully on the kitchen counter. I crack open my snack cabinet, but instead of reaching for my stand-by Cheez-Its, my hand makes a beeline toward a decidedly more grown-up and sophisticated bite: a box of vegan Sourdough Sea Salt Moonshot crackers. Founder Julia Collins is changing the healthy snacking game with her sustainable, Black woman-owned food brand one flavorful crunch at a time — and if you haven't given it a taste test, it's about time you do.
In one 100% recycled cardboard package, you'll find about 45 organic crackers made from regeneratively grown ingredients ready to upgrade your snacking game. Lucky for me, I got the chance to try out all three flavors — Sourdough Sea Salt, Tomato Basil, and Rosemary Garlic — and see what a "climate-friendly cracker" actually tastes like. Below, read on to hear what makes these crackers taste better than my standby Cheez-its — and why Collins chose to fight climate change via delicious simple snacks.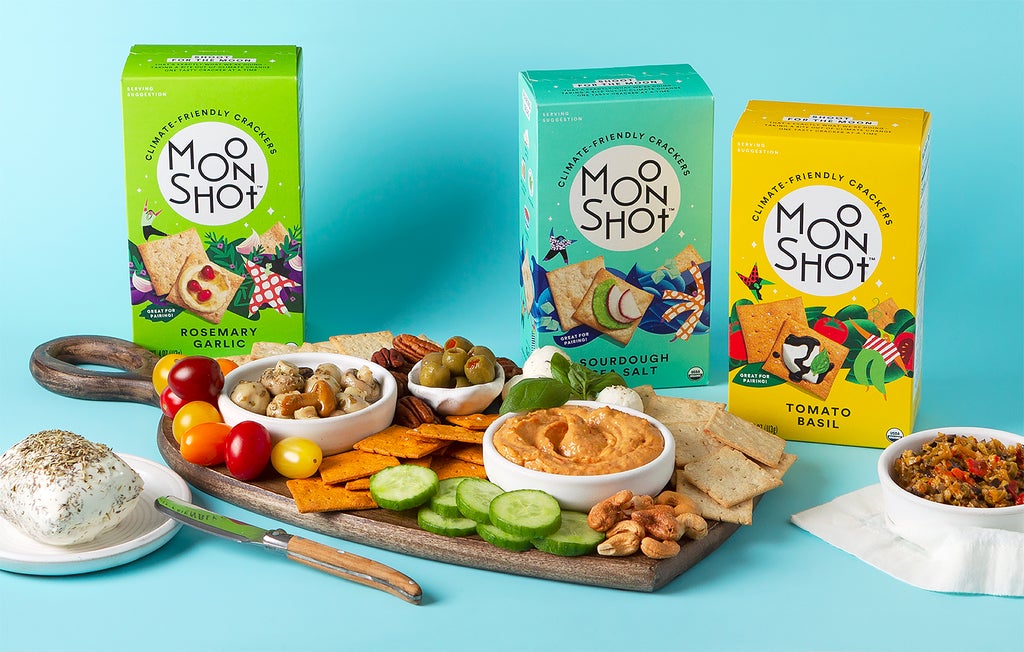 What are Moonshot crackers?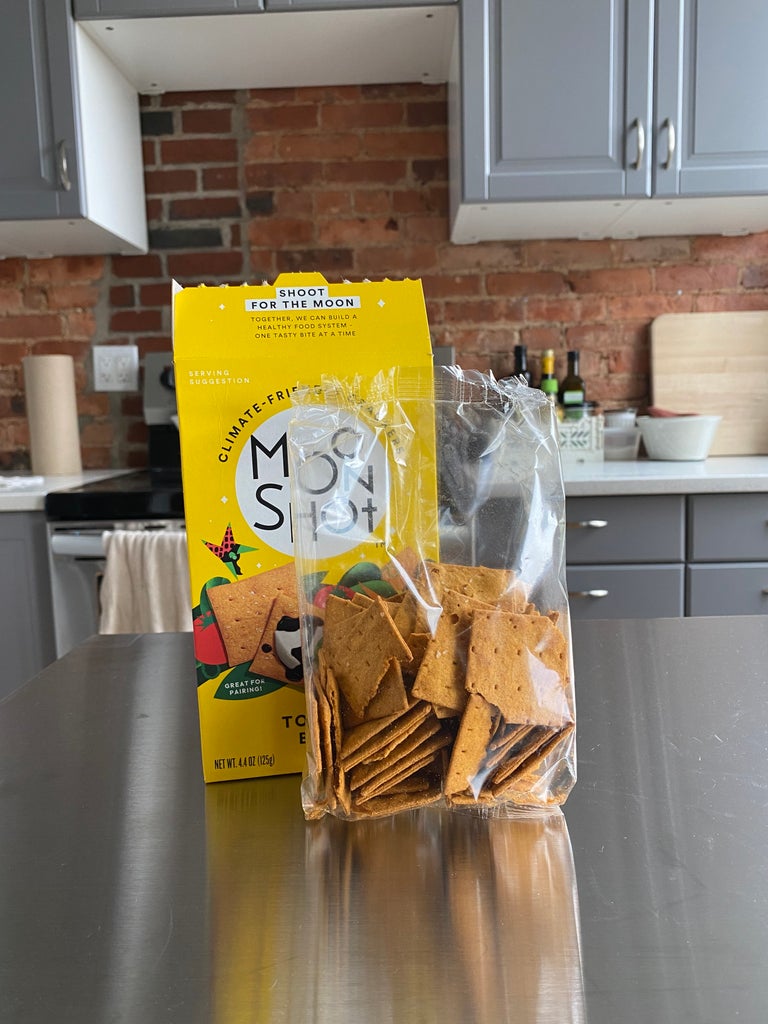 These snacks officially launched under Moonshot's parent company, Planet FWD, in December 2020. Since then, the brand has racked up 116 customer reviews and a near-perfect, 4.9 out of 5 stars, rating on its site. You can find some boxes sprinkled in grocery stores across the nation, or you can order online and even save a few bucks by securing a monthly subscription.
While the brand's vibrant flavors are enough of a sell, the commitment to sustainability is also part of the appeal. "The ultimate goal at Moonshot is to build a climate-friendly food movement," founder Julia Collins tells Refinery29. To throw some fancy stats out there, these crackers are plant-based, Non-GMO, carbon-neutral, made from regeneratively-grown heirloom wheat sourced from local farmers, and contain zero added sugar or preservatives. In other words, these snacks are as good for you as they are for the planet.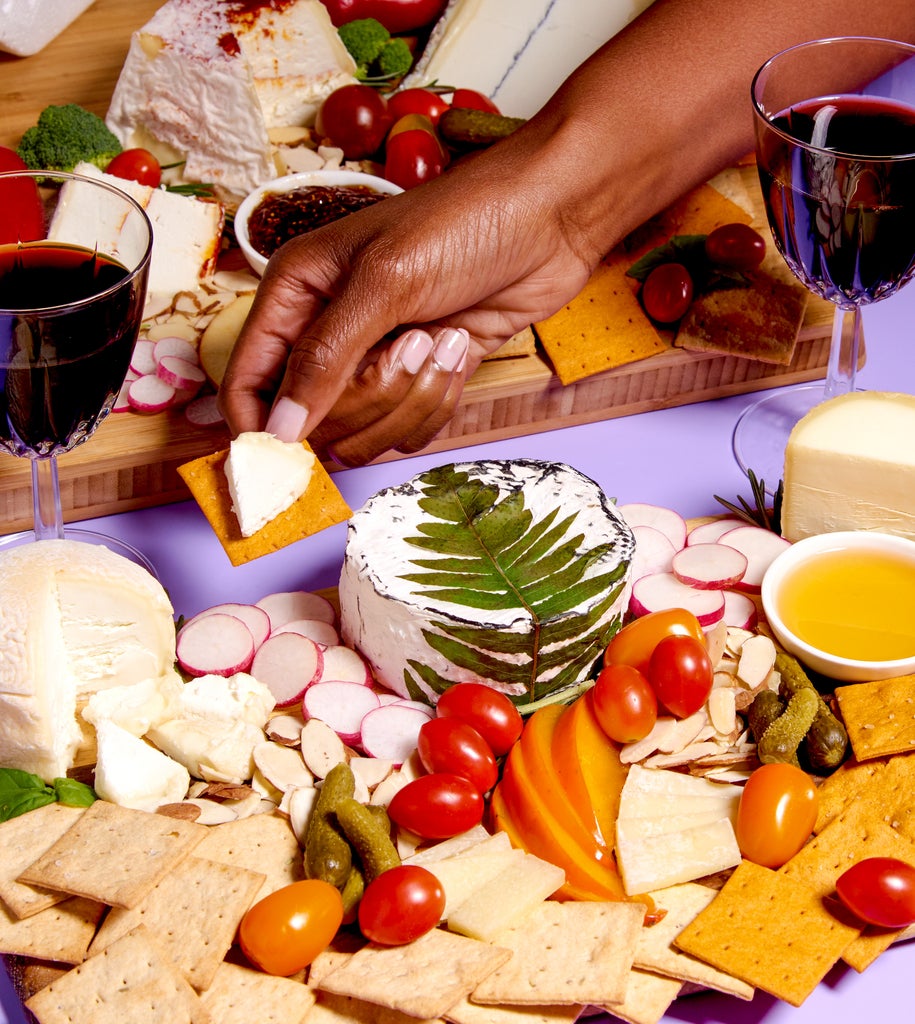 What do Moonshot crackers taste like?
The Sourdough Sea Salt genuinely tastes like Cheez-its to me, or any other cheese-infused cracker — except, there's not an ounce of dairy. (My skin jumps for joy). They're small and have a crisp crunch when you first bite down, but then slowly melt away as you chew rather than congeal against your teeth. The flavors are fresh. Tomato Basil, my second favorite, does not have a cheesy vibe at all but instead a lovely combo of spices. And the Rosemary Garlic tastes immaculate and herby with a slice of cheese.
It's hard to wax poetic over these crackers because they taste exactly like their ingredients. As an avid snack indulger, I notice the only time a carb treat doesn't taste like its description is when it's doused in artificial flavors. The one mystery behind these otherwise transparent snacks is how they extracted so much flavor out of a few simple ingredients.
Who is the Moonshot founder?
The minute Julia Collins discovered she was pregnant, she thought about the future world her son would be living in. Rather than wallow in despair at our planet's current climate crisis, she began her quest to produce climate-friendly snacks and create a platform, Planet FWD, to help other food brands adopt a more eco-conscious approach.
"Snacking accounts for 50% of all eating occasions and 94% of people say they snack at least once a day," says Collins. "That's a lot of snacking and people who snack deserve to eat food that is tasty, good for their bodies, and for good for the planet."
On top of running a business, Collins recognizes the lack of Black representation in the modern environmentalism movement and wants to become an even bigger voice with her platforms.
"Black voices are often left out of the current narrative around climate change," she says. "The worst of what is happening in the context of our rapidly warming planet disproportionately affects Black and Brown people. There is no social justice without climate justice. It's vitally important that we make climate activism radically inclusive."

At Refinery29, we're here to help you navigate this overwhelming world of stuff. All of our market picks are independently selected and curated by the editorial team. If you buy something we link to on our site, Refinery29 may earn commission.
Like what you see? How about some more R29 goodness, right here?
Meet The Fan-Favorite Always Pan's Successor
I Tested Bokksu, Japanese Snack Box Of My Dreams
Does The Internet's Trendiest Pan Deliver?
DMTBeautySpot
via https://dmtbeautyspot.com
Alexandra Polk, DMT.NEWS, DMT BeautySpot,