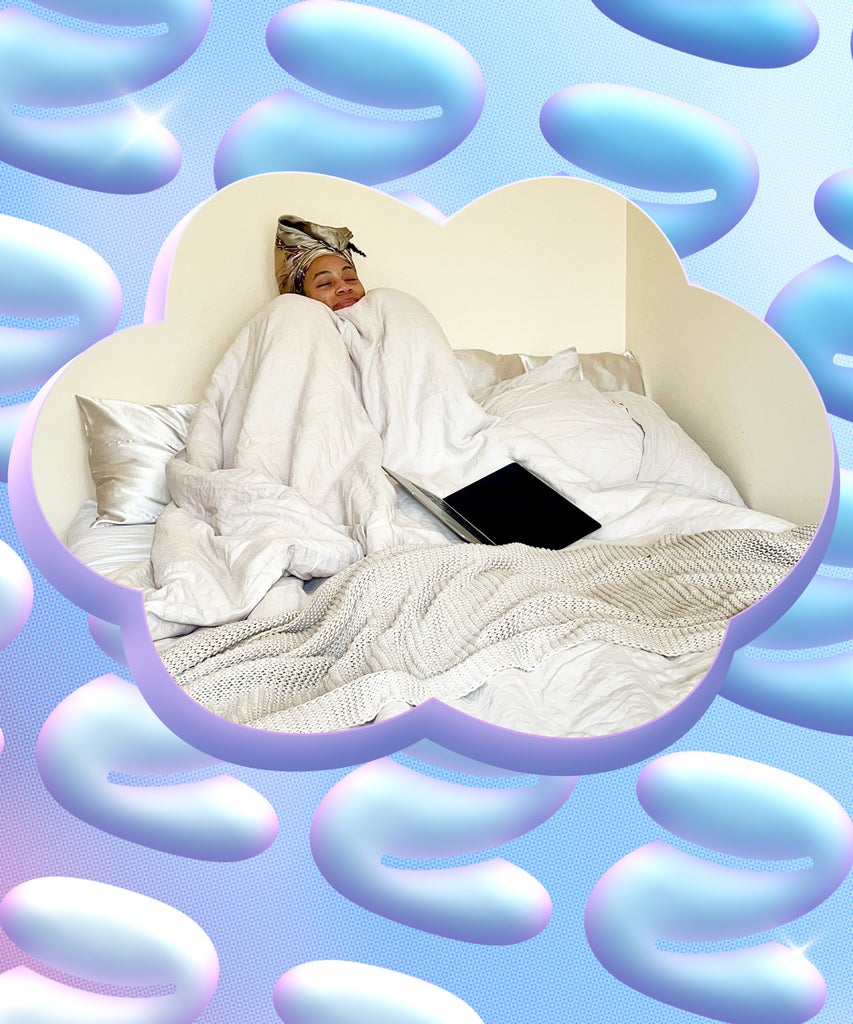 Yawn! Welcome to Sleep Week, a seven-day stretch where we source you the best buys in the Zzz-catching business—from editor-vetted bedtime rituals to exclusive mattress deals and more of the internet's most slumber-worthy scores. Go ahead, hit snooze with us.
Duvet covers weirdly cater to all ages. 7-year-old me could care less about the best side sleeper pillow or how firm a mattress is, but a Lightning McQueen themed duvet cover? A necessity. Cut to me a week ago, a young professional decorating my NYC apartment, scouring the web for an adult upgrade to my Etsy daisy-print bed spread. This scavenger hunt, while exhilarating, came with a major downside: high price points. That is, until I stumbled across the high-quality lifestyle brand Quince and its $170 European Linen Duvet Cover Set.
The key word here is "linen." On average, a light, airy, and all-natural flax duvet cover by itself goes for $100 to $200; throw in the pillowcases and you're jumping into the $200 to $400 range. A queen size linen set from the home goods powerhouse, Parachute, retails for $374. Why? Per the brand's informative blog post, harvesting the flax is quite laborious, the finished product is stronger than cotton, feels boho-luxe, and is "ideal for year round use." So you can understand the Shopping team's excitement at the discovery of Quince's under-$200, 4.9-star, 100% woven European flax bedding. Read on to hear about my night with the internet's most affordable linen duvet cover set, and find out if it reflected that cheap price tag, or felt like a million bucks, below.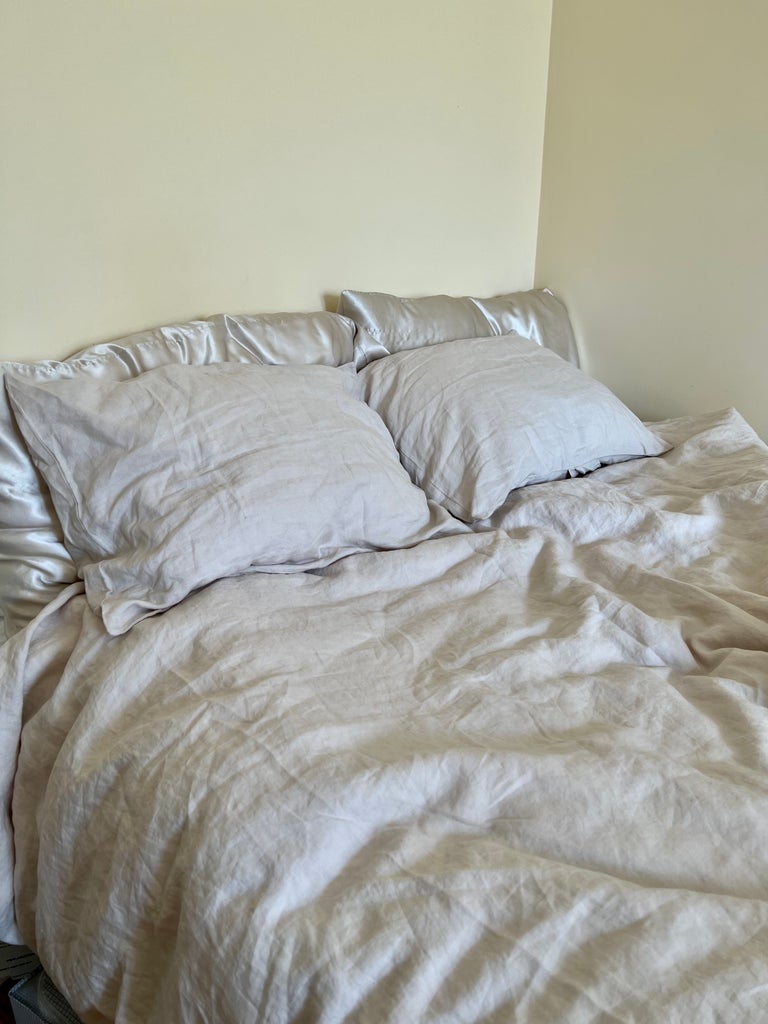 What is Quince?
We are equal parts impressed and utterly confused by this retailer's vast, category-spanning inventory. All it takes is a few clicks on the seriously sophisticated site and boom, your cart is filled to the brim with chic washable silk tees, classy 14K gold hoops, a moisturizer or two, and of course, a lovely duvet cover set. The biggest surprise, however, is Quince's commitment to producing, "[items] of equal or greater quality than the leading luxury brands at a much lower price." In fact, the retailer first piqued the Shopping team's interest because of its $50 — sorry, let us spell that out for emphasis — f-i-f-t-y dollar Mongolian Cashmere Crewneck Sweater. Then came the under-$200 duvet cover set, and we were sold.
So, why are Quince's products so affordable?
Ever heard of cutting out the middle man? That's the main culprit. When you place your order, instead of going from sourcing agents to warehouses and taking other cost-enhancing detours, Quince's products go directly from manufacturers to consumers. (In other words, it's a DTC brand.) For example, the mystifyingly cheap cashmere is crafted with $30 wool, costs $10 to produce, fifty cents to package, and $6 to ship — which leaves us with a grand total of $46.50.
The brand's sustainability commitments and ethical manufacturing check out as well. According to its site, the majority of Quince's factories are "mid-sized family-run operations" and the remaining "larger operations" enforce "rigorous ethical standards." The brand recently nixed all virgin plastic packaging and vows it will be 100% compostable by the end of the year. A selection of Quince's cotton, linen, and percale products are also 100% organic. We will say, in comparison to other retailers, Quince uses less specifics and less metrics when describing its eco-conscious and ethical-labor efforts. However, the extremely transparent and thorough on-site explanation of its production costs brings a boatload of ethos to the table.
What is Quince's European Linen Duvet Cover Set?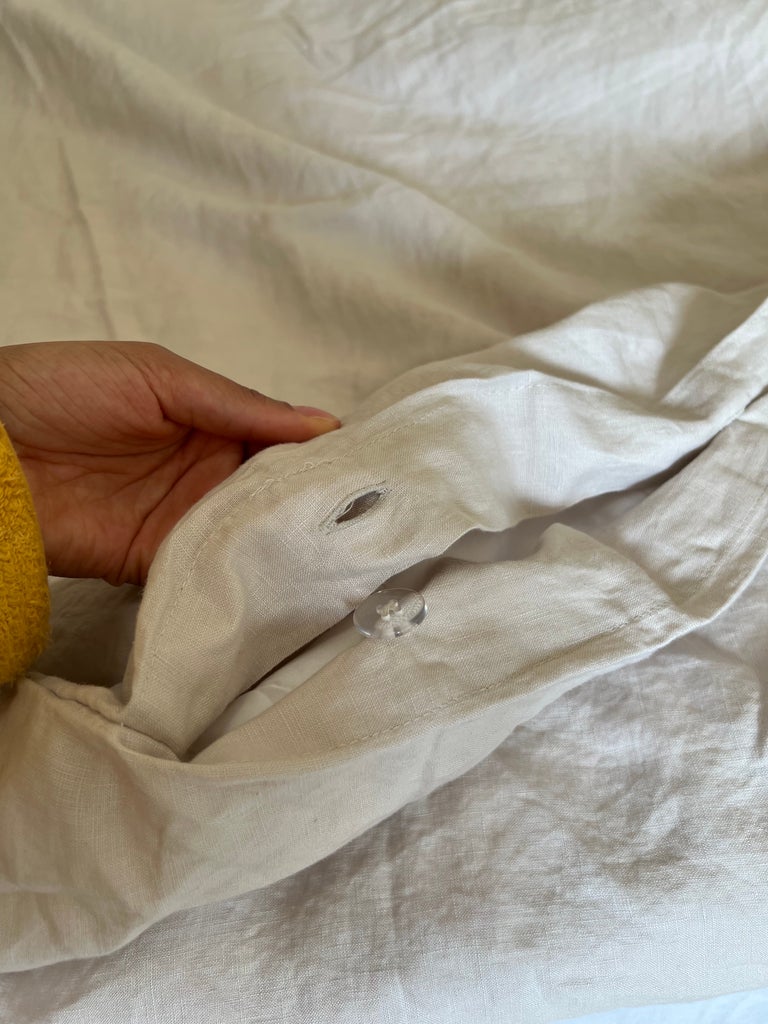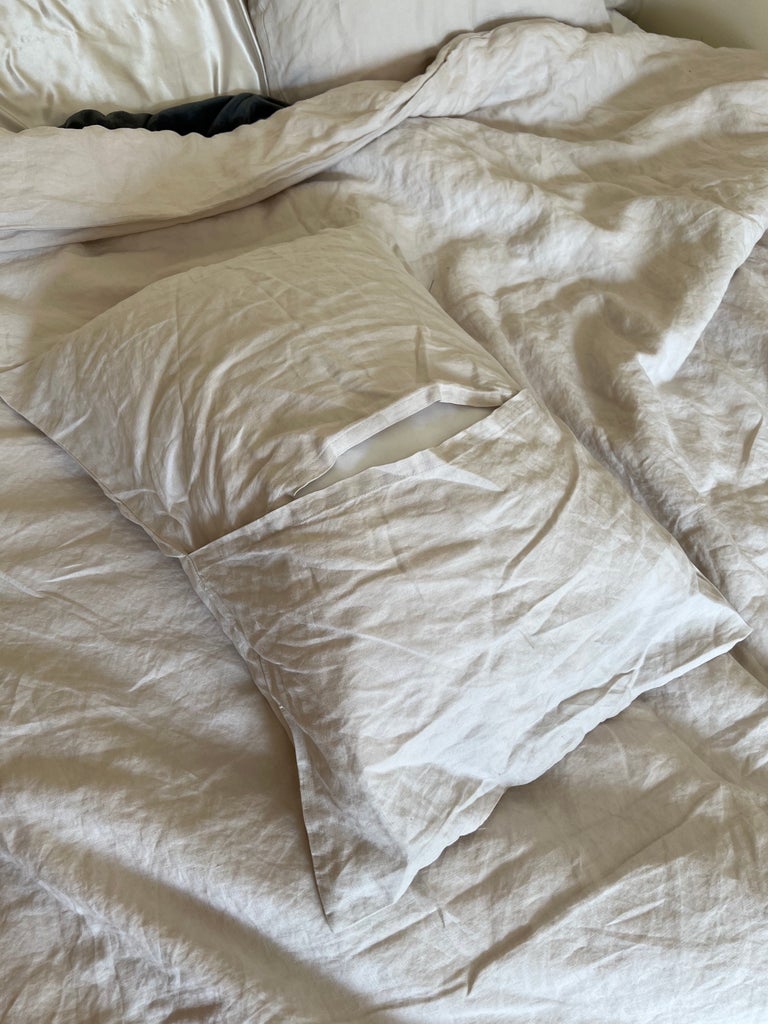 This easy, breezy, beautiful set could book a Cover Girl commercial if need be. For $170, you get a queen-sized woven 100% European flax, 150-gsm (relatively mid-weight) duvet cover and two standard shams. The set comes in eight earthy, muted colorways and is pre-washed to ensure coziness — Quince mentions that its linen only gets softer over time. (Updates on this are pending.) The cover also features cute bottom buttons for closure and has corner ties to keep finicky comforters in place. Plus, although we hope this isn't necessary, the retailer offers free returns for up to an entire year.
"Luxurious," "soft-yet-sturdy," and "superb" are just a few of the words customers used to describe their sets. On-site reviewer Kevin H., raves how "nice, weighted, [and] cool," his new covers are and enjoys the "linen on both sides," aspect. Another happy customer, Brandi W., makes a case for the ever-evolving plushness claim: "I bought the sheet set first and fell in love. The linen gets softer and softer after each wash." In terms of appearance, reviewer Lisa D. Lives for the "farmhouse vibe," and "[loves] the color and texture," of her terracotta-hued duvet. And, after taking a peak at the pictures she provided, we can attest to Lisa's good taste.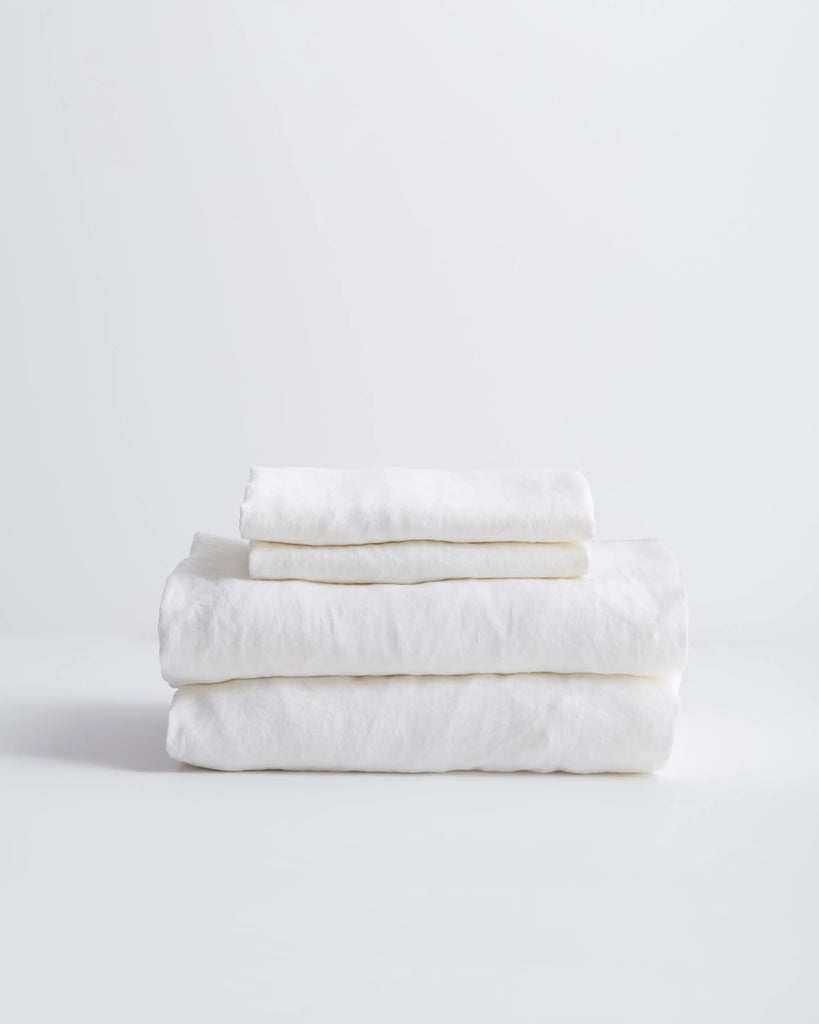 What does Quince's European Linen Duvet Cover Set feel like?
To me, this bedding is in no way your traditional cozy teddy bear, fuzzy blanket soft. But, I think that's why I'm infatuated with it. It's crisp, smooth, and authentic. Plus, upon opening, it smells like when you step into into one of my favorite safe spaces: Cost Plus World Market. If you've robbed yourself of experiencing the comforting, earthy, organic, newly-lit candle scent of a World Market, then just know the duvet has a lovely, natural, and fresh laundry-like aroma.
Hence, why I immediately slid it over my comforter, got under the covers, and buried my face in the cushy linen pillowcase like one of those Downy commercials. I blame it on the breathability. Confession: I'm laying beneath it right now and the fabric just somehow doesn't get hot like my old cotton duvet. This isn't to say it is not cozy — in fact, I'm a somewhat rare, heated-blanket-on-high, always-cold kind of sleeper and I slept like a perfectly temperate baby these past two nights. Final answer: fresh out of the bag, it's not "soft" per se — it's smooth, comforting, and I have to repeat the most accurate word, crisp.
So, what's the verdict?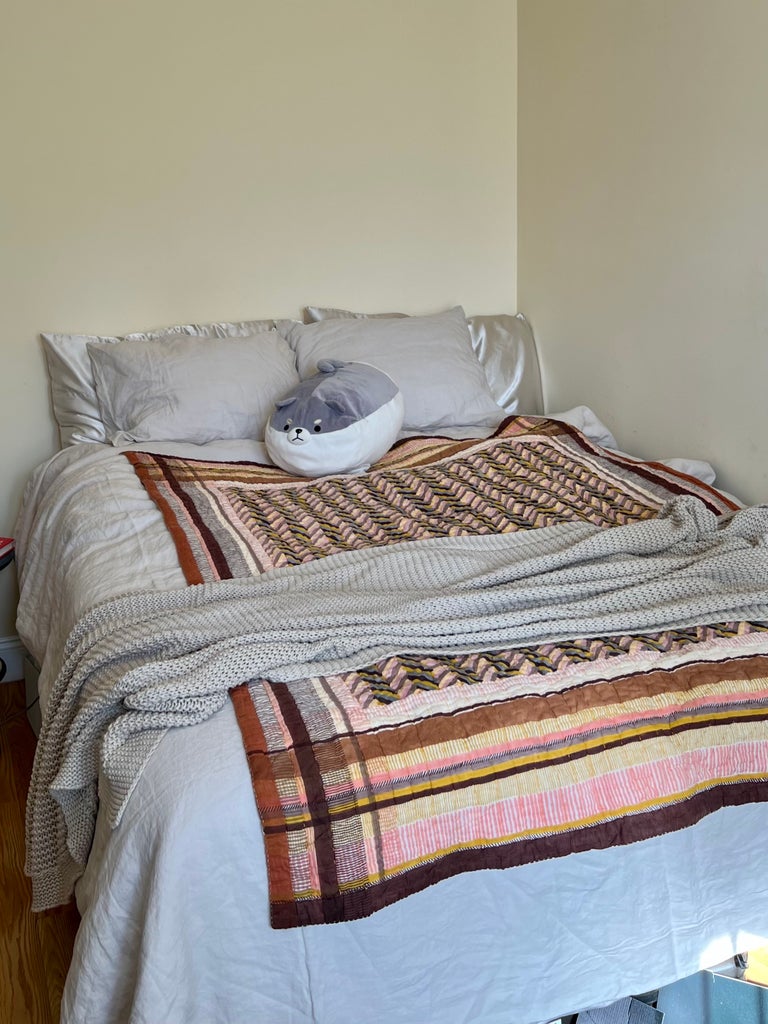 The Quince European Linen Duvet Cover Set gets my and my dear plushie Cheesecake's stamp of approval. My bed looks dressed to the nines and finally got the mature upgrade it deserves (keeping my stuffed animals 'til I die) — and my face is obsessed with those infinitely chill linen pillowcases. Funny enough, many of the on-site reviews came from parents who purchased sets for their teen and college-aged kids, so perhaps its the ultimate introduction to fancier bedding for up and coming youth. But, just like we said in the beginning, duvet covers appeal to all ages — so, whether you're navigating your (insanely expensive) mid-twenties like myself, going to university, or are an affordable linen bedding buff of any age, Quince's linen duvet cover set is the way to go.
At Refinery29, we're here to help you navigate this overwhelming world of stuff. All of our market picks are independently selected and curated by the editorial team. All product details reflect the price and availability at the time of publication. If you buy or click on something we link to on our site, Refinery29 may earn commission.
Like what you see? How about some more R29 goodness, right here?
The Internet's Best Duvet Covers
The Best Sustainable Bedding Brands
The Best Linen Sheets To Buy For Sweet-Free Sleep
DMTBeautySpot
via https://dmtbeautyspot.com
Alexandra Polk, DMT.NEWS, DMT BeautySpot,