Erin Corbett
featured
A Jewish Cemetery In Michigan Was Vandalized With "MAGA" & "TRUMP" Graffiti
November 04, 2020
BruceDayne
#DMTBeautySpot #beauty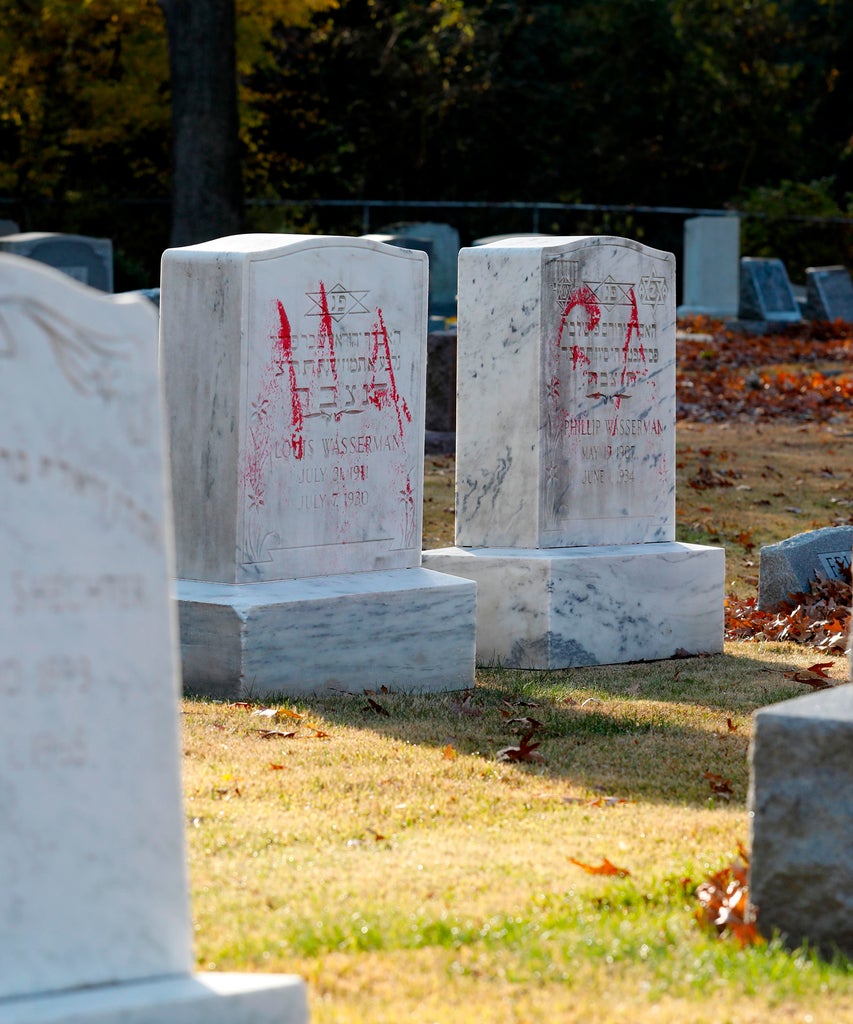 Hours before President Donald Trump arrived in Grand Rapids, Michigan on Monday for his final campaign rally of the election, pro-Trump graffiti was discovered at a Jewish cemetery across town. Six headstones at the Ahavas Israel Cemetery were desecrated with red paint reading "TRUMP" and "MAGA," which is now being investigated by the police, with help from Michigan's chapter of the Anti-Defamation League. The congregation's rabbi, David J. B. Krishef told NBC News it was unknown whether the vandalism "was an anti-Semitic attack," but local groups think otherwise.
"The desecration at Ahavas Israel is evocative of the febrile political atmosphere our country finds itself in right now. But it doesn't have to be this way," said Noah Arbit, the founder and chair of the Michigan Democratic Jewish Caucus. Arbit added, "Time and again, the President of the United States has sided with anti-Semites, white supremacists, racists, and bigots of all kinds." Likewise, the state's chapter of the Council on American-Islamic Relations urged federal authorities to investigate the incident as a hate crime.
But unfortunately, this isn't a new development in the swing state: Michigan has seen an uptick in anti-Semitic incidents over the last two years, including instances of harassment, vandalism, and assault that nearly doubled from 2018 to 2019, the ADL reported.
It should come as no surprise that the vandals would use Trump's name and message to make their point. In the last five years, the president has been seen as an ally to the far right and white nationalist groups who have used his administration to recruit new members and organize around their violent fantasy of a white ethnostate.
After white supremacist and self-described fascists organized the so-called "Unite the Right" rally in Charlottesville, Virginia three years ago, Trump refused to disavow these groups, famously stating there were "very fine people on both sides." More recently, he declined to explicitly condemn the Proud Boys, a far right, racist hate group, and instead left them with some words of encouragement. "Somebody's got to do something about [antifascists] and the left," he said.
And while the president has Jewish family of his own — his daughter Ivanka and her husband Jared Kushner — that hasn't stopped Trump from stoking anti-Semitism on Twitter and in campaign ads. Last year, he accused Jewish Democrats of being "disloyal" — another anti-Semitic trope, all while claiming to be "the least anti-Semitic person that you've ever seen in your entire life."
Michigan law enforcement are continuing to investigate the vandalism at Ahavas Israel, but no arrests have been made. Still, community members are taking note. As Cary Fleischer, the Grand Rapids regional chair of the Democratic Jewish Caucus told The Detroit News, "It is long past time to elect leaders who care about the communities they serve, who will defend the rule of law and stand up to hatred and violent extremism — not stoke its flames."
Like what you see? How about some more R29 goodness, right here?
Can Trump Steal The Election? He Thinks He Can
Is Trump The "Most Innocent Man"? We Investigated.
Here's How Joe Biden Could Still Win
DMTBeautySpot
via https://www.DMTBeautySpot.com
Erin Corbett, Khareem Sudlow